Lewis Hamilton takes drivers' title lead at Singapore GP
Last updated on .From the section Formula 1
The Singapore Grand Prix could prove to be pivotal as Lewis Hamilton turned round a 22-point gap on Mercedes team-mate Nico Rosberg to take the lead in the drivers' world championship.
Amid the heat and humidity at Singapore's Marina Bay street circuit, Rosberg's title challenge took a hit as the electronics on his Mercedes let him down, allowing Hamilton to take full advantage and secure a lights-to-flag victory.
Here is how the story of a thrilling Singapore Grand Prix under floodlights unfolded in the words of the BBC F1 pundits, comments and tweets from the teams...
Rosberg's nightmare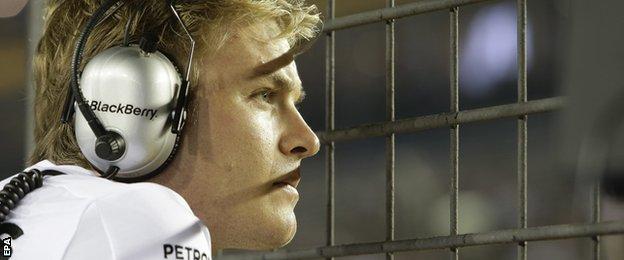 Rosberg had gear selection problems from the moment he tried to fire up his Mercedes 30 minutes before the start of the race. The German had to start from the pits after failing to get off the grid at the start of the formation lap.
Unable to pass back markers, the team tried to reset the car at the first pit stop, but then he could not engage a gear, forcing the team to retire him.
Nico Rosberg's race engineer: "The only thing working on your dash is the gear shift paddles."
David Coulthard, BBC F1 co-commentator: "Nico has had the lion's share of reliability this year. Drama before the start of this grand prix."
Mercedes on Twitter: Spare a thought too for @nico_rosberg - desperate bad luck @F1NightRace but he'll be back better than ever in Japan! #F1 #SingaporeGP
Mercedes non-executive chairman Niki Lauda: "I'm upset about Nico's car because these things should not happen."
Safety Car drama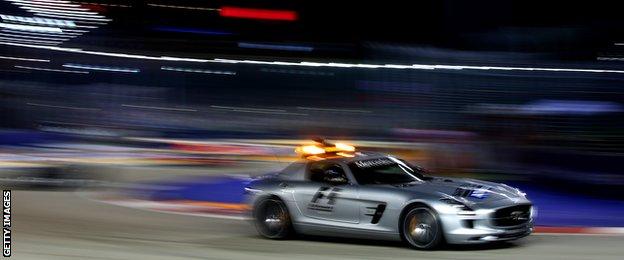 The safety car was introduced on lap 31 after a collision between Force India's Sergio Perez and Sauber's Adrian Sutil led to the Mexican's front wing detaching and leaving debris strewn across the track.
Hamilton saw his six-second gap over Ferrari's Fernando Alonso wiped out, and then while his rivals came in to change tyres, the leader stayed out.
David Coulthard: "Adrian Sutil was not fully aware that Sergio Perez was there and squeezes him up against the wall and catches the front wing."
Force India on Twitter: "Damage to Checo's front wing - and the safety car has been deployed!"
Lewis Hamilton: "Hey man, that was a little bit late there. I was literally going over the stuff [Perez's debris] as you told me."
Mercedes on Twitter: "If we could get this @F1NightRace restarted that'd be just dandy - the ol' nerves are janglin' again."
Heat and Humidity
In hot and humid conditions under floodlights at the southeast Asian street circuit, several drivers suffered from fatigue and dehydration in temperatures touching 31C.
McLaren's Kevin Magnussen had a case of a burnt back, while Toro Rosso driver Daniil Kvyat's water bottle failed to function because of the heat even before the race began.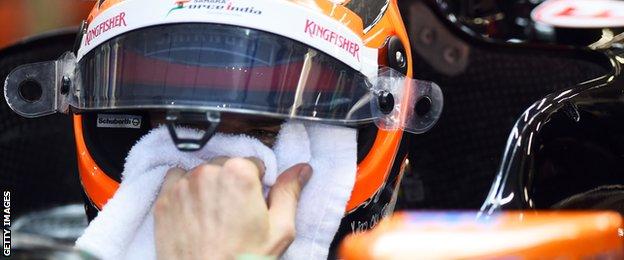 James Allen, BBC Radio 5 live commentator: "These drivers' drinks bottles are like a boiling hot cup of tea for the drivers."
Jennie Gow, BBC Radio 5 live pit-lane reporter: "Magnussen is suffering from cramps - he's dehydrated."
Magnussen: "It was the hardest point I've ever earned. It was hot. In one word. Really tough.
Eric Boullier, McLaren racing director: "Kevin was then subjected to severe bodily discomfort as his car's cockpit began to overheat, necessitating his holding his arms aloft, first one then the other, in an effort to direct cooling air down his sleeves and inside his race-suit."
Toro Rosso's Daniil Kvyat: "Sorry guys, but without the drink I'm dying here."
Mikey Collier, Jenson Button's physio: "This is the toughest race of the year for heat and humidity, but it differs from Malaysia because it has 23 or 24 corners. It is non-stop for the drivers."
Worn tyres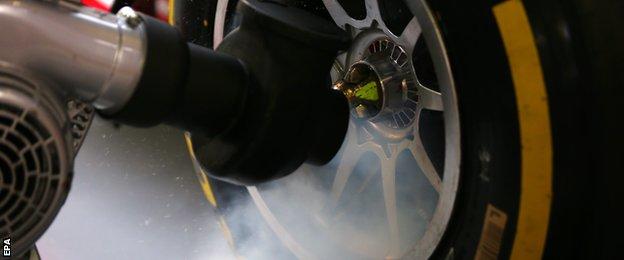 Once the safety car returned to the pits, Hamilton built up a 25.2-second lead over the chasing pack as he bid to open up a big enough gap to return in the lead after his third and final tyre change. The Briton rejoined in second, just behind Vettel, but with a faster car and fresher tyres.
Lewis Hamilton: "My right rear is getting seriously worn. I'm not sure it will explode or not."
Marussia'sAlexander Rossi on BBC Radio 5 live: "I can't think how nuclear Lewis would go if they don't win this race."
David Coulthard: "If they do a perfect pit stop it is possible Lewis can come out between the two Red Bulls."
Mercedes on Twitter: "He's back out in P2! #VET up ahead! 8 laps to go! COME ON LEWIS!!!"
Hamilton takes the championship lead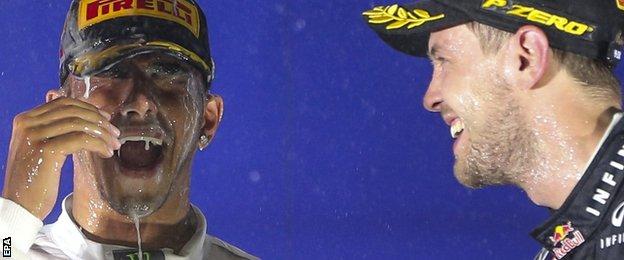 In passing Vettel and taking the chequered flag, Hamilton claimed his 29th career victory and seventh of the season, two more than when he won his only title in 2008. More importantly, he earned a three-point lead over team-mate Rosberg, only the second time he has headed the German in the drivers' championship this season.
James Allen, BBC Radio 5 live commentator on Twitter: "Title race blown wide open as Hamilton wins and Rosberg retires in Singapore."
Mercedes on Twitter: "And with that, he takes the lead in the #F1 WDC by just 3 points! Game on!"