Singapore GP: Kevin Magnussen treated for heat injuries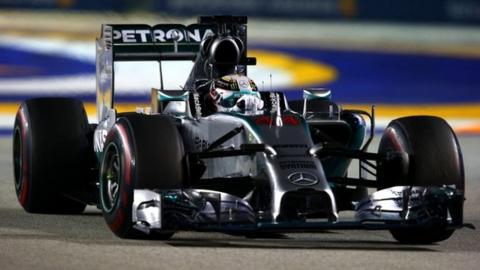 McLaren's Kevin Magnussen needed treatment from a doctor because of injuries from an overheating seat in the Singapore Grand Prix.
The Dane's back was tended to after the race. His mouth was also burned after the liquid in his drinks bottle boiled.
Magnussen had tried to direct air into his overalls by holding his arms aloft in an attempt to alleviate the pain.
He held on to score a point for 10th place, and said: "It was the hardest point I've ever earned."
McLaren racing director Eric Boullier said his performance in the circumstances was "indicative of his tremendous fighting spirit".
Magnussen added: "It was hot. Really tough. I never experienced anything like this in racing. I couldn't drink water, and the seat was very hot.
"I still feel dehydrated. I lost a lot of water."
He later tweeted to say that reports that he had had burns and had medical treatment "were a bit exaggerated - I was just hot and sweaty".
McLaren did not immediately know what had caused the problems with the seat or Magnussen's drinks bottle, neither of which affected team-mate Jenson Button.
Singapore is rated by the drivers as the toughest grand prix of the year because of the long, bumpy lap, the hot and humid conditions and the fact that the race runs to the two-hour time limit.
Magnussen was treated after the race with an iced towel as McLaren enlisted a doctor to treat his injuries.
The 21-year-old, who is in his first season in F1 and does not yet know whether he will be retained by McLaren in 2015, will be fit to drive in the next race in Japan in two weeks' time.