Singapore GP: Reliability must not decide title - Mercedes boss

By Andrew Benson
Chief F1 writer in Singapore
Last updated on .From the section Formula 1
Mercedes say they are determined to prevent the drivers' World Championship being decided by poor reliability.
It was the team's fourth mechanical retirement of the year.
"We don't want to have the spin that the championship was decided because one car let the driver down," said Mercedes F1 boss Toto Wolff.
"We need to refocus, get our heads down and keep concentrating and work out what we can do to prevent reliability problems."
Mercedes executive director (technical) Paddy Lowe added: "That's been my worry all year. I have a feeling that it's reasonably even in terms of how we've let them down. Let's hope this is the last time."
Hamilton and Rosberg have now suffered two mechanical retirements each this season, although the Briton has also lost points as a result of failures in qualifying at two further races.
Rosberg was forced to retire in Singapore because of a failed wiring loom in his steering column, which affected the car's systems.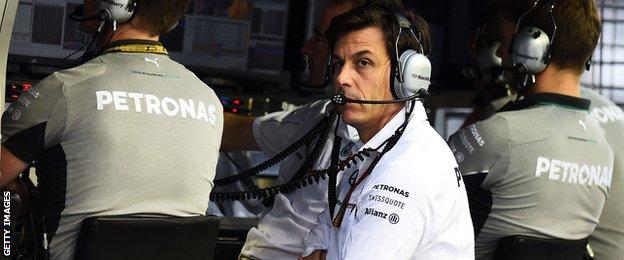 It forced him to start from the pit lane, robbed him of all steering wheel controls apart from his gear change, which was changing up two gears at a time, and also caused the failure of his hybrid system, meaning the car was 160bhp down on power.
Rosberg was unable to pass a Caterham and retired at his first pit stop on lap 14 when the car would not go into gear.
It turned the German's 22-point advantage into a three-point deficit. He said he was "disappointed" but was focusing on the next race in Japan.
Wolff said: "He was not destroyed at all. You can see him sitting outside with his wife. Very professional.
"He was very calm. The whole team was very calm, they stayed cold-blooded trying to fix the problem and he stayed very cold-blooded trying to reset the system as well as he could.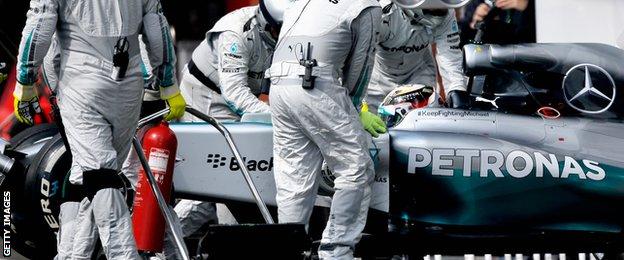 "I told him I was very sorry we had let him down and we are doing this in both directions. You need to be just open and have that philosophy in the team that whoever messes up needs to take that on.
"We have a great reliability team. This is a group of people who are really dedicated to reliability and I am really proud of them.
"So it is even more astonishing we keep having those issues. They need to get a grip - and this takes time until we stop suffering from these DNFs."