Lewis Hamilton not thinking about title after winning Singapore GP

By Andrew Benson
Chief F1 writer in Singapore
Last updated on .From the section Formula 1
Mercedes' Lewis Hamilton insisted the World Championship was not on his mind, despite taking the lead for the first time in four months.
The Briton moved three points ahead by winning the Singapore Grand Prix after team-mate Nico Rosberg retired.
"I'm not really thinking about it. I feel like I'm still hunting, still catching up," he said.
This is the third time this season Hamilton has had to close a lead of more than a victory's worth of points.
"I'm not sitting here thinking I'm relieved because all year I've had that gap and I've had to be catching it up and then it's gone again. I know what could happen," he added.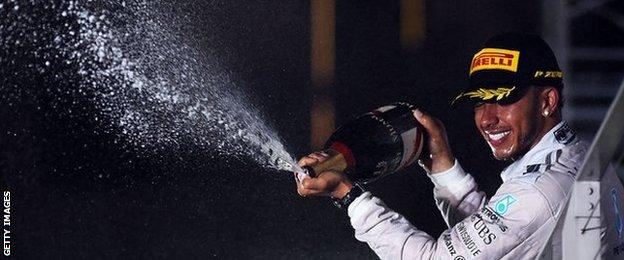 Hamilton admitted that to have such a large turnaround in one race was "a bonus - those extra points are a huge help".
He added: "I just feel relaxed at the moment. I came here to do a job and we managed to get through the weekend without any issues on our side of the garage, which was a real blessing.
"I came here thinking 'Nico's going to be quick and consistent; if I can get at least those seven points [the difference between first and second place] and keep chipping away... but getting 25 has changed things a little bit.
"In my mind I'm still wanting to get those next seven next time out and that's the mindset I'm continuing with."
Singapore was the second consecutive race in which Hamilton has won from pole, but he rejected suggestions that the championship momentum was now with him.
"Maybe it's the start. But momentum is not something I generally think about because it can be snatched straight away," he said.
"Look at Nico, he has had good results and momentum from that but one DNF and it changes things. You don't know what's coming up.
"I'm happy that I'm back to being at my best, getting those poles, maximising those races.
"I want to make sure these next five races, if I don't do any more races in my whole life as good, these next five have to be the ones."
Rosberg stayed at the track until after the race hoping to learn something from watching Hamilton's telemetry information.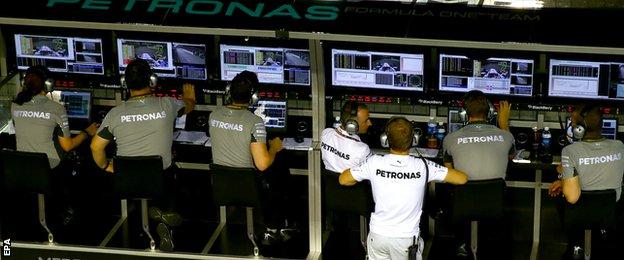 The German said: "I'm split in two. On one side I'm pleased that, even though one car stopped, the team was able to win with the other car.
"It means a lot to me when the team can have something to cheer for. And for the constructors' it's important that Red Bull didn't catch up too many points today.
"On the other hand, I'm disappointed that I wasn't the one to finish because I wanted to have a shot at the win today."