Lewis Hamilton shines as Nico Rosberg gets his wires crossed

By Andrew Benson
Chief F1 writer in Singapore
Last updated on .From the section Formula 1423
If Lewis Hamilton had any feelings of relief or of justice finally being served, he hid them well.
His has been a season characterised by needing constantly to play catch-up on Mercedes team-mate Nico Rosberg after losing huge chunks of championship points to reliability problems.
So, for one to hit Rosberg in Singapore and even things up a bit more, allow Hamilton to take a relatively comfortable victory and turn a 22-point deficit into a small lead with five races remaining, felt only right.
Hamilton, though, seems to have learned a lesson from the up-and-down nature of his season. And that lesson is to take nothing for granted.
"At the moment I'm not sitting here thinking I'm relieved," said Hamilton, who had not led the championship since May. "Because all year I've had that gap and all year I've had to be chasing it and catching up and then it's gone again.
"So I know what could happen. I came here thinking I've got to get those seven points (the difference between those awarded for first and second place) and keep chipping."
Playing field levelled
Rosberg's retirement with a failure of the wiring loom in his steering column, which caused havoc with his car's electronic systems, has not quite evened things up between the Mercedes drivers when it comes to reliability.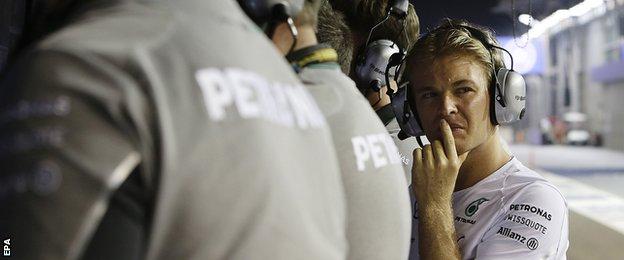 Although both drivers have now suffered two retirements as a result of mechanical failures this year, Hamilton has still lost substantially more points than Rosberg because of problems out of his control.
There were the car failures that forced him to start from the back in Germany and Hungary in July, from which he recovered to finish third in races he might well have won.
And there was his forced retirement caused by the damage from the controversial collision between the two team-mates in Belgium, for which the team squarely blamed Rosberg, reprimanded him and forced him to issue a public apology.
But what it has done is level the playing field going into the last five races of the season and set up a grandstand finish to the year.
Both men, though, are clearly concerned about Mercedes' reliability record, and fully aware that another similar issue for either would have a decisive impact on the championship.
"It's clear that this is the point we need to focus the most on," Rosberg said.
After the febrile atmosphere in the immediate fall-out from their incident at Spa, which spilled over into the next race at Monza, Singapore was a relatively calm weekend at Mercedes.
Rosberg admitted the atmosphere in the team was still "intense" but publicly both men seemed to be working hard to project a relaxed outward image.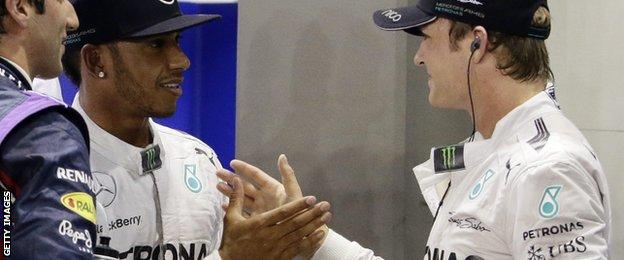 Hamilton the favourite
Hamilton made a point of saying the relationship between them was "back to normal" and Rosberg was insouciance personified at his media briefings, standing up with the microphone, joking, as if he did not have a care in the world.
Even after seeing his lead erased, the German presented a brave, confident face, as he always does, but he has reason to be less relaxed now.
Hamilton's victory was his seventh of the season, compared to Rosberg's four. Rosberg has seven second places - five of them behind Hamilton; Hamilton only two, both behind Rosberg.
On pole positions, Rosberg is seven-five ahead, but in two qualifying sessions Hamilton has been unable to compete because of his car failures and in both of them Hamilton had looked the quicker up to that point of the weekend.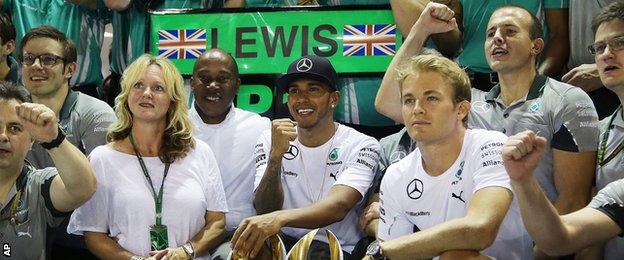 Those statistics back up the general feeling within F1 that Hamilton has the edge on performance, while Rosberg has an advantage on consistency, of not over-reaching, of always making sure he is there or thereabouts. In other words, that he is playing the percentages better.
Taking into account Hamilton's rocky run in qualifying in the three successive races in Canada, Austria and Britain, that feels like a fair assessment.
Now the two are back on level terms in points, then, it feels like Hamilton is very much the favourite.
"I'm happy that I'm back to being at my best," he said on Sunday evening in Singapore. "Getting those poles, maximising those races.
2014 Grand Prix results

Nico Rosberg

Lewis Hamilton

Australia

1st

Retired

Malaysia

2nd

1st

Bahrain

2nd

1st

China

2nd

1st

Spain

2nd

1st

Monaco

1st

2nd

Canada

2nd

Retired

Austria

1st

2nd

Britain

Retired

1st

Germany

1st

3rd

Hungary

4th

3rd

Belgium

2nd

Retired

Italy

2nd

1st

Singapore

Retired

1st

Total points
238
241
"Today I felt I had covered all the areas and did a solid job. I want to make sure these next five races, if I don't do any more races in my whole life as good, these next five have to be the ones."
Alonso and Ferrari's love is dead
If there was no apparent tension at Mercedes in Singapore, however, there was plenty next door at Ferrari.
Fernando Alonso arrived in south-east Asia upset at stories in the Italian media about a theoretical - and fictional - swap between himself and Red Bull's Sebastian Vettel for 2015, complaining that these were disruptive for Ferrari.
He emphasised that he and the team were working together on improving, that he was doing everything he could to foster a good team spirit. And certainly there was a positive ambience about the place on Saturday evening after Ferrari's most competitive qualifying showing of the year.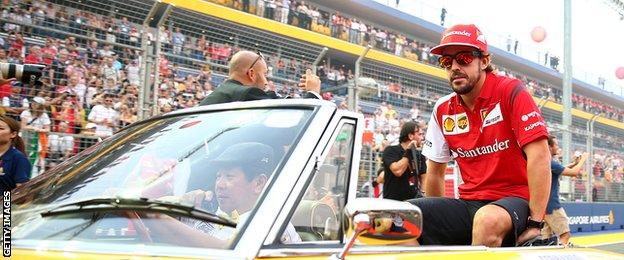 Overall, it was an encouraging weekend for Ferrari, even if the podium finish most expected from Alonso slipped through his fingers because of bad luck with the timing of the safety car.
But, better pace aside, there was no question that things were not all well within Ferrari.
McLaren continue to court Alonso and there have been rumblings all year that he may not stay at Maranello to the end of his contract in 2016.
It would be a huge risk to move back to the team he fell out with in 2007, which has far more problems with its car than Ferrari and which is embarking on a new engine partnership with Honda which will inevitably take time to gel.
But Alonso's frustrations with Ferrari's lack of performance, after five years of having a car that was not quite good enough to deliver the third title he so desperately craves, are clear.
And it seems Ferrari, too, have their own issues with him, even if it is not clear what they are.
The best option for both driver and team is to stay together - Alonso has nowhere more competitive to go and Ferrari will not find a better driver.
But the smoke signals within Ferrari are that the love between them and Alonso has long since died, that this is a marriage of convenience and that even expediency might not keep it together much longer.
Ferrari, a source told BBC Sport, tried quite hard to entice Daniel Ricciardo to join them earlier this year, but the Australian is under a long-term contract with Red Bull which team principal Christian Horner jokes is "about 10 years long".
And the respected Italian newspaper Gazzetta dello Sport has reported that Ferrari are maintaining their long-running interest in Ricciardo's team-mate Sebastian Vettel, even if Red Bull insiders say they know nothing about it.
"If I was Fernando," one team principal said in Singapore. "I would wait and do another year. He's going to have all the same options in 12 months, more because Hamilton will be up for renewal."
I asked Alonso directly in Singapore where he would be driving next year. We were standing alone in the back of the Ferrari garage, and he said: "Here."
But after the race, team principal Marco Mattiacci was asked whether Alonso would be at Ferrari in 2015, and he replied: "At the moment, yes."
Mattiacci did not elaborate on why he felt the need to add a level of conditionality. Whatever could that mean?