Formula 1: Lewis Hamilton determined to break Suzuka duck

By Andrew Benson
Chief F1 writer
Last updated on .From the section Formula 1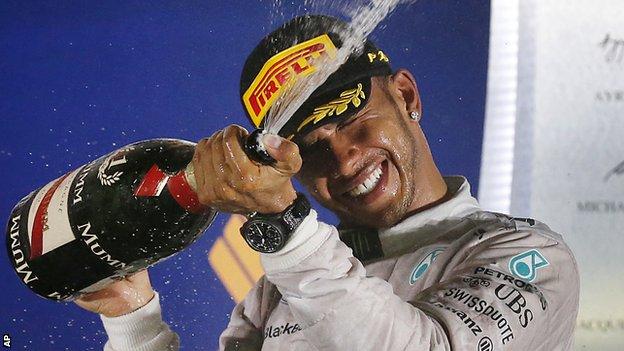 Lewis Hamilton is determined to keep his run of success going and satisfy his ambition to win at Suzuka.
The Mercedes driver has won the last two grands prix to move into the championship lead but has never won at Japan's classic circuit.
"Suzuka is the one track I want to win at. I have a serious target there," he said.
Hamilton won the Japanese Grand Prix when at Fuji in 2007 but his best result at Suzuka is a third in 2009.
Suzuka is one of the all-time classic circuits on the Formula 1 calendar, and many regard its figure-of-eight layout, which is dominated by demanding high-speed curves, as an even greater challenge for a driver than the historic Spa-Francorchamps track in Belgium.
The track has held the Japanese Grand Prix since 1987, apart from when the race was held at Fuji in 2007-8.
The first sector of lap, dominated by the series of switch-back corners through the Esses and Dunlop Curve, is said by drivers to be the most demanding section of track in the world.
The race, which is held this season on 5 October, has been dominated in recent years by Red Bull's Sebastian Vettel, who won in 2009, 2010, 2012 and 2013 and finished second to Hamilton's then McLaren team-mate Jenson Button in 2011.
A determined Hamilton said: "Jenson won there so I've had the car to win there but I didn't utilise it - that's not going to be the case next week."
Mercedes have dominated this season when they have not had problems and Hamilton's team-mate and title rival Nico Rosberg believes they can end Red Bull's hold on the Japanese race.
"Suzuka is going to be awesome for our car," the German said. "Sector one we'll be flying."
Red Bull's Daniel Ricciardo, who has won three races this season and is 60 points behind Hamilton in third place in the championship, says the nature of the Japanese track will give them one of their better chances of beating Mercedes.
Suzuka rewards a car with effective aerodynamics and Ferrari's Fernando Alonso says the Japanese race will prove whether the mini-renaissance in competitiveness by the Italian team in Singapore was a one-off or not.
Alonso, who was fourth in Singapore but lost a chance to finish second as a result of bad luck with the timing of a safety car, said: "Hopefully we can continue like this. Obviously it's just a hope and we need a normal circuit.
"Suzuka will be a good test for us to see if we are in a good form or not. We'll see. We would like to keep improving the car and get closer to the leaders."