Formula 1 gossip: Alonso, Stevens, Maldonado, Wurz
Last updated on .From the section Formula 1
FRIDAY, 3 OCTOBER
Ferrari and Fernando Alonso are heading for a split at the end of the season, with the two-time world champion most likely to sign for McLaren. (Autosport)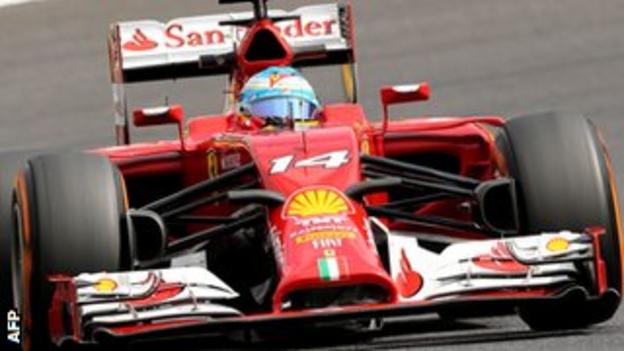 The FIA has told the teams that there is no possibility of the Japanese Grand Prix being run on Saturday in an attempt to avoid Typhoon Phanfone, which is expected to hit the Suzuka area on Sunday. (Adamcooperf1.com)
Paperwork issues prevented Briton Will Stevens, 23, from driving for Marussia in the first practice session at Suzuka. (Crash.net)
Lotus driver Pastor Maldonado was handed a 10-place grid penalty after using his sixth engine of the season in first practice in Japan. (Formula1.com)
Former Formula 1 driver Alex Wurz has been appointed chairman of the Grand Prix Drivers' Association. (Jamesallenonf1.com)
THURSDAY, 2 OCTOBER
Honda have revealed the first image of their 2015 engine as they prepare to return to Formula 1 next season as power suppliers to McLaren. (Autosport)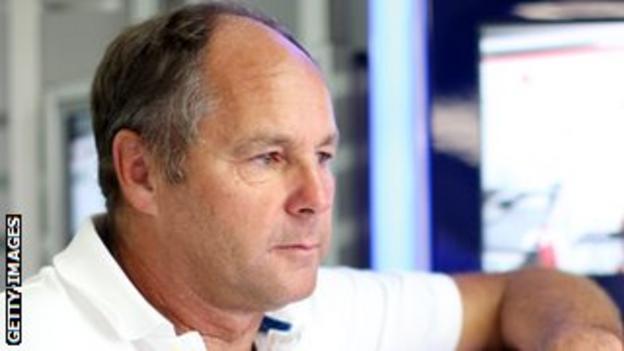 Former McLaren driver Gerhard Berger, 55, could return to his former team as overall boss, taking over from current chief executive Ron Dennis whose future is in doubt. (Auto Bild - German)
Simona de Silvestro's hopes of becoming the first woman to take part in a Grand Prix since 1976 have suffered a blow after Sauber confirmed that it had ended the 26-year-old Swiss's testing deal due to "financial reasons on her side".(Jamesallenonf1.com)
Williams' Felipe Massa has praised his team for continuing to develop this year's car as they battle with Ferrari for third place in the constructors' championship. (Crash.net)
Ferrari's Kimi Raikkonen believes he made a breakthrough with his car's set up during the Singapore Grand Prix weekend. (Autosport)
WEDNESDAY, 1 OCTOBER
Kamui Kobayashi, whose F1 drive with Caterham is being confirmed on a race-by-race basis this season, will keep his seat for his home grand prix in Japan. (Autosport)
Jenson Button has suggested he wants to stay at McLaren beyond the end of his contract, which expires this year. (Irish Examiner)
Defending champion Sebastian Vettel, who has not won a race this season, admits he is suffering at the hands of Red Bull team-mate Daniel Ricciardo. (Sun - subscription required)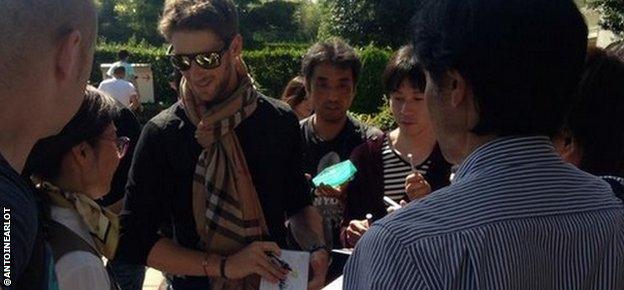 Lewis Hamilton says he wants a "straight" battle with Mercedes team-mate Nico Rosberg for the world championship.(Daily Express)
Rosberg insists that he "can't fault the effort of the team" at Mercedes despite being forced out of the Singapore Grand Prix by a mechanical failure. (Planet-F1.com)
Ferrari technical director James Allison believes they can beat Williams to third place in the constructors' championship. (Crash.net)
TUESDAY, 30 SEPTEMBER
Mercedes' Lewis Hamilton says he is determined to finish on the podium at this weekend's Japanese Grand Prix, having finished in the top three in Suzuka only once in his career. (lewishamilton.com)
Former world champion Fernando Alonso, 33, is confident Ferrari will overhaul rivals Williams for third place in the constructors' championship before the 2014 season ends. (Autosport)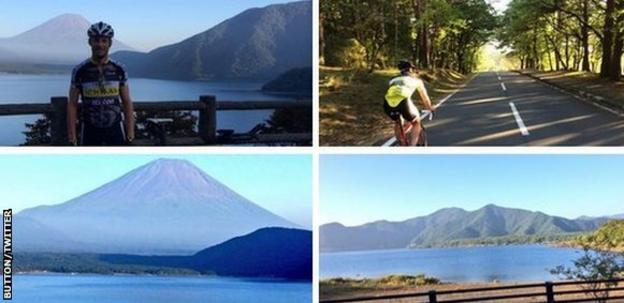 Jenson Button says McLaren is bracing itself for a "tricky" time in Japan, with the Suzuka circuit's high-speed swoops not ideal for their cars. (Autosport)
The 34-year-old has been cycling around some spectacular sights with his physio Michael Collier before race weekend, tweeting: "Four lakes around Mount Fuji with @mikeycollier, scenery isn't bad!"
Whilst the newly installed Caterham boss is confident his team will line up on the 2015 grid, Manfredi Ravetto is giving precious little else away and the identity of the new owners remains shrouded in secrecy. (Pitpass)
MONDAY, 29 SEPTEMBER
Four-time world champion Sebastian Vettel, 27, says the only circuit which compares with Suzuka is Spa.
"Suzuka as a whole is a fantastic circuit," the Red Bull driver said before this weekend's Japanese Grand Prix. "It is a very challenging circuit, especially the first sector where there is a lot of high speed corners." (Formula1.com)
Mercedes have admitted F1 rivals Red Bull and Ferrari got closer on raw pace than they expected at the Singapore Grand Prix but expect to pull away again. (Autosport)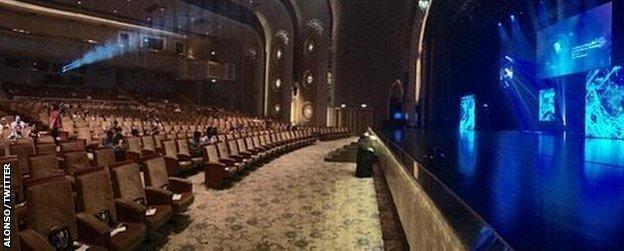 Ferrari driver Fernando Alonso had a magical weekend. The Spaniard was at the gym, tweeting: "Easy session... This part of the year - Singapore, Russia, Austin, Brazil and Abu Dhabi put you KO."
But once he had finished his workout, the magician went to a magic show. "One of the first to arrive," he tweeted. "Counting the minutes to see them."
Marcus Ericsson, 24, looks set to remain with Caterham next year, with the team eager to keep the Swedish driver after his strong performance in Singapore. (Autosport)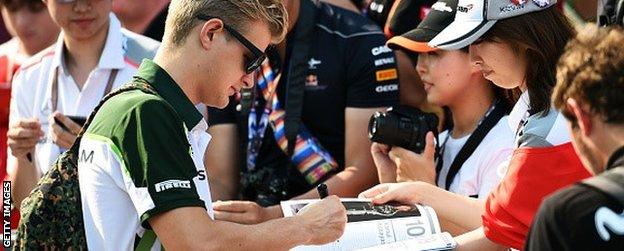 Team boss Vijay Mallya hopes Force India can beat McLaren at their own game and hold on to fifth place in the constructors' championship with the upgrades they are planning later this season. (Sky Sports)
McLaren driver Jenson Button has arrived safely in Tokyo for the Japanese Grand Prix. The Briton tweeted on Sunday: "Somerset yesterday and Tokyo today!! Let the prep begin for Suzuka."