Lewis Hamilton: I am hungry for first win at Suzuka
Last updated on .From the section Formula 1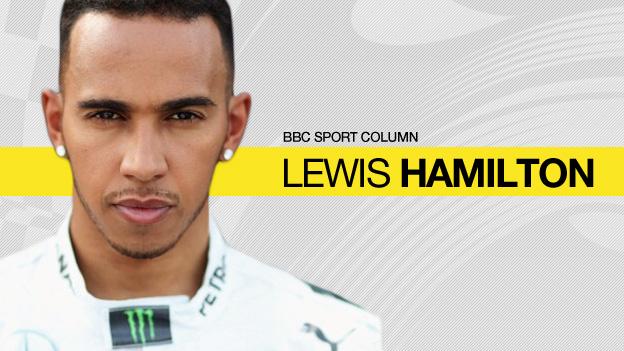 Japan is one of my favourite places, and Tokyo is easily in my top five cities in the world.
I spent a few days in the capital before heading to Suzuka for this weekend's Japanese Grand Prix and had a great time.
I love the historical culture of Japan, and the way of life. It is just a very cool place.
Tokyo is a really beautiful city, with a fascinating mix of the ancient and the modern, the ultra-high tech and the traditional.
For such a big city, it is so clean. I love the attention to detail, the way they do everything their own way, the way they like to operate.
The fans are massively passionate. It is humbling when you meet them because they have such a sincere love for the sport. But they are also very patient, very respectful and very well mannered.
Every aspect of life in Japan has an interesting quirk, such as the way when people are waiting at a pedestrian crossing, no-one goes past the white line until the sign says you can go. They are so regimented and precise with everything, and I love that.
I have spent more time than ever here in the last few days and that has only increased my love for the place. Next year, I am going to try to come out here even earlier and spend more time here.
Two goals, one focus
The weather has been great over the last few days - although it turned wet in Suzuka on Thursday and it looks like we have got more rain to come over the weekend. Whatever happens, I intend to be ready for it and do my best.
I come here with two goals - one big one, the championship, and one that I hope is a step on the way. To win at Suzuka.
I sometimes think of the championship as like hiking up a mountain, and every now and then you get to particularly difficult parts. This weekend at Suzuka we reach one of the toughest steps.
Getting past that with confidence and coming out the other side knowing you can go up the next one is important.
Suzuka is one of the legendary tracks. It is an old-school circuit and there are not many of them left.
Last five winners in Japan
2013:
Sebastian Vettel (Red Bull)
2012:
Sebastian Vettel (Red Bull)
2011:
Jenson Button (McLaren-Mercedes)
2010:
Sebastian Vettel (Red Bull)
2009:
Sebastian Vettel (Red Bull)
Over the years, it has been resurfaced and there have been a couple of small changes, but it has kept its character.
They don't make circuits like Suzuka any more. The layouts are all calculated perfectly by a guy called Hermann Tilke, who designs all the new tracks.
But this one goes up and down, there are cambered corners, off-camber corners. It even crosses over itself. How cool is that?
Then there is the fact that I have grown up playing it on computer games and watching some of the most historic races, like those between Alain Prost and Ayrton Senna, or the time Kimi Raikkonen came from 17th on the grid to win in 2005.
If I win at a track, I feel like I have conquered or mastered it. But I have not won at Suzuka yet. I feel like I have still to master it, and that frustrates the hell out of me.
I have had some great laps around there but my best result is a third place in 2009, the first time I raced at Suzuka. In the first two years of my career the Japanese Grand Prix was at Fuji.
There are numerous reasons for me not getting such great results at Suzuka so far.
There were times when I simply over-drove; others when I have put the balance of the car in the wrong place - good for qualifying, perhaps, but not so good for the race.
Having said that, I think I have only had a car to win here once, or maybe twice.
There was 2011, when Jenson Button, my team-mate, did win for McLaren. And maybe last year I could have held on in front for Mercedes if I had not been taken out at the start.
But I feel great coming here this year and I know I have got a great car in which I will at least have a chance to win.
If I do all the steps the same or better as I have in the previous races this year, hopefully I will have at least as good a shot as ever to win it.
If I could do that, it would feel like an amazing accomplishment, to know my name had been added to the list of the great drivers who have won here.
Leading, but still hunting
This is only the second time this season that I have come to a race as the championship leader, following my win at the last race in Singapore.
People might not believe me, but since I left the track there I have not thought about that race.
Everyone else was out partying that night, but I went to bed early. I am thinking long term. Yes, it is great to celebrate a win, but how great would it be to celebrate a championship? That is my sole focus.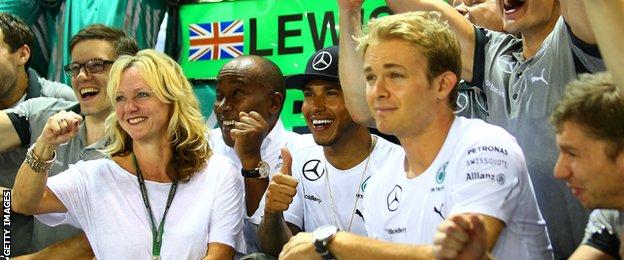 I am leading the championship but it is only by three points over my team-mate Nico Rosberg and I still feel like I am hunting.
I am not thinking: "Great, it's equal now." Or: "Now we've had as many difficult races as each other." Firstly, that is not the case, and secondly, that is not how I am looking at it.
I am thinking: "I've got to win this thing." I did not think I could be any hungrier, but if anything, my hunger for the championship has grown all year.
As a driver, you are always trying to find a nice balance in your life, and I feel that is where I am right now.
I am generally making good decisions, which are positive for the next days. I really just want to maximise everything.
You never know how long you have got on this earth. And when I get to the Pearly Gates, I want to be able to say: "You know what, I rocked it. I did everything I wanted to do. I got every ounce of my potential out."
You never know how the next races are going to go, so you just have to take it as it comes.
I just have to try to be as prepared as possible - mentally, which I feel I am; making sure we do all the right steps with the car; and then I have to do the job. And that is what I intend to do.
You can follow Hamilton on Twitter @lewishamilton and you can see exclusive content on his website www.lewishamilton.com
Lewis Hamilton was talking to BBC Sport's Andrew Benson