Japanese Grand Prix: Organisers wait on Typhoon Phanfone arrival

By Andrew Benson
Chief F1 writer
Last updated on .From the section Formula 1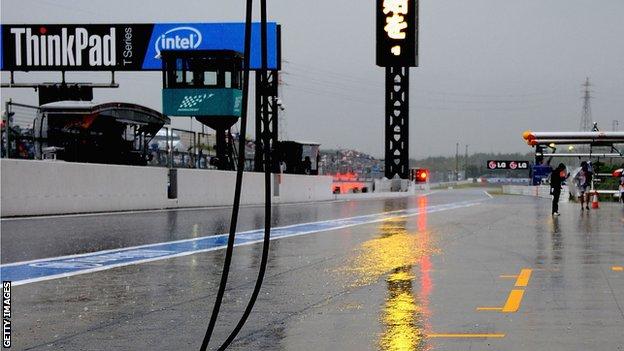 Japanese Grand Prix organisers are still unsure of the impact Typhoon Phanfone will have on Sunday's race.
The storm is approaching the Japanese coast and is expected to lead to heavy rain, but the worst conditions may not come until Monday.
"Our team are monitoring at all times," said a race spokesman.
"Everyone is trying to make sure the race can go ahead - but it will go ahead only if conditions in and around the circuit are safe."
The race is due to start at 15:00 local time (07:00 BST) and cannot be moved back as dusk falls fairly soon after the scheduled end.
As well as the possible impact on Sunday's race, F1 weather forecasters Ubimet said the storm could affect the packing and departure of equipment for next weekend's inaugural Russian Grand Prix.
BBC Weather presenter Alex Deakin
"Suzuka itself could get hit but the storm looks like being to the south on Sunday. The outer bands of rain may provide some pretty slippery conditions on track and gusty winds will be in place as well. The worst of the conditions in Suzuka actually look like happening on Monday. There could be some issues with people getting away from the circuit and flying out of Tokyo on Monday."
Bands of rain are predicted, some of them heavy, with the centre of the typhoon passing between Monday morning and afternoon.
As of Saturday afternoon the centre of Typhoon Phanfone was located approximately 600 miles south-west of Suzuka and the race is almost certainly going to be run in wet weather.
Ubimet said: "Although we expect rain during the normal race period, the heaviest rain and possibly storm-force winds will affect the circuit later on.
"The main body of the typhoon will impact most of Honshu on Sunday night with gusts of up to 120kph and torrential rain over a few hours. Disruption to transport out of Nagoya airport is almost certain."
The Japanese Grand Prix is part of the run-in for the world championship between Mercedes drivers Lewis Hamilton and Nico Rosberg.
Hamilton leads by three points following his victory in Singapore two weeks ago but Rosberg will start Sunday's race from pole position and there are 150 points available over the remaining five races.