Japanese Grand Prix: Fernando Alonso not ruling out Ferrari exit

By Andrew Benson
Chief F1 writer
Last updated on .From the section Formula 1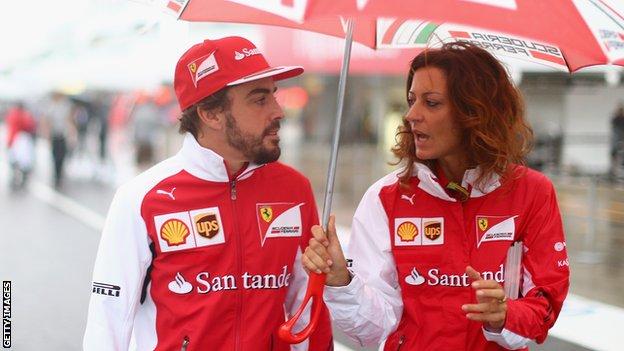 Fernando Alonso has refused to rule out leaving Ferrari before the end of his contract, which runs until 2016.
The double world champion is a target of McLaren, who want him to lead their team into their new engine partnership with Honda from 2015.
Alonso was asked at the Japanese Grand Prix whether he could say definitively that he would not be at McLaren or Red Bull in 2015 or 2016.
"That's a very difficult question to answer," he replied.
"I will do the best for Ferrari."
BBC F1 chief analyst Eddie Jordan:
"Honda and McLaren want to hit the ground running. They want Alonso or Sebastian Vettel and it's possible both could wind up there. There are moves happening as we speak and possible scenarios that by the end of October there could be a change of management and of drivers in that team."
Read more
The 33-year-old's future is the subject of intense speculation in Formula 1.
Ferrari are in the midst of restructuring their team in an attempt to bring it back to the front after their least competitive season for 20 years.
But there are signs that tension has grown in the relationship between them and their lead driver, who has finished second in the championship in three of the four seasons he has been at the team.
Alonso has grown frustrated at Ferrari's inability to provide him with a competitive car in that period, during which time the team have slid further behind the pace of the leading teams.
And Ferrari are frustrated at his refusal to commit his future to them - talks about extending his contract beyond 2016 are said to have stalled, with Ferrari feeling his demands are too great.
Meanwhile, McLaren and Honda have effectively offered the Spaniard an open chequebook and are hoping to persuade him to join from either 2015 or 2016.
That is despite the turbulent year Alonso spent with McLaren in 2007, at the end of which they agreed to separate only one year into a three-year contract.
Red Bull insiders say they are not interested in signing him, preferring to pick any new drivers from their development programme, which delivered both Sebastian Vettel and Daniel Ricciardo.
When it was put to Alonso that the rumours of him leaving Ferrari had intensified, he seemed to imply that his future depended on a decision by the team, not himself.
"If they are intensified, I don't know the reason and cannot imagine the reason," Alonso said.
"I always put the interest of the team and the interest of the tifosi (fans) - this big brand Ferrari that is bigger than all of us - in front of my own interest.
"So if there is something to talk about in the future and something better for Ferrari, I will do whatever."
Alonso at Ferrari

Races:

91

Wins:

11

Podiums:

44

Points:

1160
Asked why he would not say definitively that he was staying at Ferrari in 2015, Alonso said: "I live for my job. I prepare my job from 1 January to 31 December. It is no different here. It is more special here because it is a different team, the best team in the world.
"I have been in here five years giving everything on the track and the numbers speak for themselves.
"Outside the track - sometimes it is public, sometimes not - but my priority is always the best interest of Ferrari.
"I am not living out of the world and I am aware of all the rumours that come out. It is not helping.
"We are in the middle of a fight with Williams for third place in the constructors' championship. It is not easy and this is the first priority for me now - at the track, help the team.
"And the second priority will be my future if there is anything to talk about because there is no news from last year, from this year, from July, September, now we are in October and there is no news but there are many rumours, so we see."
Ferrari are keen to attract Vettel should Alonso leave, but the German is under contract for 2015 to Red Bull.
Failing that, Marussia's Jules Bianchi would be the most likely pick to partner Kimi Raikkonen next year, with the aim still to sign Vettel for 2016, when Raikkonen is potentially out of contract.