Lewis Hamilton: Mercedes driver hails this season as his best yet

By Andrew Benson
Chief F1 writer
Last updated on .From the section Formula 1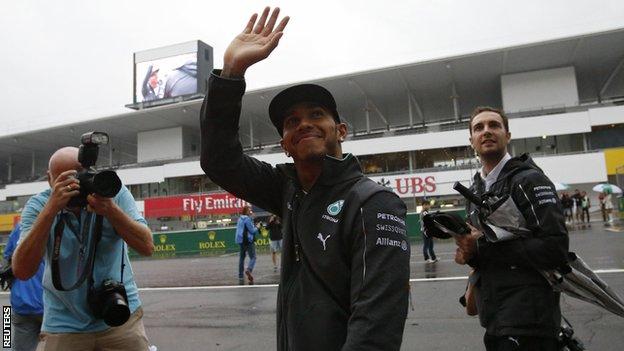 Lewis Hamilton believes he has put together the best season of his Formula 1 career as he chases the drivers' title with Mercedes in 2014.
Hamilton leads team-mate Nico Rosberg by three points heading into Sunday's Japanese Grand Prix, the latest round of a tense intra-team fight.
"This has been the most consistent, best performing season I remember having," said Hamilton.
"I want to continue that for many years. It's like building work."
Hamilton has won the last two races in Italy and Singapore to overturn a 29-point deficit to Rosberg. That gap had widened after Hamilton failed to finish the Belgian Grand Prix as a result of damage sustained in the controversial collision between the two Mercedes men.
Hamilton beat Rosberg into second place in Monza, fighting back after a bad start and pressuring the German into two mistakes.
Rosberg then suffered a retirement in Singapore to hand Hamilton the championship lead for the first time since May.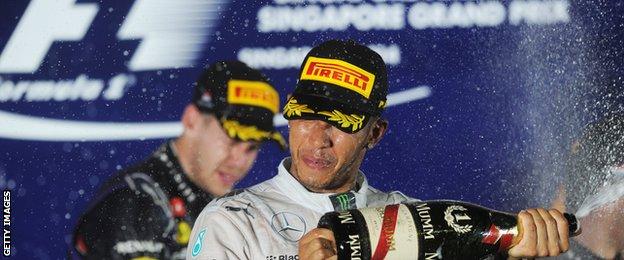 But Hamilton said he did not think Rosberg would be struggling to overcome the psychological effect of losing so many points in such a short space of time.
"Nico is such a strong competitor," Hamilton said. "Since we have been kids he has always been so strong mentally, confident and sure of his abilities.
"He has shown time and time again his pace and speed and how he overcomes things quickly.
"He handled the last race with dignity and it felt from what I could see he has moved on very quickly and I anticipate he will be stronger than ever here and I need to be ready for that."
Rosberg said: "It was a tough moment but time is the best healer for such things.
"It has been two weeks, which is plenty of time in the racing world, and it is completely forgotten.
"I have come here just as excited and optimistic as I was before Singapore. I have never come to Suzuka, which is one of the best tracks, with a dominant car and I know I have a chance for pole and a chance to win the race. It is a great feeling."
Hamilton said he was aware of the importance of the final five races of the season, which ends in Abu Dhabi on 23 November.
"I know this weekend could be tough, the next five could be tough, there is all the possibilities in the world I could be facing the toughest time of my life," he said.
"But also there is the possibility it could be the greatest time of my life.
"I feel as well prepared as I could be to deal with whatever comes. We are working very hard to stop reliability issues and hopefully that won't be something we have to worry about."
Mercedes drivers in 2014

Lewis Hamilton
Nico Rosberg

Seven

Wins

Four

11

Podiums

11

Six

Pole positions

Seven

Three

Retirements

Two

241

Points

238
Hamilton's target is to win at Suzuka this weekend, on the track many regard as the greatest challenge for a racing driver.
And he admitted the pressure of the title fight was always on his mind.
"Pressure comes in different forms," he said. "It's different feelings every time.
"I find it very strange as a sportsman. Sometimes you wake up and feel great and the day doesn't go so well. And sometimes you don't feel great and the race goes amazing. I don't understand. Every race feels different.
"I don't know what to expect. Sometimes I feel it in my stomach. Sometimes I feel chilled, sometimes I don't feel good and then I win.
"What that has taught me is to just ride the wave and I just don't think about it.
"But of course arriving with a clear thought, the sole purpose of winning is what we have to do. Pressure is something that grows subconsciously without you knowing what was happening."