Japanese GP: Caterham will survive season, says boss

By Andrew Benson
Chief F1 writer
Last updated on .From the section Formula 1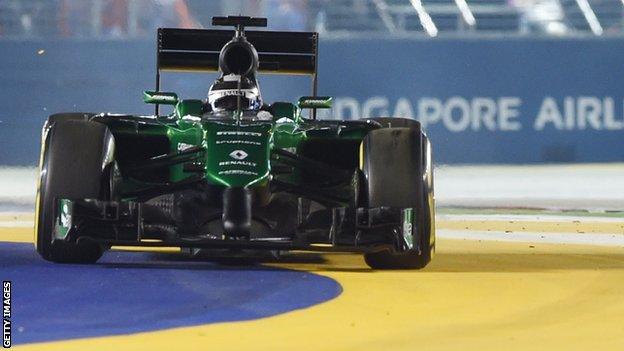 Caterham Formula 1 boss Manfredi Ravetto says he is "very confident" the team will survive to the end of the season and beyond.
Asked what were the chances of the team seeing out the season, he said: "I did not provide a bank guarantee we will be here to the end or next year.
"But who can do this? I am very much confident. We are quite relaxed."
Ravetto took over as team principal last month following the decision of Dutchman Christijan Albers to step down after just two months in the role, citing "private reasons" and a desire to spend more time with his family.
Ravetto said the team would continue because the new owners, who took over from founder Tony Fernandes in July, wanted to protect their investment.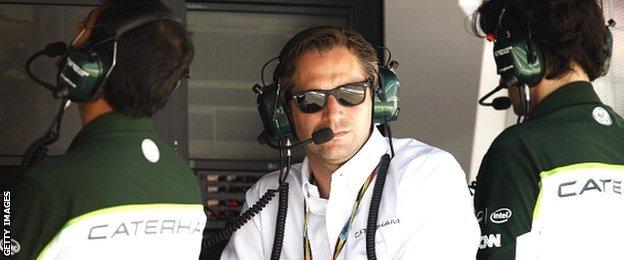 "The main guarantee I can give is highlighting once more the importance of keeping an entry and to do that you need to keep two cars on the grid and this is what we are going to do," Ravetto said.
The identity of the owners, who Caterham say are a Swiss-Middle Eastern consortium, has not yet been revealed.
Ravetto said the team planned to race next season, adding that the "2015 wind tunnel model is testing in Cologne now" in the Toyota motorsport factory formally used by the Toyota F1 team.
"We prefer to avoid big speeches and do facts," he said. "On track we are showing commitment to our loyal employees. I am proud to be part of this group of people and we will do everything to protect their jobs."
Caterham are facing employment tribunal proceedings from 38 former staff members who claim unfair dismissal following the termination of their contracts in the wake of the change of ownership.
Solicitor Christopher Felton, representing the workers, said he had written to Caterham F1's directors saying they appeared to have "put the interests of certain creditors above others, which could be unlawful".
Ravetto said the dismissed former employees "had no contract with [Caterham's parent company] 1MRT".
He added: "In respect of this issue, I will only tell you that I am very happy the company is based in England, a country with historical (and) very important judicial position. There are excellent courts and they will tell who is right and who is wrong."
Japanese Grand Prix coverage details