Fernando Alonso to be replaced by Sebastian Vettel at Ferrari
Last updated on .From the section Formula 1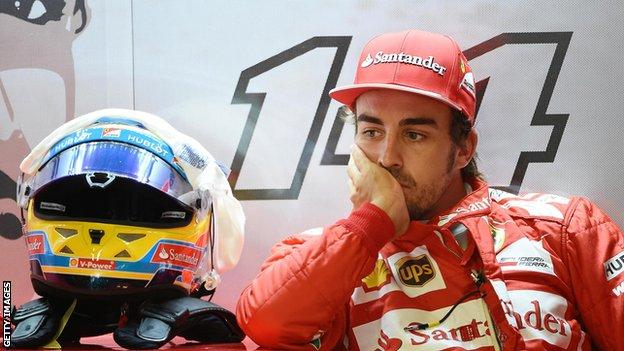 Fernando Alonso is to leave Ferrari at the end of the season, with Red Bull's four-time world champion Sebastian Vettel lined up to replace him, says BBC F1's chief analyst Eddie Jordan.
Red Bull have announced that Vettel is leaving and will be replaced a by current Toro Rosso driver Daniil Kyvat.
Spain's Alonso, world champion in 2005 and 2006, has reached an agreement over the last two years of his contract.
Jordan said: "Alonso has lost faith in Ferrari's ability to deliver him a title-winning car.
"Ferrari have been chasing Vettel for years and look to have landed him."
Alonso moving to McLaren would cast serious doubt over Jenson Button's future in F1.
Jordan, a former F1 team owner with extensive contacts, said of the 2010-2013 world champion: "Ferrari has had a long-standing agreement with Vettel that he would join them when he leaves Red Bull.
"Vettel has had a disappointing season in 2014. He has been out-shone by team-mate Daniel Ricciardo, and I'm told he has decided it is time to move on from the team that has backed him since he was a child."
Ferrari are undertaking a major restructuring under new team principal Marco Mattiacci, but Alonso's relationship with the team has cooled over the last season.
The Italian team are on course for their worst season since 1993.
Alonso, who has finished second in the championship to Germany's Vettel three times in the last four years, refused to say if he would still be with the constructor in 2015 when arriving at the Japanese Grand Prix on Thursday.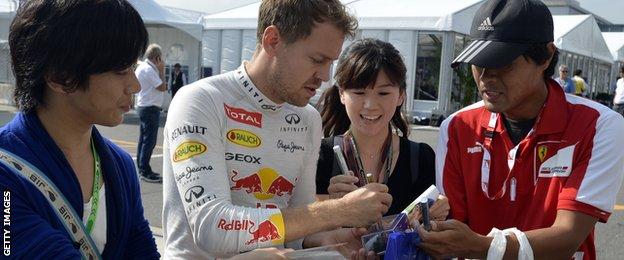 Jordan said: "Alonso's departure has been assisted by outgoing president Luca Di Montezemolo. He asked Alonso if he could give him anything as a leaving gift. Alonso asked to be released from his contract.
"I have reason to believe he has already concluded a deal with McLaren-Honda."
McLaren have been chasing 33-year-old Alonso for more than a year, despite the turbulent relationship between team chairman Ron Dennis and driver when they worked together in 2007.
The two parties agreed to split one year into a three-year contract.
Jordan said: "Dennis and Alonso made their peace in a meeting this summer, although their relationship remains wary."
Honda is keen for Alonso to lead their attempt to revive the McLaren-Honda partnership of the late 1980s and early 1990s with Ayrton Senna and, initially, Alain Prost.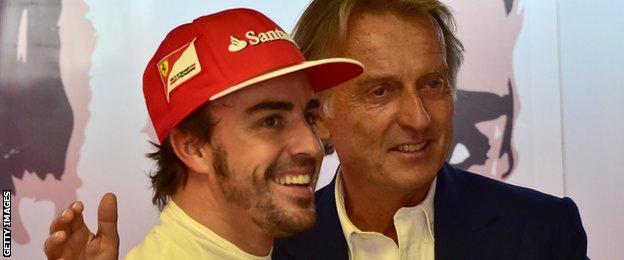 McLaren insist that they have made no decisions on their driver line-up.
But assuming Alonso joins them as expected, one of Button or Kevin Magnussen would be out of a drive.
Jordan said: "McLaren are most likely to keep Magnussen. He has increasingly begun to out-pace Button in qualifying. He is 22 on Sunday so is at the beginning of his career, while Button in his mid-30s is nearing the end."
In a BBC Sport interview at the Japanese Grand Prix, Dennis said of Button and Magnussen: "I understand they'd like to feel more comfortable but it's just not necessary for us to take any decisions yet. We're waiting to see how things pan out down the pit lane.
Fernando Alonso'as Formula 1 career
2001:
Debut for Minardi at the Australian Grand Prix aged 20.
2002:
Became test driver for Renault.
2003:
Replaced Jenson Button as full-time driver for Renault. Became youngest driver ever to achieve a pole position at the Malaysian Grand Prix (22). Finished second in his home Grand Prix and became the youngest driver to win a Grand Prix in Hungary. Finished his first season sixth in the driver's standings.
2005:
Became world champion, ending the five-year dominance of Michael Schumacher. Season consisted of seven wins, six poles and 15 podium finishes.
2006:
Won the World Championship again becoming the youngest ever double world champion in Formula 1 history.
2007:
Signed for McLaren but terminated the contract after one season finishing third behind Kimi Raikkonen and Lewis Hamilton.
2008-09:
Moved back to Renault. Alonso finished 5th and 9th.
2010:
Signed a two-season deal at Ferrari. Finished second in World Championship.
2011:
Signs contract extension with Ferarri.
2012-13:
Finished second behind Vettel in World Championships for the third and fourth years running.
"We talk to any driver who could be on the market but we are very comfortable with what we've got; we just don't see the need to take any decisions yet."
He added: "I can't see any reason to change anything at the moment."
Alonso's departure from Ferrari was effectively signalled by Di Montezemolo and new president Sergio Marchionne at the Paris Motor Show on Thursday.
Marchionne, who is also the chief executive officer of parent company Fiat, said: "Ferrari is more important than any partner."
Di Montezemolo said: "Alonso is a great driver, for me the best in the world. We are working to find the best solution for him and Ferrari in mutual respect.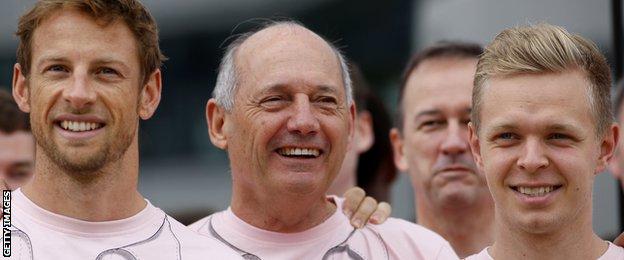 "Alonso in recent years has given us everything, has made extraordinary races, came close to winning the World Championship in 2010 and 2012 and one thing that still makes me feel bad is that both he and us thought we would do better.
"But he never held back, he always pushed hard. I thank him for his commitment."
It is not known who would replace Vettel at Red Bull, although the team have told BBC Sport they are committed to their young driver programme and would not be interested in Alonso.
Jordan said: "They are most likely to promote Russian Daniil Kvyat to partner Ricciardo. He is only 20 but has impressed in his debut season for Toro Rosso.
"That would leave a vacancy at Toro Rosso alongside 17-year-old Max Verstappen next season., which could be filled by Spaniard Carlos Sainz Jr, the leader of the Formula Renault 3.5 feeder series."
Additional reporting by Tom Clarkson