Sebastian Vettel swaps Red Bull for Ferrari, Fernando Alonso exits

By Andrew Benson
Chief F1 writer
Last updated on .From the section Formula 1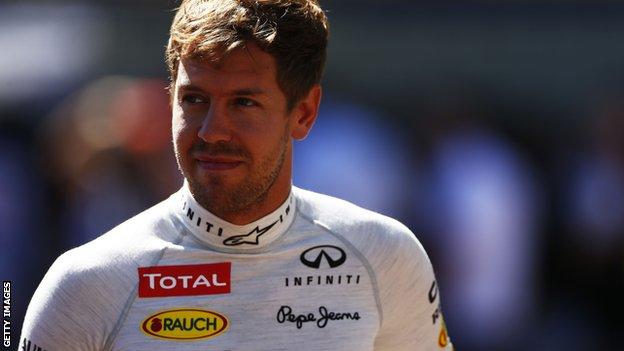 Four-time world champion Sebastian Vettel will leave Red Bull to join Ferrari, replacing Fernando Alonso, who is set for McLaren.
Red Bull announced on Saturday that 27-year-old Vettel had "advised them" he would be leaving.
Team principal Christian Horner said Ferrari had made Vettel "a very attractive offer."
Alonso, 33, still had two more years to run on his contract but he and Ferrari have agreed to separate.
Horner also revealed that Vettel only told him of his decision to leave on Friday night - in the middle of the Japanese Grand Prix weekend - hours before the official announcement was made.
"All I can do is wish him the very best for the future," he said.
Vettel will be replaced at Red Bull by Russian Toro Rosso driver Daniil Kvyat.
Neither Vettel's move to Ferrari nor Alonso's switch to McLaren have yet been officially announced, but both are expected to be in the coming days.
Aside from McLaren, Alonso's only other options are to retire or to take a sabbatical year, neither of which are considered likely.
Vettel, who has been out-shone by new team-mate Daniel Ricciardo this year, has been backed by Red Bull since he was 12 years old, but said he wanted to "do something else, something new".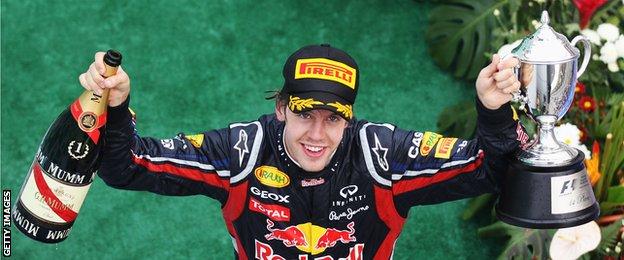 "It is not the first time I have been approached but it felt like the right time," added the German.
"I'm not leaving because I don't like the team or individuals, I'm not running away from anything. The voice inside me, the hunger to do something new was bigger. It was not the easiest decision but you have to listen to your heart."
He refused to admit he was joining Ferrari, saying: "I don't have anything I can confirm now. For now, I can't say much."
Ferrari have had a long-standing agreement with Vettel that he would join them when he leaves Red Bull.
Vettel will hope to benefit from the major restructuring that is taking place at Maranello under new team principal Marco Mattiacci.
Alonso, six years older than Vettel, feels the passage of time in his career more keenly and, after five frustrating seasons, he has lost faith that Ferrari can return to competitiveness in time for him to win a third world title. He believes McLaren and new engine partner Honda are a better bet.
"Today was a surprise, with the announcement of Vettel leaving Red Bull," said Alonso.
"Everyone was waiting for some kind of announcement on my side and the first one to move was Sebastian.
"The priority is to help Ferrari. We are in the middle of a (race) weekend. I have had my mind set for two or three months; everything was moving in that direction. I can go more or less where I want."
Fernando Alonso's F1 career
2001: Debut for Minardi at the Australian Grand Prix aged 20
2002: Became test driver for Renault
2003: Replaced Jenson Button as full-time driver for Renault. Became youngest driver ever to achieve a pole position at the Malaysian Grand Prix (22). Finished second in his home Grand Prix and became the youngest driver to win a Grand Prix in Hungary. Finished his first season sixth in the driver's standings
2005: Became world champion, ending the five-year dominance of Michael Schumacher. Season consisted of seven wins, six poles and 15 podium finishes
2006: Won the World Championship again becoming the youngest double world champion in Formula 1 history
2007: Signed for McLaren but terminated the contract after one season finishing third behind Kimi Raikkonen and Lewis Hamilton
2008-09: Moved back to Renault. Alonso finished fifth and ninth
2010: Signed a two-season deal at Ferrari. Finished second in World Championship.
2011: Signs contract extension with Ferarri.
2012-13: Finished second behind Vettel in World Championships for the third and fourth years running.
McLaren have been chasing the 2005 and 2006 world champion for more than a year, through a change in team boss from Martin Whitmarsh to Eric Boullier, despite the turbulent relationship they had during Alonso's sole season with the team in 2007.
After a disharmonious year during which Alonso badly fell out with chairman Ron Dennis, the two parties agreed to split one year into a three-year contract.
Sources say Dennis and Alonso made their peace in a meeting this summer, although their relationship will inevitably always be cool.
And Honda are keen to have Alonso on board to lead their attempt to revive the famous McLaren-Honda partnership of the late 1980s and early 1990s, when their drivers included F1 legends Ayrton Senna and Alain Prost.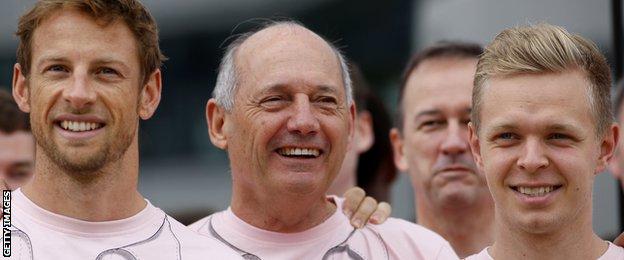 McLaren said they had made no decisions on their driver line-up, but, assuming Alonso joins McLaren, Jenson Button or Kevin Magnussen would be out of a drive.
The team are believed to be more likely to keep Magnussen, who has begun to out-pace Button in qualifying. He turns 22 on Sunday, while 34-year-old Button is nearing the end of his career.
"We don't have a contract for any driver for respect of next year," Dennis said. "That's a simple factual statement.
"The first thing we have got to be is massively attractive to all drivers and I hope we are still very attractive to the two who are currently and more than likely will be driving the cars next year."
Japanese Grand Prix coverage details