Lewis Hamilton beaten by Nico Rosberg to Japan pole position

By Andrew Benson
Chief F1 writer
Last updated on .From the section Formula 1
Lewis Hamilton lost his fight for Japanese Grand Prix pole position with Mercedes team-mate and title rival Nico Rosberg.
The result will be an important psychological score for the German on arguably F1's most demanding circuit.
Hamilton, who leads Rosberg by three points in the championship, was beaten to pole by Rosberg by 0.197 seconds.
Williams's Valtteri Bottas and Felipe Massa were next, ahead of Ferrari's Fernando Alonso.
Red Bull's Daniel Ricciardo was sixth, ahead of McLaren drivers Kevin Magnussen and Jenson Button, Red Bull's Sebastian Vettel and Ferrari's Kimi Raikkonen.
The session took place against the backdrop of huge changes in the F1 driver line-up for 2015.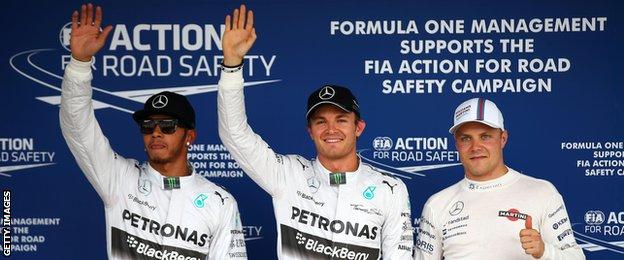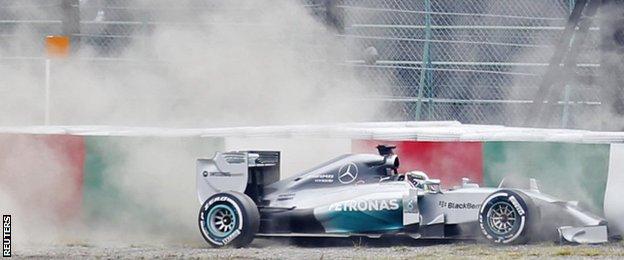 Red Bull announced on Saturday morning that Vettel, their four-time champion, was leaving the team at the end of the season.
The German will move to Ferrari, replacing Fernando Alonso, who is expected to switch to McLaren. Neither of those deals has been officially announced yet.
Although Rosberg's pole will give him a confidence boost after seeing Hamilton turn a 29-point deficit into a small advantage over just two races, it may ultimately mean little.
Heavy rain is forecast for the race on Sunday as typhoon Phanfone approaches the Japanese mainland. It is expected to make landfall on Monday, but storms are forecast from Sunday.
Mercedes motorsport chief Toto Wolff said a crash by Hamilton in Turn One in final practice may well have affected the Briton.
Hamilton lost control at the 150mph and crashed into the barrier, breaking the left front suspension, and losing his chance to do a lap in qualifying set-up ahead of the session that settles the grid.
Hamilton was fastest in the first session of qualifying, but Rosberg had the edge in the second, and on both runs in the top 10 shoot-out.
"The car was so amazing to drive," Robserg said. "It was really cool."
Hamilton said: "Nico was extremely quick today, I did the best I could.
"My guys did a fantastic job to rebuild the car after I binned it. Today I just wasn't really feeling it. I don't know why. But the race is when you get the points and I am looking forward to the tricky weather."
The two Mercedes were in a league of their own, with Bottas 0.622secs off Rosberg's pace and Massa 0.39secs further adrift.
Alonso in fifth was 1.234secs off Rosberg but 0.335secs clear of Ricciardo behind him.
Vettel and Raikkonen, the 2015 Ferrari line-up, were both well off their team-mates.
Vettel was 0.643secs slower than Ricciardo and Raikkonen 0.808secs off Alonso.
Japanese Grand Prix qualifying results
Japanese Grand Prix coverage details