Sebastian Vettel 'not running away' from Red Bull

By Andrew Benson
Chief F1 writer
Last updated on .From the section Formula 1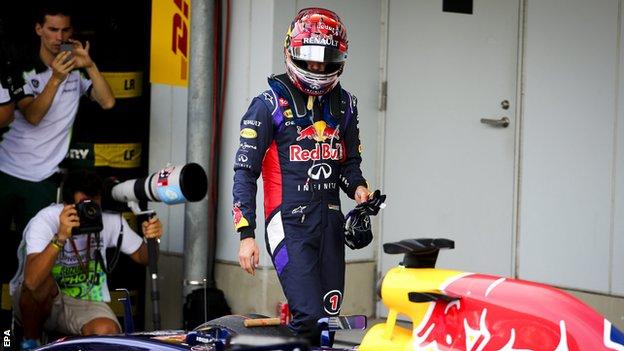 Sebastian Vettel says his decision to leave Red Bull has not been influenced by the performance of Daniel Ricciardo.
Vettel, a four-time world champion, trails team-mate Ricciardo by 57 points in this year's drivers' championship.
German Vettel, whose expected move to Ferrari is yet to be confirmed, said: "I'm not leaving because I don't like the team or individuals. I'm not running away from anything.
"The voice inside, the hunger to do something new, was bigger."
Red Bull announced Vettel's decision to leave on Saturday morning at the Japanese Grand Prix, with the 27-year-old informing team principal Christian Horner of his decision the previous night.
Vettel has refused to confirm he is to join Ferrari, who approached him once they had been told by their current number one Fernando Alonso that he wanted to leave.
"It is a tough step after such a long time together with Red Bull," said Vettel, who has been backed by the soft drinks manufacturer's motorsport programme since he was 12.
"After so many fantastic years, I did and still am enjoying my time, but at some stage in life you want to do something else, something new. It is not the first time I have been approached but it felt like the right time."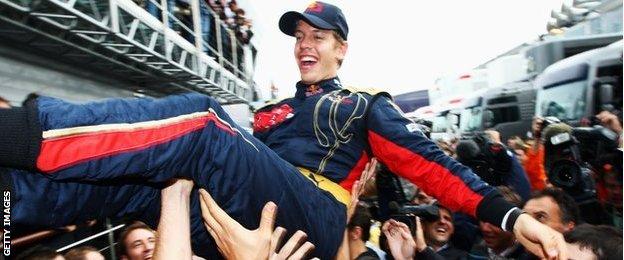 Vettel said he had not decided to leave because Red Bull have struggled for competitiveness this season in the face of Mercedes' domination.
"It is not a decision based on current results," he said. "A decision like that does not happen overnight. It is always a big step when a relationship like that comes to an end. But there is nothing negative in the air. That is what made the decision so difficult for me."
And he said the desire to become champion with another team was also not a major factor.
"There are plenty of things people say a true great driver should achieve in his life and so on," he said.
Vettel's decision to leave comes in the midst of a period of major change at Red Bull.
Their design chief Adrian Newey, regarded as F1's pre-eminent designer, has stepped back from his full-time role on F1 into an advising and mentoring capacity while he concentrates on other projects, believed to be Britain's America's Cup bid.
And Vettel's long-time race engineer Guillaume Roquelin, has been moved into a different, more senior role.
Japanese Grand Prix qualifying results
Japanese Grand Prix coverage details