Tributes for Jules Bianchi as drivers arrive for Russian GP
Last updated on .From the section Formula 1
Russia will welcome a Formula 1 race for the first time in the sport's history when the Sochi Olympic Park plays host this weekend.
Mercedes' Lewis Hamilton targets his fourth successive race win as he looks to extend his 10-point lead over team-mate and chief title rival Nico Rosberg.
Forza Jules
But the thoughts of all involved in Formula 1 are with Marussia driver Jules Bianchi, who is in hospital and in a "critical but stable" condition after suffering severe head injuries at the Japanese Grand Prix.
The 25-year-old from France, who is part of the Ferrari young driver academy, had surgery on Sunday after his car hit a recovery vehicle that was removing another car during the race.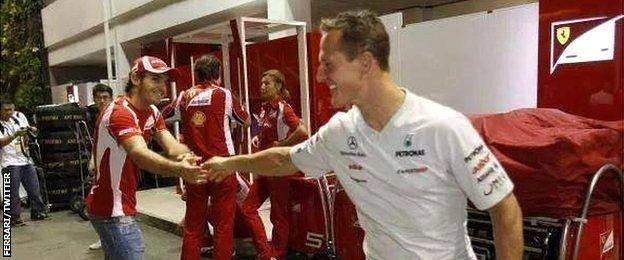 The Italian team sent their best wishes both to him and seven-time world champion and former Ferrari driver Michael Schumacher, who sustained a serious brain injury while skiing at the end of last year.
Ferrari tweeted on arrival in Sochi: "The team is in Sochi, all our thoughts remain in Suzuka. Hopes for Michael as well. #ForzaJules #ForzaMichael."
Mercedes driver Lewis Hamilton wrote on his website after Sunday's race: "Our first thoughts go to Jules - it overshadows everything else when one of our colleagues is injured and we are praying for him."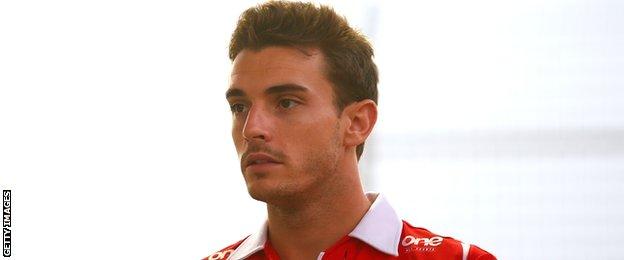 Lotus driver Romain Grosjean tweeted: "Arrived in Sochi last night. Truly hoping that we get some positive news for Jules Bianchi soon. Hard to wait."
McLaren driver Jenson Button tweeted: "My thoughts are with fellow driver Jules Bianchi. The whole of the motorsport world is pulling for you."
Bianchi's family released a statement on Tuesday thanking people for their support.
From Russia with love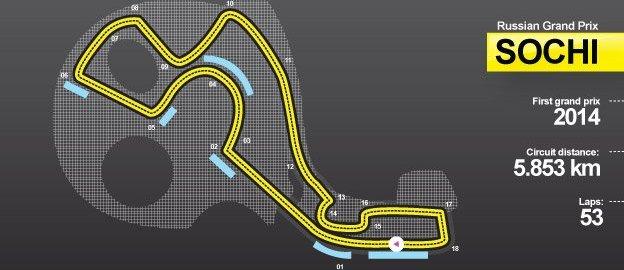 F1 boss Bernie Ecclestone has been trying since at least 1982 to take F1 to Russia, only to see plans for races in St Petersburg and Moscow collapse.
But in 2010 he got his wish when he signed a seven-year contract, which reportedly costs Russia £25m a year, to host a race in the Black Sea resort of Sochi.
The Sochi Autodrom is a 3.1-mile (5.8km) circuit that weaves its way around the Sochi Olympic Park, which hosted the Winter Games in February.
It is the third longest track on the calendar, behind Spa-Francorchamps and Silverstone, and part of the race will take place on public roads.
Interest in the sport has grown in the country with Russian Daniil Kvyat making his debut this season with Toro Rosso and impressing sufficiently to earn promotion to the Red Bull team as Sebastian Vettel's replacement for 2015.
There were doubts the race would go ahead with Ari Vatanen - who is a close ally of FIA president Jean Todt - calling for the race to be cancelled.
Finn Vatanen, the 1981 world rally champion, said if the race happens it will "condone" the "unprecedented" activities of President Vladimir Putin in Ukraine and eastern Europe.
Vettel likened the track to the Korean International Circuit, which hosted a race up to last year before dropping off the calendar, when he drove a lap with BBC analyst and former F1 driver David Coulthard.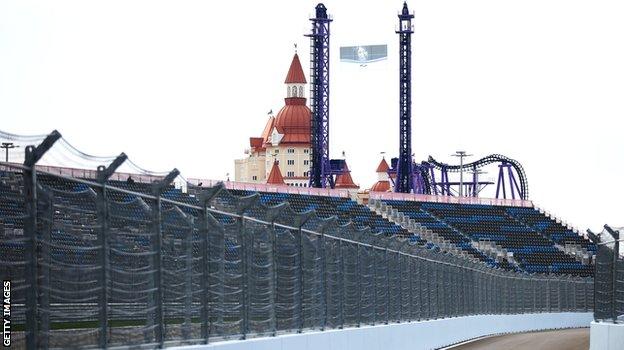 Hamilton-Rosberg battle continues
Hamilton was in imperious form at Suzuka, achieving his goal of winning his first race at the figure-of-eight track as he caught and passed Mercedes team-mate Rosberg to win Sunday's Japanese Grand Prix.
And the momentum in the battle for the drivers' title has swung to Hamilton in recent races, with the 2008 world champion's win in Japan his third triumph in a row. That has seen him transform a 29-point deficit into a 10-point lead in three races.
But there are still four races remaining, starting with the race in Sochi, and 125 points left on the table, because of double points at the finale in Abu Dhabi.
Hamilton and Rosberg's strong form means Mercedes are likely to pick up the constructors' title in Sochi - if they score 25 points that is enough to put the crown out of reach of their rival teams.
Getting to know you
All about Sochi
The Russian Grand Prix is a pet project of President Vladimir Putin, who was instrumental in a contract that is, according to senior sources in Formula 1, worth $250m (£155m) over the next five years.
The aim, apparently, is to make Sochi a Monaco of the Black Sea.
The inaugural event has been overshadowed by political questions about the wisdom of a global sport doing business with Russia while the crisis in nearby Ukraine is ongoing.
The track itself is a 3.6-mile street circuit around the stadiums that hosted the 2012 Winter Olympics and initial signs are promising.
BBC F1 co-commentator David Coulthard visited it with world champion Sebastian Vettel recently and reported that sections of it are very fast and challenging indeed - Vettel returned from one run in a road car with wide eyes, saying it would be quite something in an F1 car.
The most interesting corner looks set to be the long, negative camber Turn Three.
The Russian Grand Prix is the latest race to debut on the Formula 1 calendar, but how do drivers prepare for their first foray on a new circuit?
"To prepare for a new track I normally walk the track and cycle it a few times," Force India driver Sergio Perez said.
"Normally you need about 10 laps before you can really start doing performance runs. Nobody knows the track so we all start from zero."
Lotus driver Grosjean he had been "driving the Sochi circuit on the simulator".
"It didn't look very sexy from the outside but it actually seems to be really good fun. There's a great mix of corners and some good high-speed areas too," he added.
The Russian Grand Prix is live on BBC TV, radio and online.