Jules Bianchi: Felipe Massa was 'screaming' about conditions
Last updated on .From the section Formula 1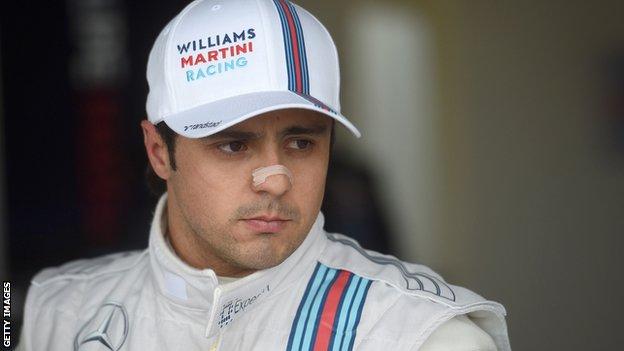 Williams driver Felipe Massa says he was "screaming" his concerns about the conditions at the Japanese Grand Prix before Jules Bianchi suffered a severe head injury in a crash.
Bianchi, 25, hit a recovery vehicle that was attending an earlier incident at the rain-affected race at Suzuka.
"I'm worried," said Massa - the last driver to have a serious injury in F1.
"I was already screaming on the radio five laps before the safety car that there was too much water on the track."
Frenchman Bianchi was taken to hospital to undergo surgery before being transferred to intensive care.
Massa, who suffered a fractured skull during qualifying for the 2009 Hungarian Grand Prix when a spring from another car hit his helmet, added: "They took a bit too long to bring out the safety car and it was dangerous. So we saw that there were some crashes at the end."
Sunday's race started under safety car conditions as treacherous wet conditions after storms that preceded the approaching typhoon Phanfone hit the area.
BBC F1 chief analyst Eddie Jordan believes it was the correct decision to let the race go ahead, despite the conditions.
"My thoughts are very clear, we're here to race and that's what should have happened and that's what did happen," he said.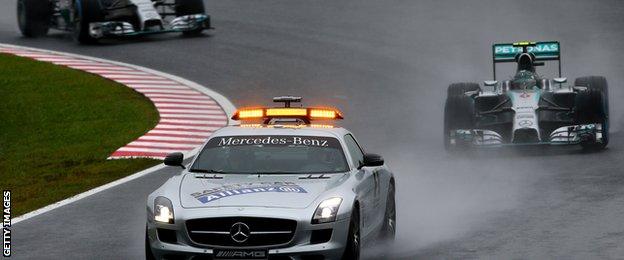 Following a red flag after two laps, and a further eight laps under the safety car, the rain finally subsided.
There was still water on the circuit but the race went largely without incident until the later stages when the rain returned and the downpour gradually intensified.
However, with 10 laps remaining, Sauber driver Adrian Sutil aquaplaned and spun into the tyre barriers on lap 43.
Bianchi lost control of his Marussia at the same spot soon after, travelled across the run-off area and hit the back of a recovery vehicle attempting to remove Sutil's car.
The race, which was won by Lewis Hamilton, was red flagged for a second time, and then declared over after 44 laps before Bianchi was taken to hospital.