Jules Bianchi: Marussia driver 'critical but stable' after crash
Last updated on .From the section Formula 1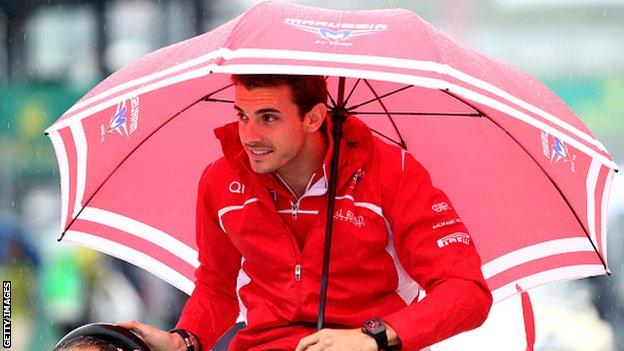 Marussia driver Jules Bianchi's condition is "critical but stable" following his crash in the Japanese GP, world motorsport's governing body the FIA has told BBC Sport.
The 25-year-old was unconscious when taken to hospital and had an operation on Sunday on a severe head injury.
The Frenchman was injured when his car left the Suzuka track where Adrian Sutil had crashed the lap before.
Bianchi's car hit a recovery vehicle that was removing Sutil's car.
Marussia earlier thanked fans for their support and asked for "patience and understanding with regard to further medical updates" about Bianchi's condition.
The team added: "Marussia would like to acknowledge the huge outpouring of affection and support for Jules.
"Further medical updates will be communicated in conjunction with the Mie General Medical Center in Yokkaichi, where Jules is being treated, when they feel it is appropriate.
"Representatives of the Marussia F1 Team and Ferrari will remain at the hospital to support Jules and the Bianchi family."
Bianchi's crash prompted the race to be stopped after 44 laps with Mercedes driver and championship leader Lewis Hamilton awarded the race victory.
Bianchi, who made his F1 debut with Marussia in 2013 and is also a member of the Ferrari young driver academy after previously working as a test driver for the team, lost control close to where Sauber driver Sutil had spun and hit the tyre barrier.
How the incident unfolded
Adrian Sutil aquaplanes and crashes into the tyre barriers on lap 43
Jules Bianchi hits the recovery vehicle attending Sutil's crash
The medical car and ambulance are deployed on lap 45
The race is red-flagged and declared over, with the race result counted back to after 44 laps
As a recovery vehicle was lifting Sutil's car, Bianchi travelled across the run-off area and hit the back of the tractor.
The rainy conditions had worsened at the time of the accident and Williams driver Felipe Massa said he had been "screaming" his concerns about the amount of water on the track.
Hamilton said the result was incidental in the circumstances, adding: "To hear one of our colleagues is seriously injured is the main worry."