Jules Bianchi: Avoid 'knee-jerk' reaction after crash, says Warwick
Last updated on .From the section Formula 1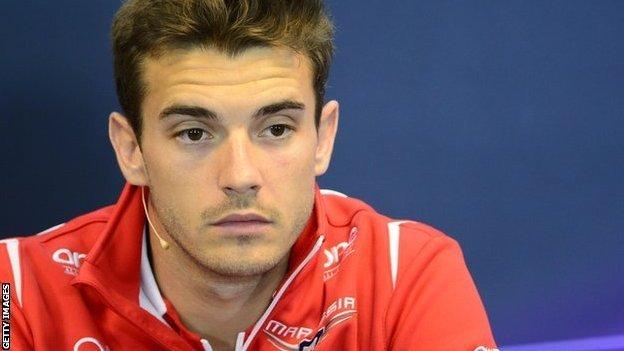 Former Formula 1 driver Derek Warwick has urged the FIA to avoid a "knee-jerk reaction" to the crash that left Jules Bianchi with severe head injuries.
Bianchi, 25, is "critical but stable" after his Marussia car hit a recovery vehicle at Sunday's Japanese GP.
The FIA, world motorsport's governing body, reportedly rejected a move to introduce closed cockpits last year.
Amid renewed calls Warwick said he believed the FIA would take the "initiative" in reviewing the crash.
Warwick, one of the FIA's regular race stewards, also defended race director Charlie Whiting, who he said faced "split-second decisions" during races, just like the drivers. The FIA has asked Whiting for a report on the crash.
"I don't think we need any knee-jerk reaction, like some people have called for, a safety car every time a snatch vehicle is recovering a race-car on the circuit," Warwick told BBC Radio 5 live.
What is diffuse axonal injury?
If the brain moves back and forth in the skull as a result of rapid acceleration or deceleration, such as in a car crash, damage can occur
The shearing action disrupts the brain's architecture and kills brain cells
In response to the injury, the brain swells and this increasing pressure can restrict blood flow, causing further brain damage
Assessing how much damage has occurred can take time - some damage may well be irreversible
By Michelle Roberts, BBC News Online Health Editor
"But maybe we need to look at other situations.
"That will be reviewed this weekend in Russia and I'm sure there will be a statement from the FIA and Charlie Whiting."
Williams driver Felipe Massa has questioned the FIA's handling of Sunday's race, saying they took "too long to bring out the safety car" and he had been "screaming" his concerns about the amount of water on the track.
However, Warwick added: "Charlie Whiting and his team of men, and there's something like 40 people in race control looking at these incidences at any one time, they have a split-second decision to make."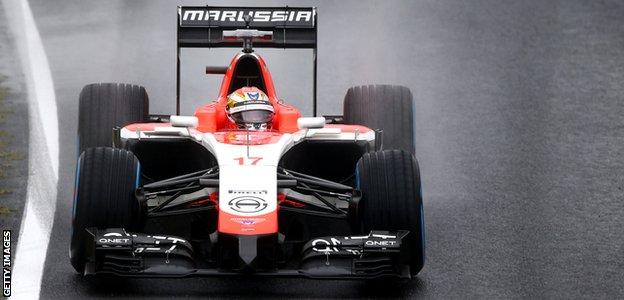 French driver Bianchi had surgery on Sunday after his car hit the recovery vehicle removing Sauber driver Adrian Sutil's car.
On Tuesday Bianchi's family revealed he had suffered a diffuse axonal injury, in which the brain moves back and forth in the skull as a result of rapid acceleration.
The Japanese Grand Prix had been under threat because of a typhoon predicted to cause disruption at Suzuka, and torrential rain did affect Sunday's race.
It was red-flagged after only two laps because of the weather, before resuming about 20 minutes later under the safety car.