Lewis Hamilton dedicates Russian GP win to Jules Bianchi

By Andrew Benson
Chief F1 writer in Sochi
Last updated on .From the section Formula 1
Lewis Hamilton dedicated his Russian Grand Prix victory to Jules Bianchi, who remains in a critical condition with severe head injuries.
Hamilton said he had been thinking of the Frenchman ever since his crash in the Japanese Grand Prix a week ago.
"It would be great to dedicate it to him and his family," Hamilton said.
"It would make a very small difference to them, but every bit of positive energy hopefully will help. We all need to be sending positive vibes that way."
All the drivers gathered on the grid in tribute to Marussia's Bianchi, whose car hit a recovery vehicle after he lost control in wet conditions at Suzuka despite waved yellow caution flags.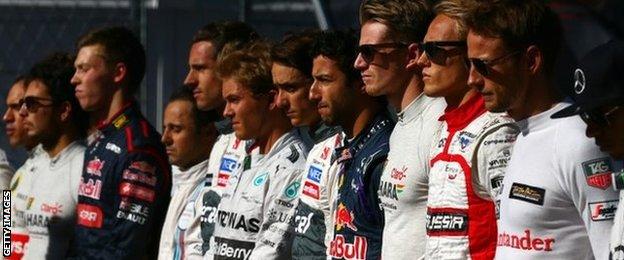 "I think the whole week there has been one person in mind and that's Jules," added Hamilton, whose Mercedes team secured the constructors' championship after a one-two finish.
"Of course there is excitement and happiness for the team and everything.
"But without a doubt every time I got in the car this week, I've honestly just been keeping him in my prayers every day."
Marussia's race was short. The team ran only one car in tribute to Bianchi and his team-mate Max Chilton stopped after just nine laps with an as yet unspecified problem.
Chilton said: "We always knew today was going to be difficult for lots of reasons. We were setting good lap times until coming into Turn Two on the brakes, I felt the car pulling to one side and you very rarely experience that, so I knew there was an issue.
"Going through Two it was OK and then I had a massive lock-upon the front-left into Four, and after that I had a huge vibration. It was getting worse and worse so I had to come in. There was no way I was going to finish. There was a failure of some description."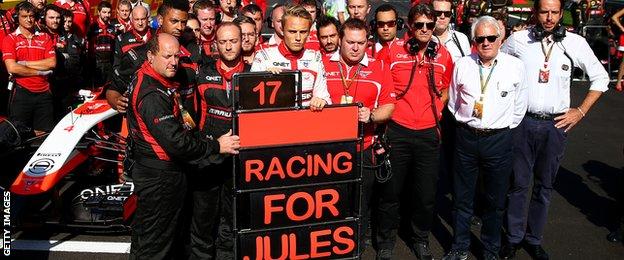 "When we got there of course, it was very emotional with all the support for Jules. I think the team, the sport and all the fans have really done him proud."
Initial reports suggesting Chilton had been uncomfortable and 'parked' the car as a result of the difficult week and what happened to Bianchi were incorrect.
Marussia president Graeme Lowdon said: "That was a bit of a misunderstanding.
"He felt a problem with the car at the front. There was a strong vibration at the front, and he couldn't work out what the problem was.
"He was saying over the radio: 'It feels really weird and I can't work out what's not right.'
"I'm fairly sure once they strip it down they'll find it was a problem with a bearing or something."
Lowdon said Marussia had not yet decided whether to run a second car at the next race, the US Grand Prix in Austin, Texas in three weeks' time.
But he said that they wanted to protect ninth place in the constructors' championship, earned for them by Bianchi who scored the team's first points with ninth place at Monaco in May.
"That was a really great drive from Jules which got us something really valuable in sporting terms," said Lowdon. "We owe it to him to defend that."
Russian Grand Prix coverage on the BBC