Jules Bianchi: Vettel, Alonso, Massa and Perez on crash

By Andrew Benson
Chief F1 writer in Sochi
Last updated on .From the section Formula 1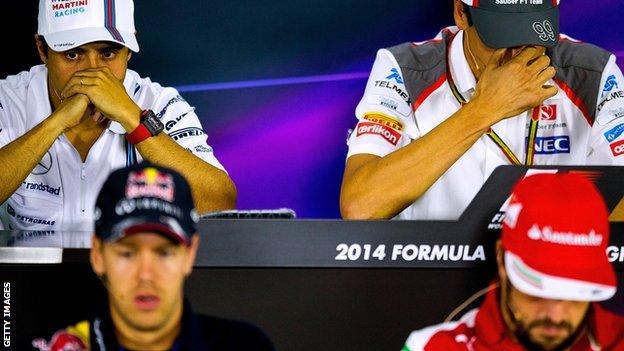 The crash that left Jules Bianchi with severe head injuries was "totally unacceptable" and could have been avoided, says Sergio Perez.
The Mexican says drivers will be asking governing body the FIA for "explanations of what happened and what are we going to change going forward".
"It is not acceptable," said the Force India driver.
Meanwhile, Williams' Felipe Massa described the Japanese Grand Prix as "the worst race of my life."
The Brazilian, who had surgery on a fractured skull after crashing during qualifying for the 2009 Hungarian Grand Prix, added: "It was worse than the race of my accident, because I didn't remember it anyway. We will try to race for him."
Perez added: "We have to look for answers from the FIA on what happened in this tragic accident. We have to make sure they hear us."
F1 drivers on Jules Bianchi
Four-time world champion Sebastian Vettel:
"If something happens there is always the chance to learn something and avoid it happening. But you have to understand that with the cars we race, the speeds we travel, accidents can happen."
Double world champion Fernando Alonso:
"When there are big accidents, there are no words to describe how bad you can feel. Ready to race and to race for him, to race as professionally as we can. Definitely my mind is with him in this moment and praying for him."
Lewis Hamilton, the 2008 world champion:
"It's not easy. It's a very strange feeling, sat here talking about racing. It's a difficult weekend."
Nico Rosberg:
"It's difficult, because it's shocking circumstances. But there is a job to do. It's important we keep evaluating the sport and making it safer all round."
Bianchi is in a critical but stable condition after crashing into a tractor recovery vehicle during last Sunday's Japanese Grand Prix.
The FIA has asked race director Charlie Whiting for a report on the crash.
The 25-year-old Frenchman lost control at the same point on the track where Sauber's Adrian Sutil had spun the lap before. The tractor was taking Sutil's car out of the run-off area.
Perez said he believed F1 should adopt a new approach that meant a safety car would be sent out to control the cars whenever recovery vehicles were used.
"In the future when there is a tractor coming up to pick up the car, we need a safety car, no matter what the conditions," he said.
"There is always a risk, even if it is dry, because you expose the marshals and a lot of people. You can have people running out of brakes."
Perez also felt that double waved yellow caution flags were not enough to ensure the racing cars were slowing down sufficiently.
"Those situations are very difficult," he said. "You expect the tractor to come quickly but in my opinion yellow flags were not enough to clear up the accident because of the situation on the track at that moment."
He said that drivers slowed down as little as possible even for double yellow flags.
"You know you have to show a lift of the throttle to the FIA," Perez said.
"But if we are honest we know we want to lift as little as possible and go as fast as possible.
"It is something that in those conditions probably doesn't work."
He added: "We have to work as drivers together with the FIA to improve what happened. We want clarification and we want to know what happened. We want to know full detail."
Perez said Bianchi's accident had been a "big shock" to the F1 community and particularly the drivers.
"You know the risk is there but you always think it won't happen to you," he said.
"But when you see it happens to a guy who was next to you last Sunday, it makes you think a lot of things."
Lotus driver Romain Grosjean said the incident was "bad luck".
He said: "There are always places to improve and I am sure everyone is going to try to do things better but two metres on the right, nothing happened; four metres on the left, nothing happened. It's a bit of destiny. It's hard to accept, but…"
Grosjean added: "I know the risks we take; my wife knows it. We love the sport. We have all had bad crashes in the past.
"We know it's dangerous but the day you are scared of what you do you stop. I am in love with F1 and racing and I know Jules is as well."