Jules Bianchi: Drivers at Russian GP back 'virtual safety car' plan

By Andrew Benson
Chief F1 writer
Last updated on .From the section Formula 1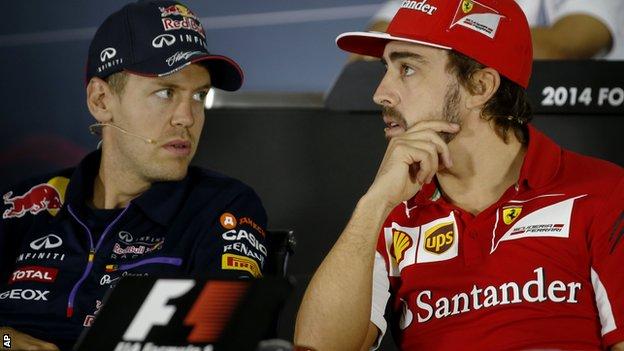 Leading Formula 1 drivers have backed a move to implement changes in the wake of the accident that left Jules Bianchi in a critical condition.
The Frenchman suffered severe injuries when he hit a recovery vehicle during last Sunday's Japanese Grand Prix.
Governing body the FIA is working on a plan for a 'virtual safety car' to ensure drivers slow for warning flags.
"What's good is they're reacting to it and trying to find the best solution," said Mercedes driver Lewis Hamilton.
The 'virtual safety car' idea would mean drivers being limited to certain predetermined lap time in the event of an incident that would previously not have been regarded as needing a safety car.
"The problem with flags is that you want to be safe but you want to lose as little time as possible. So you're always on the knife-edge with it," continued Hamilton, who will start from pole at Sunday's Russian Grand Prix with Mercedes team-mate and title rival Nico Rosberg second.
"And with the limiter through that sector or whatever they're going to do, that really does take the pressure off the chance you can make mistakes."
Ferrari driver Fernando Alonso added: "I support it. In fact I raised the point in the drivers' briefing [on Friday] because between the Japan and Singapore races I went into an indoor go-kart circuit and when there is a yellow flag they push a button and the engines cut and we all go at the same speed.
"If some kind of similar system can be done also in F1, you maintain the gap, there is not a rush, nothing to be done, just slow down, same for everybody."
Bianchi remains in hospital in Japan and there have been no updates on his condition since it was announced by the FIA that he was "critical but stable" on Tuesday.
The incident has cast a shadow over this weekend's inaugural Russian race, which is said to be a sell-out. President Vladimir Putin, who has been instrumental in creating the event, is expected to attend the race on Sunday, amid tight security.
In between practice and qualifying sessions, teams and drivers have been working with the FIA to come up with ways to ensure an accident such as Bianchi's could never happen again.
Race director Charlie Whiting agreed with the teams that they would work on introducing a system to limit lap times when officials felt an incident could be cleared relatively quickly, but when workers, marshals or recovery vehicles needed to be on track to return it to racing condition.
It is an extension of the system currently used when a safety car is deployed, when drivers have to slow down to a certain level while waiting for the safety car to pick up the leader.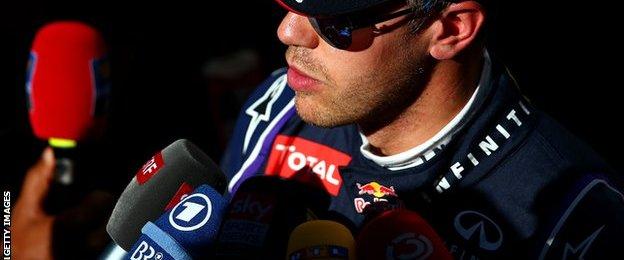 Any system that limited the engines could not be implemented immediately owing to the complexity of the cars.
But governing body the FIA is planning run a test of a new system after one of the practice sessions at the next race in Austin, Texas in three weeks' time.
World champion Sebastian Vettel said: "Last week shows we have to do something. We have the technology to do a lot. We need to find out what is the best.
"If we talk about a speed limit, what sort of speed limit?
"What you want to do is make it as fair as possible. I'm sure we have the opportunity. With the current systems we have in the car it shouldn't be a big problem. It is more about finding the right compromise so everyone is happy."
Before the system is introduced fully, Whiting will exercise "extreme caution" in the event of any incident.
Bianchi collided with the tractor vehicle that was recovering Adrian Sutil's Sauber, which had crashed on the previous lap.
Whiting said in a news conference on Friday that all drivers had slowed down for the Sutil incident, but some had slowed more than others. He would not say how much Bianchi had slowed.
He added: "One of the most important things to learn here is that it is probably better to take the decision to slow down away from the drivers and have a system where it is clearer to everyone how much we think drivers should slow down. That is what we are working on."