Jules Bianchi: F1 bosses to implement 'virtual safety car'

By Andrew Benson
Chief F1 writer
Last updated on .From the section Formula 1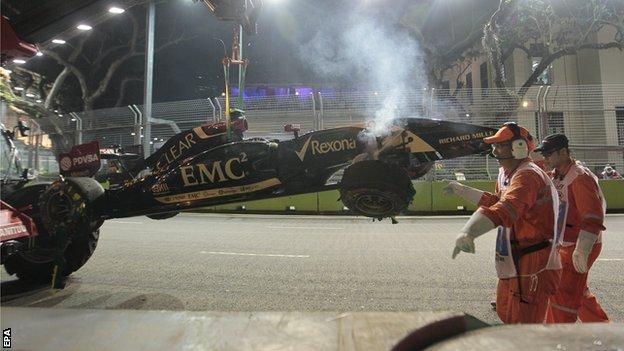 Formula 1 bosses are to implement changes to ensure drivers slow down for on-track incidents, and pursue the idea of a 'virtual safety car'.
Bianchi's car hit a recovery vehicle despite caution flags being waved.
Race director Charlie Whiting agreed to changes with the teams at a meeting at the Russian Grand Prix on Saturday.
For the 'virtual safety car' idea, drivers would have to stay within a certain pre-determined lap time in the event of an incident that would previously not have been regarded as needing a safety car.
This would be when officials felt an incident could be cleared relatively quickly, but when workers, marshals or recovery vehicles needed to be on track to return it to racing condition.
This is an extension of the system currently used when a safety car is deployed, when drivers have to slow down to a certain level while waiting for the safety car to pick up the leader.
The system cannot be implemented immediately because of the complexity of the cars.
Former F1 driver and BBC analyst David Coulthard
"If you look at the history of Formula 1, and our journey through life actually, whenever we have moments that really stop and have people think then there is usually a reaction.
So I expect the FIA, once they have conducted a full investigation into all of the parameters that led to the accident, will come with a series of [safety] changes.
I believe there will be some changes made for this weekend as well and there is a meeting on Saturday morning to discuss exactly how they will be implemented. But it is inevitable that change is required."
But governing body the FIA may run a test of the new system after one of the practice sessions at the next race in Austin, Texas, in three weeks' time.
In the meantime, Whiting will exercise "extreme caution" in the event of any incident.
Bianchi collided with the tractor vehicle that was recovering Adrian Sutil's Sauber, which had crashed on the previous lap in the same spot.
Whiting said in a news conference on Friday that all drivers had slowed down for the Sutil incident, but some had slowed more than others. He would not say how much Bianchi had slowed.
"I know what speed he left the track at," Whiting said. "We have seen the data from all cars, and everyone slowed down.
"Some didn't slow down much, some a lot. We don't need to go into how much he slowed down compared to others. He did slow down; it is a matter of degree."
Whiting also said the decision of the Japan Grand Prix organisers to reject an earlier race-start time given the approach of typhoon Phanfone played no part in Bianchi's accident on a wet track.
The Marussia driver had to be taken to hospital by road as the medical helicopter was unable to land in the conditions in Yokkaichi.
Whiting said: "On this occasion, the way in which the marshals reacted, the fact the safety and medical cars arrived at the scene in very quick time, that the extraction vehicle and ambulance were despatched correctly, nothing could have been done better.
"We have procedures in place, we deal with things and we know exactly what to do under the circumstances."