Greg Dyke's grassroots vision 'will take years to achieve'

By Dan Roan
BBC sports editor
Last updated on .From the section Football357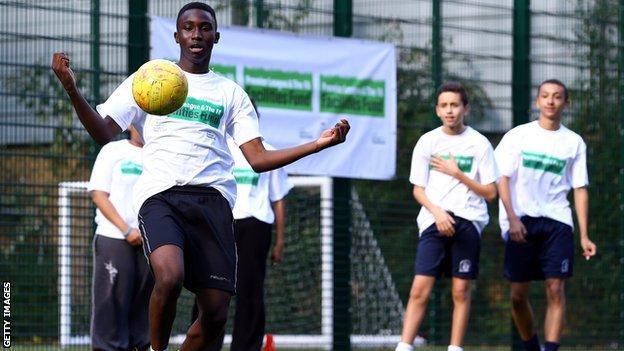 For Layton Juniors FC of the Poulton and District Primary League, Football Association Chairman Greg Dyke's vision to revolutionise grassroots football could not come soon enough.
Visit their facilities in a deprived corner of Blackpool, and you can see why.
Most of their 'clubhouse' - a rusting, rotting converted shipping container - is unfit for use. The dilapidated changing rooms are crumbling, the showers stopped working years ago, and part of the roof has fallen in.
And when the kids do make it out onto the pitches, they don't know if they'll even get a game.
Last year, hundreds of matches across the league were cancelled because the windswept grass pitches were rendered unplayable by the poor weather throughout the winter.
Without floodlights, and with the nearest all-weather 3G pitch 18 miles away, training had to take place indoors. But that required parents to pay even more in fees and some children simply stopped playing and were lost from the game.
Layton Juniors is a model club, helping 200 kids to stay fit and active at a time when child obesity threatens to put an intolerable strain on the NHS, and to enjoy the many social benefits of competitive football.
But this is precisely the time of year that they begin to worry about their facilities. And they're not alone. Because Layton Juniors, like most football clubs across the country, rely on public pitches run by local authorities who have significantly cut their non-mandatory sport and leisure budgets. No wonder the numbers playing amateur football are in sharp decline.
Greg Dyke and his year-long commission was set up to revive the national team and work out why so few home-grown youngsters were getting into the clubs' first teams.
And it deserves credit; for recognising that facilities - and coaching - at this level of the sport are crucial, and deserve significant investment; for recognising that kids abroad have a much better chance of going far in the game thanks to many more qualified coaches, better weather or better facilities.
The FA appears to have finally realised that as the sport underwent a transformation, it took it its eye off the ball, focusing too much on expensive bids to host major tournaments, a £750m national stadium, and not enough on the 65,000 amateur teams across the country.
As the FA chairman told me at an impressive all-weather facility in Sheffield this week, the grassroots game is in a state of crisis after years of neglect.
His commission's plan for 30 football city hubs, run in conjunction with local authorities, and equipped with 3G pitches that can be used constantly alongside a coach education programme, will certainly help redress the gulf between here and the continent.
FA commission second report key proposals
A 50% increase in the total number of full-size, publicly accessible 3G artificial grass pitches across England, to more than 1,000
More than 150 new football-owned and managed football hubs to support the delivery of FA, county FA and professional club youth development and coach education programmes
More than 50% of all mini-soccer and youth football matches - about 3,750 per week - being played on the best quality artificial grass pitches
Recruit a further 25 full-time FA coach educators; increase Youth Award Level 3 coaches from 800 to 3,000; increase Advanced Youth Award holders from 200 to 750; increase Pro Licence holders from about 200 to 300.
Set and deliver a target to significantly increase - above the levels of Football's Inclusion and Anti-Discrimination Plan - the number of qualified coaches from black, Asian and minority ethnic backgrounds and female coaches
That's if he can find the money. Because as Dyke said, "you can only hope."
Given that the FA turns over £300m a year, can afford to pay Roy Hodgson £3m a year and its chief executive Alex Horne half a million, it should not be out of the question.
Especially when the Premier League now makes £3bn annually.
But, as shown by the clubs' refusal to countenance Dyke's controversial proposal for Premier League B-teams and strategic loan partnerships, forging a consensus across the warring factions of English football is never easy, and there is a very clear limit to Dyke's power. In fact, when it comes to the Premier League, he is now powerless.
Having said that, if Dyke cannot forge an agreement that something drastic is needed now - after England's worst ever World Cup, then he never will.
The noises coming out of FA headquarters Gloucester Place are positive, and suggest that if the FA can commit to £10m a year, the top clubs will do the same, on top of the £12m both already put into grassroots facilities each year (it used to be £20m).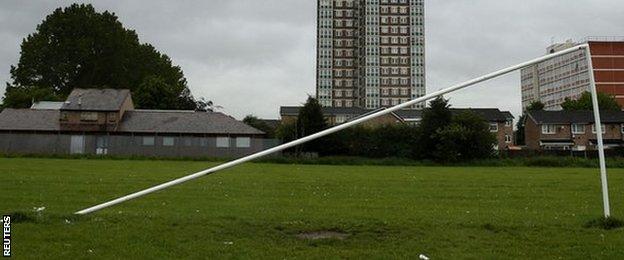 The rest will need to be found from the business sector, and from government. Many will point to the pressure on local authority budgets and the £5.5bn that the Premier League's current TV deal is worth, and ask why the top clubs and the millionaire players can't do more (especially when £96m was spent on agents' fees last year).
Others will argue that the Government already benefits from £1.5bn a year in tax from football, and that the £10m the state puts into the Premier League and The FA Football Facilities Fund (formerly the Football Foundation) annually is nowhere near enough, especially when obesity costs the NHS billions of pounds.
So very real questions over financing remain, and this will now be a revealing test of where sport sits in Westminster's list of priorities as a general election approaches. There's a limit to what all this can achieve too.
After decades of neglect, despite the billion pounds the Foundation has invested already, it's estimated grassroots facilities need billions more spent on them, way more than the amount Dyke is proposing.
His plan has little to say about those playing in rural areas. And when it comes to the cost of FA coaching courses and the lack of a career path for those who qualify, there is still much to be done. Youth football coaching in Holland, Germany and France is a respected job, paid a wage that reflects its importance. Not here.
And yet, despite the uncertainty, this is at least a step in the right direction. The problems Dyke has identified will take years to address, and the national sport may be acutely dysfunctional, but at least it finally recognised this week that something had to be done.
To help those on whom the game depends, but for whom the boom years have yet to touch.