Lewis Hamilton: constructors' title-winning car 'mind-blowing'
Last updated on .From the section Formula 1
Lewis Hamilton hailed the "mind-blowing" Mercedes car after they won the constructors' championship and he secured his ninth win of the season.
He won the drivers' title in 2008 and now leads team-mate Nico Rosberg by 17 points in this season's title race.
"I'm so proud to have contributed to the work of this great team, to get the first constructors' championship is a huge achievement," said Hamilton, 29.
"The car has been a dream and I could have only dreamt of a day like this."
Hamilton added: "There is an incredible synergy within the team and there is huge support from everyone right through from board level, they are real racers.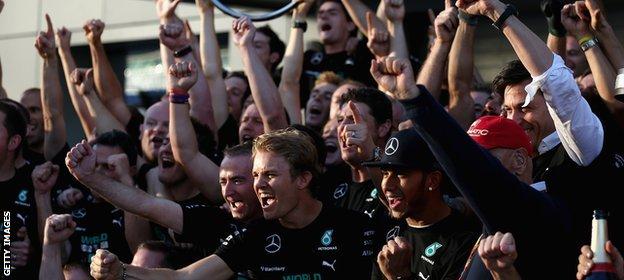 "Everyone really wants to win and this car and this engine are just mind-blowing."
Mercedes have been virtually untouchable this season, winning all but three races and securing one-two finishes nine times so far.
"The foundations of this success were built by Ross (Brawn) and he played such an important role in the team to prepare this success," said Mercedes boss Toto Wolff.
"We have been able to continue that work - making the right decisions, putting the right resources in place and putting the team on an upward slope; today's achievement is the result of that.
"Well done to every single member of the team in the UK and Germany for this world championship."
Mercedes now go into the remaining races in America, Brazil and Abu Dhabi knowing their two drivers are also best placed to secure the drivers' title.
"The focus will now shift to the battle for the drivers' title and this will stay as intense as ever for the final three races," added Wolff.
"We have a healthy lead over Daniel Ricciardo in third place but nothing will change in our approach: we want Lewis and Nico to race each other hard and respectfully, as they have done so far this year."
Russian Grand Prix coverage details