Lewis Hamilton hopes to bring smile back to F1 in United States
Last updated on .From the section Formula 1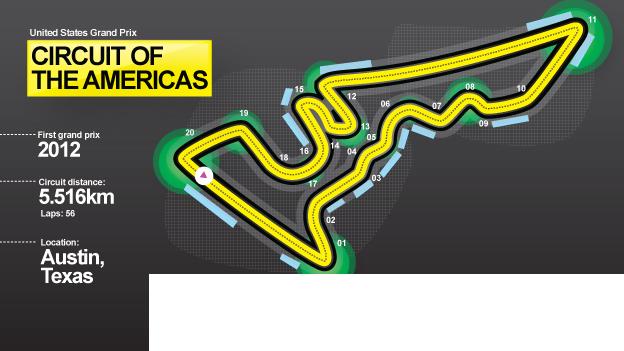 Three weeks is a long time in Formula 1, and after Caterham and Marussia's announcement that they are in administration, the attention will be just as much on a grid shrinking from the back as it will be on Lewis Hamilton looking for a fifth consecutive win from the front.
Formula 1 heads Stateside this weekend for the United States Grand Prix in Austin after Hamilton's dominant performance at the Russian Grand Prix in Sochi.
But whilst the Circuit of the Americas is fast becoming a favourite track for the drivers and fans, many this weekend will be asking what state their favourite sport is in as just 18 cars line up on the grid.
Hamilton v Rosberg
Mercedes secured the constructors' championship for the first time in Sochi, as Hamilton and Rosberg sealed the team's ninth one-two of the year.
That means the team's focus switches fully to the drivers' title race, which is looking increasingly likely to go down to do the wire in Abu Dhabi, with Hamilton holding the momentum over his childhood friend and team-mate Rosberg.
The 2008 world champion has a 17-point lead over the German with three races remaining and 100 points still on offer.
US GP analysis - Andrew Benson
"This is only its third year, but already the United States Grand Prix in Austin, Texas, has established itself as a highlight of the Formula 1 season.
A well thought-out track, with some properly demanding corners not far from one of the coolest small cities in America adds up to a winning combination for all concerned.
The steep rise up to Turn One is unique, the sweepers through Turns Three and Nine pose a challenge similar to - if not quite as extreme as - Silverstone's Becketts, and after a fiddly 'stadium' section, the penultimate corner, Turn 19, is a tricky, downhill, off-camber left that always provides action.
An intimate paddock and gorgeous Texas skies add the final ingredients for an event that is hard to fault.
The only cloud on the horizon is the forthcoming return of the Mexican Grand Prix. Twinned with Austin next year, how many of the Texas track's spectators will it take away, and at what cost to the US Grand Prix's viability?
To lose the only race in a market as valuable as the US, after so many years of struggling to find a home for F1 there, would be an own goal of spectacular proportions."
Red Bull's Daniel Ricciardo is the only other driver mathematically still in it, but such is Mercedes' advantage over the field and the sizeable points gap between them - Ricciardo trails Hamilton by 92 points - it's essentially a two-horse race.
Rosberg is very much on the back foot, having made errors in Italy, when he locked up to gift Hamilton the lead as the Briton hunted him down, and Russia, when he overcooked it at Turn One, forcing an early stop and dropping him out of contention for the win.
There was also the comprehensive defeat in Japan, when he had no answer to Hamilton's pace, and the reliability issues that caused his second retirement of the season in Singapore.
In contrast, having spent most of the season chasing Rosberg, Hamilton has won four races on the bounce to turn a 29-point deficit into a 17-point advantage. He also has form in Austin, having won the inaugural race for McLaren in 2012.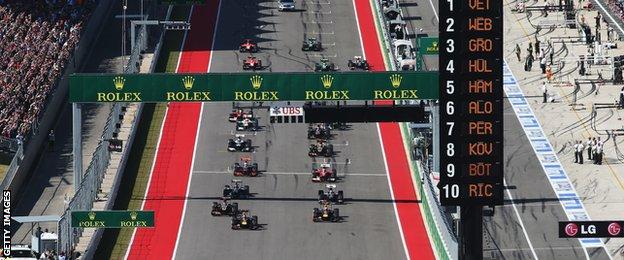 Austin's making a name for itself
Formula 1 has been desperate to find a permanent home across the pond in the United States and, after failing to make it work on city streets such as Phoenix, in Las Vegas casino car parks and traditional American road courses, the sport appears to have hit the jackpot at the Circuit of the Americas.
The 5.516km, 20-turn track in Austin is impressive. The circuit features several elevation changes that weave slower, technical sections with fast, sweeping turns and incorporates elements of tracks around the world into one layout.
Turn One is similar to the steep first corner at Austria's Red Bull Ring, while Turns Two and Three are similar to Interlagos' Senna S in Brazil.
The sweeping turns of Four, Five and Six share a likeness to Silverstone's Maggotts, Becketts and Chapel complex, while Turns 16 to 18 drive a little like Istanbul Park's multi-apex Turn Eight.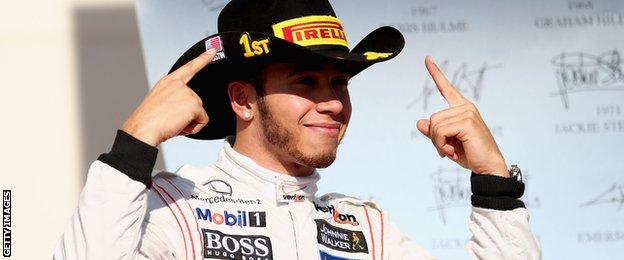 A classic United States Grand Prix
Hamilton will have fond memories of Formula 1's first visit to Texas in 2012 as the then McLaren driver won a tight battle with Sebastian Vettel to clinch victory.
Vettel led away from pole, with his Red Bull team-mate Mark Webber passing Hamilton to take second.
However, the German was unable to pull out a lead and, after their one and only pit stops, Hamilton found himself in second and began to close in on the Red Bull.
After spending several laps within a second of Vettel, the Briton seized his chance on lap 42, taking advantage of Vettel getting held by a HRT to pass the German down the straight into Turn 12.
Vettel continued to press Hamilton for the remaining 14 laps, but McLaren driver soaked up the pressure to take his fourth win of that season.