Lewis Hamilton: World championship battle is far from over

By Andrew Benson
Chief F1 writer
Last updated on .From the section Formula 1
Lewis Hamilton says he does not feel in control of the world championship fight despite moving into his biggest lead so far this season.
"It is very positive to have the points and be finishing ahead of Nico but history's shown this year that the gap can never be enough," Hamilton said.
"The most important thing is what the gap is at the end of the year."
Hamilton's caution is rooted in his experiences so far this season, in which he has three times had to make up a deficit of points as a result of reliability problems.
Hamilton's nine wins this season compares to Rosberg's four, but the Englishman remains less than a win's worth of points (25) ahead.
There are a maximum of 100 points available in the remaining three races in the USA, Brazil and Abu Dhabi because double points will be awarded at the final event of the season.
Following Sunday's Russian Grand Prix, Hamilton, 29, said: "Nothing changes. I have to keep fighting and pushing as hard as I have been until now. If I can bring any more, then I will.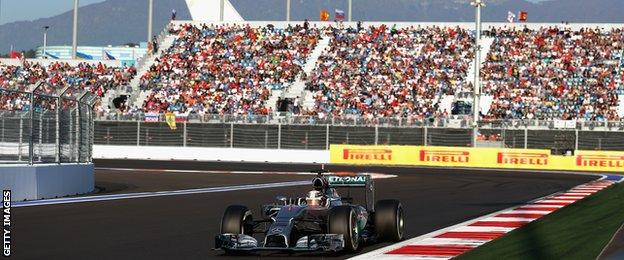 "There is never a comfortable feeling. I don't think I ever did have a comfortable feeling when I was in a championship fight ever in my life.
"It's tense all the way to the end and this is a championship that is going to go to the end. I just hope that the future is bright in these next few races."
Hamilton's win in Sochi was his fourth in a row, the second time he has achieved that this season.
Rosberg is yet to beat him in a straight fight when they have both started together at the front of the grid, nor has he won an on-track battle with Hamilton this season.
Nevertheless, the German insisted he remained "confident" of winning the title.
He said of the final three races: "I need to continue to attack and I need to look to win them," before joking: "All of the next three races are my favourites."