Jules Bianchi: Marussia 'angered' by speed media reports
Last updated on .From the section Formula 1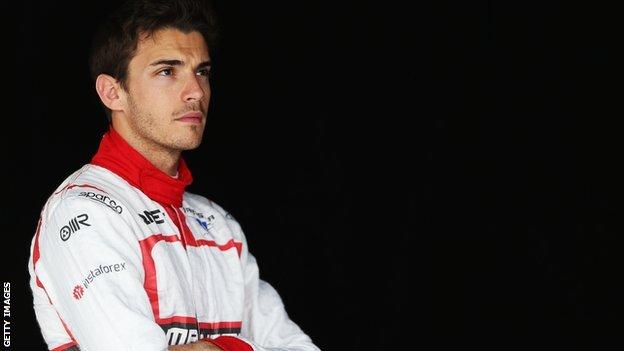 Marussia are "shocked and angered" by reports from some media outlets that suggest Jules Bianchi did not slow down under caution flags at the Japanese GP.
Marussia also deny claims they told Bianchi to go faster during the caution period to keep a rival behind.
"These allegations are entirely false," the team said.
Marussia decided to release a statement after what they described as "isolated media reports" emerged questioning Bianchi's and the team's judgement at Suzuka.
"Jules did slow down under the double waved yellow flags," added the statement. "That is an irrefutable fact, as proven by the telemetry data, which the team has provided to the FIA.
"Charlie Whiting, the FIA's race director, confirmed that the team had provided such data, that he himself had examined this data and that Jules did slow."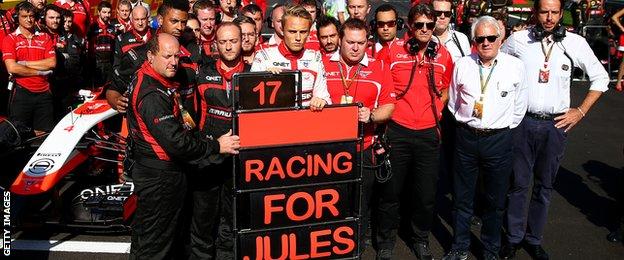 Marussia also denied allegations the team told Bianchi to go faster during the double waved yellow flag period - which indicates caution is required - in order to keep ahead of Caterham's Marcus Ericsson.
"It is quite clear from the [radio] transmission and the transcript that at no point during the period leading up to Jules' accident did the team urge Jules to drive faster, or make any comments suggesting that he should do so," read the statement.
"[The team is] distressed to have to respond to deeply upsetting rumours and inaccuracies in respect of the circumstances of Jules' accident.
"However, given that these allegations are entirely false, the team has no alternative but to address these.
"The team sincerely hopes that, having clarified these facts, it can now avoid any further distractions to its primary focus at this time, which is providing support for Jules and his family."
On Friday, Whiting told a news conference: "I know what speed he left the track at. We have seen the data from all cars, and everyone slowed down.
"Some didn't slow down much, some a lot. We don't need to go into how much he slowed down compared to others. He did slow down; it is a matter of degree."
However, Whiting refused to say how much Bianchi slowed.
On Monday, Bianchi's family said the 25-year-old had faced "a number of medical challenges" since the accident and the situation remained "challenging".
Earlier in the day, Bianchi's father Philippe had described the situation as "desperate" but added he knew his son would "not give up" his fight for life.