Robert Kubica says Formula 1 return would be a dream
By Lawrence Barretto
BBC Sport
Last updated on .From the section Formula 1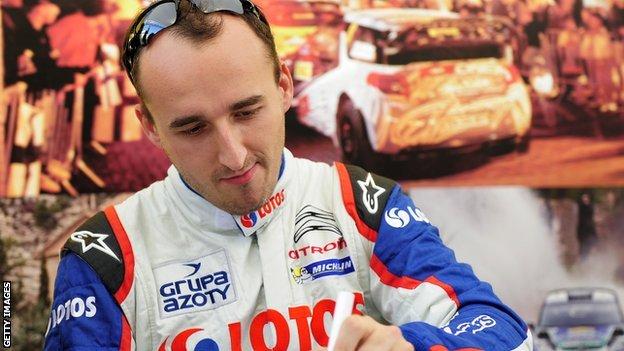 Poland's Robert Kubica is considering having more surgery on his injured hand this winter as he continues to hold out hope of a comeback to Formula 1.
Kubica suffered a partially severed right hand in a rally accident on the eve of the 2011 F1 season, and has not recovered enough movement to return.
The 29-year-old has competed in the World Rally Championship this season.
"Once the season is over I will look at everything," he told BBC Sport. "It will be a dream to come back to F1."
Kubica, winner of the 2008 Canadian Grand Prix, was considered by many as one of the best drivers in the sport at the time of his crash.
But the accident has restricted movement in his arm and fingers, making driving in the narrow cockpit of a single-seater car difficult.
Last year, he admitted it would be "nearly impossible" to return to Formula 1, but he has competed at the highest level in rallying.
In a privateer Ford Fiesta run by M-Sport, Kubica led the famous Monte Carlo Rally at one stage, and has a best finish of sixth.
But more mobility in his injured hand, and his belief he can still perform to a high level in Formula 1, mean he is keen to explore his options.
"The arm and hand are OK," said Kubica, whose last Formula 1 race was the 2010 Abu Dhabi Grand Prix. "From a mobility point of view, there have been some improvements. From a limitation point of view, it's pretty much the same.
"So I need to have more surgery - and there are possibilities - but it's a tight season, there are many rallies and they are long events."
Kubica, who drove for BMW Sauber and Renault in F1, said he would "review everything" after Rally GB, which takes place from 14-16 November.
He could return to circuit racing in the German Touring Car Series (DTM), but competing again in Formula 1, in which he won one grand prix and secured 12 podium finishes in 76 starts, remains the ambition.
"Formula 1 would be a dream to come back but we have to stay realistic," he said.
"If I decide to try and come back I will have more surgery this winter and maybe with the help of the doctors, and with some luck, it will be possible."