Caterham: Kamui Kobayashi was 'scared' before Russian GP

By Andrew Benson
Chief F1 writer
Last updated on .From the section Formula 1
Kamui Kobayashi admitted to being "seriously troubled" about the safety of his Caterham Formula 1 car during the Russian Grand Prix weekend.
Kobayashi was so uneasy about a repair made to his car's suspension before final practice, he questioned whether to continue.
"Scary!" the Japanese wrote on his Facebook page, in a post seen by BBC Sport. "Last night a suspension defect was found. There's no spare so it was repaired by wrapping it in carbon.
"It's checked all the time but, even so, being asked to race like this is too scary! I want to go home already.
"From here on there are still practices and the race to go. I'm seriously troubled. As a racing driver, should I drive? Should I safely decline? I drive again in 15 minutes…"
Caterham said Kobayashi was "kept informed at all times and at no time did he have any reason to believe it was not safe".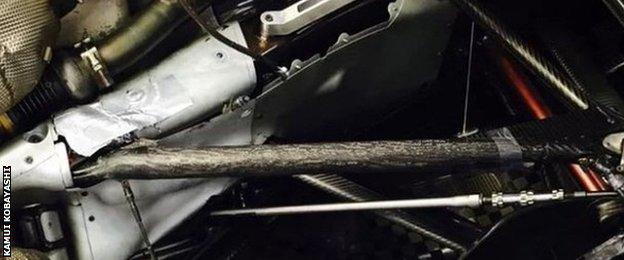 The 28-year-old's manager Chikara Funada confirmed the Facebook post was genuine and written by the driver.
He added it was on a personal account that was intended to be seen only by close friends and family, and not for public consumption.
Kobayashi did drive in practice in Russia, completing 12 laps, the same amount as in the relevant session at the previous race in Japan.
Caterham said a "small inconsistency" was noticed on the left rear suspension of his car after Friday practice in Sochi.
The team added: "It was extensively evaluated at Sochi and Leafield (Caterham's base) and ultimately a carbon-fibre wrap was applied to provide additional reinforcement - a normal procedure.
"The component was signed off as safe and re-checked between each subsequent session, to be absolutely sure there was no issue.
"Kamui withdrew the post mentioned and drove the car in this form throughout the rest of the weekend, with no hint of any other problem with the suspension."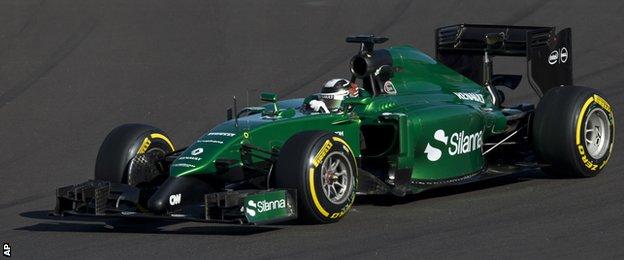 Funada said: "On that morning, Kamui was informed of a certain issue by the team. He immediately told me what he just been told and we told the team our concern.
"In the end, the team cleared the concern which we had in our minds.
"This comment was Kamui's immediate reaction when he heard about an issue, which he meant to say only to his close friends and families as this was on his private account."
Funada added Kobayashi was "very shocked" his comment had been made public, adding: "He and the team are preparing for (the next race in) Austin."
Kobayashi retired from the Russian Grand Prix. He initially said there was "nothing wrong with the car" and added the team had told him to stop to save mileage on parts.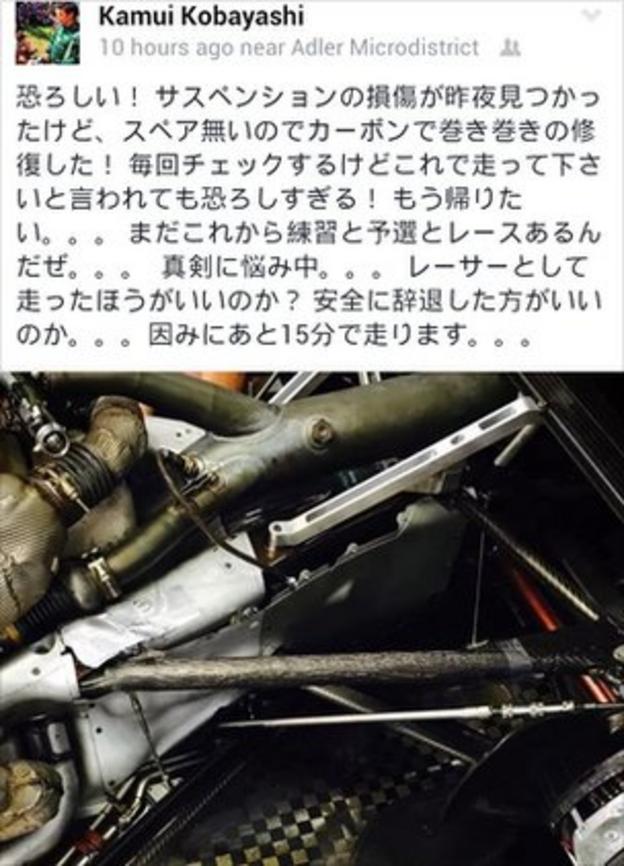 Team principal Manfredi Ravetto later denied that, saying Kobayashi had been ordered to stop on safety grounds because of a potential issue with the brakes and that "the safety of our drivers is our first concern".
Caterham added on Monday: "We saw an issue on the brakes - a problem that Kamui had already reported on Saturday during FP3 - so we decided to change them, but the problem persisted so we decided to stop."
Kobayashi's future with Caterham has been in doubt for some time, and it is not known whether he will drive for the team in the final three races of the season - in the USA, Brazil and Abu Dhabi.
He was dropped in favour of Andre Lotterer for the Belgian race at the end of August, but reinstated after the German sportscar driver refused to take part in the subsequent Italian Grand Prix.
Kobayashi raised 1.5m euros (£1.2m) from fans' donations to fund his Caterham drive this season after missing the 2013 season.
Caterham, who are last in the constructors' championship, have had a troubled season and new owners have been striving to make the team financially stable since buying it from founder Tony Fernandes in July.
They are facing employment tribunal proceedings from 38 former employees who are claiming wrongful dismissal.
And earlier this month, Caterham were visited by bailiffs, who seized several items from the team.