Caterham: Bernie Ecclestone trying to resolve F1 team dispute

By Andrew Benson
Chief F1 writer
Last updated on .From the section Formula 1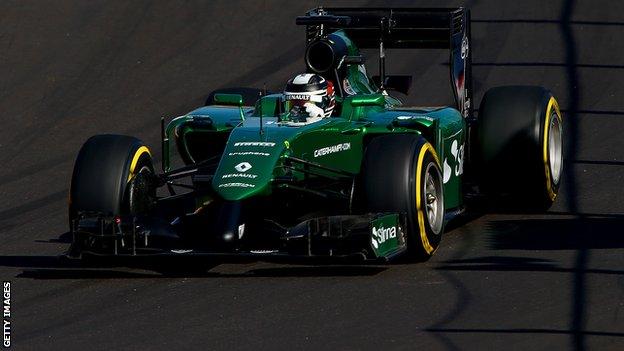 Formula 1 boss Bernie Ecclestone is trying to resolve the dispute threatening the future of Caterham.
"We're trying to help in any way we can, which we do with anybody that has run into a bit of difficulty," Ecclestone told BBC Sport.
"All I know is what I've been told. Not too sure it's all true either."
Ecclestone said he could not say whether the team had a future because "it is a little bit too complicated to be able to say anything with any real knowledge".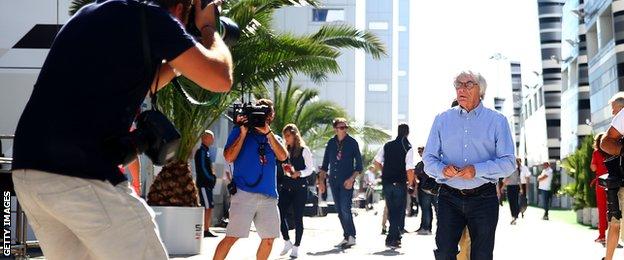 Ecclestone has discussed the situation with both sides in a dispute between the new owners and founder Tony Fernandes.
A row between the two parties broke out on Wednesday evening when the new owners released a statement threatening to quit the team, a day after the company that built the cars - Caterham Sports Ltd (CSL) - was put into administration.
The new owners have claimed that CSL is not part of their business and say the cars should be released to them so they can continue preparations for the final part of the season.
The US Grand Prix takes place in Austin, Texas, from 31 October to 2 November, but the cars are due to be flown out to the US this Saturday.
The subsequent race is in Brazil the following weekend.
Ecclestone praised Colin Kolles, the man installed by the new owners as de facto team boss, although his official position is that of "adviser".
Caterham in Formula 1
Debut:
2010 (as Team Lotus)
Points:
0
Best race finish:
11th - Vitaly Petrov, 2012 Brazilian Grand Prix; Marcus Ericsson, 2014 Monaco Grand Prix
Best team finish:
10th - 2010, 2011, 2012
"I would think, knowing Colin Kolles, he's a competent guy," Ecclestone said. "He has managed to get in there and clean things up a lot, stop them wasting money and trying to get it on track."
Ecclestone has been pushing for the big teams to supply customer cars to be run by smaller teams, but he says his preference is for small teams such as Caterham to survive.
"I'd rather not lose the teams," he said.
The new owners of Caterham are facing employment tribunal proceedings from 28 former employees, who are claiming wrongful dismissal.
Earlier this month, Caterham were visited by bailiffs, who seized several items from the team.
The new owners have insisted that Caterham Sports Ltd is not related to them, because they have transferred operations to the holding company of the team, 1 MRT.