Caterham: Team could struggle to race in United States Grand Prix

By Andrew Benson
Chief F1 writer
Last updated on .From the section Formula 1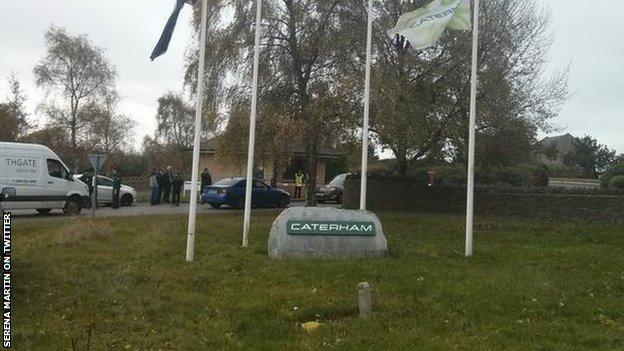 The bosses of Caterham F1 admit the team will struggle to race in the USA next weekend if they cannot resolve a dispute with administrators.
The team's factory was locked down on Thursday by administrators, who say Caterham F1 have made an "inadequate" offer to continue using the site.
Colin Kolles, the de facto team boss, said: "We have everything prepared to go to Austin [for the US Grand Prix].
"But if the administrators do not change their minds, it's difficult."
The cars are inside the factory, which the Caterham F1 team admit they do not own.
But they insist that the cars inside it and their intellectual property belong to a company called 1MRT, which no longer has any relationship with Caterham Sports Ltd (CSL), which designed and built them and which was put into administration this week.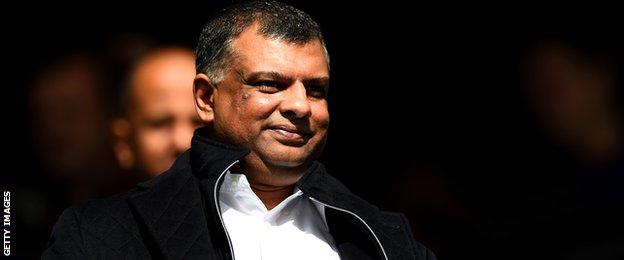 Kolles threatened legal action against founder Tony Fernandes, who sold the team in July and insisted that the new owners, a Swiss company called Engavest, have paid all dues under the agreement struck to buy the team from Fernandes.
Engavest said in a statement that it had "total comtempt" for "Fernandes and his Group executives with whom we entered a deal in good faith".
It continued: "Engavest SA has fulfilled all the conditions precedent, including paying the purchase price for the shares.
"The shares have not been transferred and therefore Mr Fernandes remains the owner of Caterham F1 and is fully responsible for all its activities."
Fernandes responded: "We agreed in good faith to sell the shares to a Swiss company named 'Engavest' on the basis that Engavest undertook to pay all of the existing and future creditors, including the staff.
"The continued payment of staff and creditors was so important to me that I ensured that the shares would not be transferred to the new buyers unless they complied with this condition.
"Sadly, Engavest has failed to comply with any of the conditions in the agreement and Caterham Sports Ltd (the UK operating company of the F1 team) has had to be put into administration by the bank, with large sums owing to numerous creditors.
"Our agreement with Engavest was very clear: there was no legal obligation to transfer the shares to them unless certain conditions - which included paying creditors - were met. Those conditions have not been met."
Caterham F1 bosses were scathing about the competence of the administrator, Finbarr O'Connell from Smith & Williamson.
"He has no idea what he is looking at or dealing with," said commercial director Ian Phillips.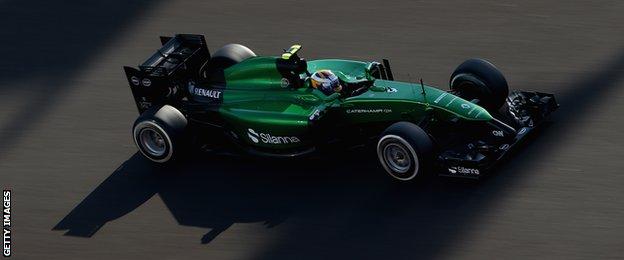 Phillips said he took the administrator around the factory this week to show him the cars that would race in Texas. They did not have engines or gearboxes attached as these were being serviced at suppliers Renault and Red Bull.
The administrator initially claimed they were 2015 development cars, Phillips said, until he was shown the scrutineering stickers from this year's world championship.
Kolles said the administrator was "in dreamland" if he believed there were several parties interested in buying the team.
Administrator Finbarr O'Connell' told BBC Oxford: "I'm there as an officer of the court to get some funds in to pay the creditors which they haven't paid - so I think it's pretty clear to anybody watching, where the incompetence lies.
"I think everybody's got to rally together in order to try and find a solution to this. It's a very expensive sport, but you've got to pay your suppliers, you've got to pay your employees and then you can go racing.
"If 1MRT reaches acceptable terms with me they can be back in the facility and it won't be in limbo. The cars have to go off to the US very soon and they're cutting it very fine."
F1 boss Bernie Ecclestone has said he is trying to intervene in the dispute.
"We're trying to help in any way, which we do with anybody that has run into a bit of difficulty," Ecclestone told BBC Sport.
Ecclestone said he could not say whether the team had a future because "it is a little bit too complicated to be able to say anything with any real knowledge".
He added: "All I know is what I've been told. Not too sure it's all true either."
Caterham in Formula 1
Debut:2010 (as Team Lotus)
Points:0
Best race finish:11th - Vitaly Petrov at the 2012 Brazilian Grand Prix
Best team finish:10th (2010, 2011, 2012)
A row between the two parties broke out into the public on Wednesday evening when the new owners released a statement threatening to quit the team, a day after the company CSL was put into administration.
Ecclestone praised Kolles, whose official position is that of "adviser".
"I would think, knowing Colin Kolles, he's a competent guy," Ecclestone said. "He has managed to get in there and clean things up a lot, stop them wasting money and trying to get it on track."
Ecclestone has this year been pushing for the big teams to supply customer cars to be run by smaller teams, but he says his preference for small teams such as Caterham to survive.
"I'd rather not lose the teams," he said.
The new owners of Caterham are facing employment tribunal proceedings from 28 former employees, who are claiming wrongful dismissal.
Earlier this month, Caterham were visited by bailiffs, who seized several items from the team.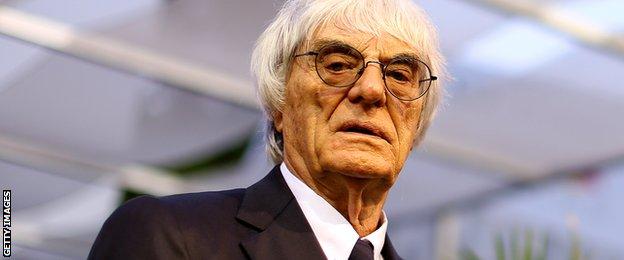 The new owners have insisted that Caterham Sports Ltd is not related to them, because they have transferred operations to the holding company of the team, 1 MRT.
Phillips, who has worked in F1 for more than 30 years and has previously held senior positions with Leyton House, Jordan, Midland, Spyker, Force India, Marussia, said Caterham could have a bright future if this situation could be resolved.
"The nucleus of design and race team, there are some fantastic people in there," Phillips said. "You see the way they were liberated by Colin when they came in, the car became probably 1.5 seconds quicker almost overnight.
"It's a fantastic group of people - if we are allowed to continue, in time I promise it will be a hugely respectable team in F1. In the last four races it has shown the nature of that. I have been involved in very good, very small teams over the years and this is the best."