Sir Jackie Stewart warns that F1 drivers are 'taking liberties'
Last updated on .From the section Formula 1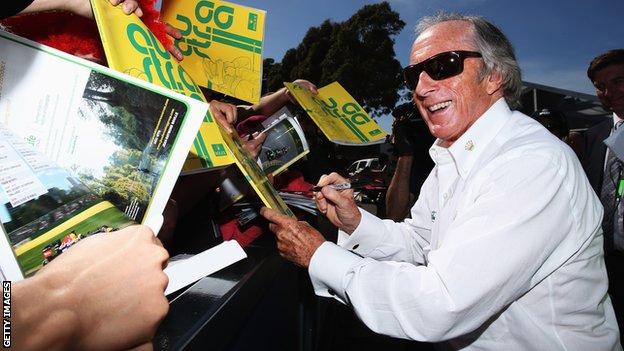 The crash which left Jules Bianchi in a critical condition is a reminder to Formula 1 drivers that they are not "bulletproof", says Sir Jackie Stewart.
The crash has raised concerns about the safety of the sport.
"Liberties are being taken today that frankly we could never have taken in years gone by," Stewart told 5 live F1.
"The accident of Bianchi may have brought a little bit of realisation to everyone that they are not bulletproof."
Former F1 driver and BBC analyst David Coulthard
"If you look at the history of Formula 1, and our journey through life actually, whenever we have moments that really stop and have people think then there is usually a reaction. So I expect the FIA, once they have conducted a full investigation into all of the parameters that led to the accident, will come with a series of [safety] changes. It is inevitable that change is required."
Three-time world champion Stewart, 75, pointed to the dangers of driving wheel-to-wheel, like Lewis Hamilton and Mercedes team-mate Nico Rosberg have engaged in during this season.
"The clashing of wheels and close overtaking manoeuvres could easily have ended in tears," added Stewart.
"We shouldn't forget that on the back of the ticket it says that motor racing is dangerous.
"Sadly - and it is a terrible thing to say - it will probably need a fatality to actually bring back to everybody's understanding what you cannot and should not be doing."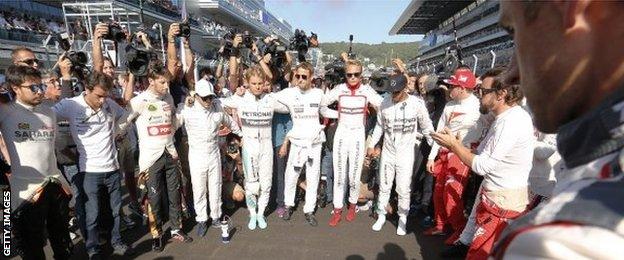 Bianchi's fellow Formula 1 drivers have spoken out since the accident, with Mexican driver Sergio Perez calling it "totally unacceptable".
Perez said: "We have to look for answers from the FIA on what happened in this tragic accident. We have to make sure they hear us."
An FIA accident panel has been set up to investigate the Bianchi crash and will make its report on 3 December.