Jules Bianchi: F1 to trial 'virtual safety car' at US Grand Prix

By Andrew Benson
Chief F1 writer
Last updated on .From the section Formula 1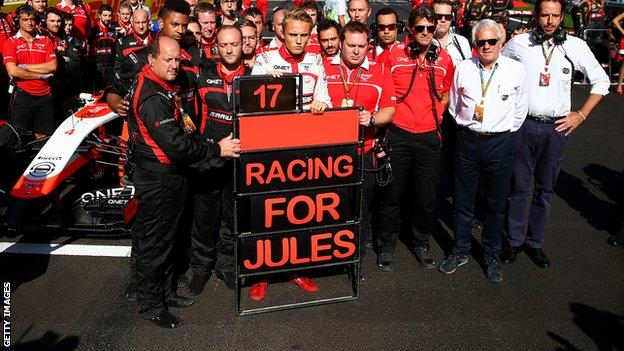 Formula 1 is to trial a "virtual safety car" at the US Grand Prix.
The system, which forces drivers to slow in an accident zone, is aimed at eliminating the possibility of a repeat of the accident that left Jules Bianchi in a critical condition.
Frenchman Bianchi remains in hospital with severe head injuries suffered when he in a crash at the Japanese Grand Prix this month.
Teams will try the technology after both practice sessions on Friday.
In event of a crash, drivers will have to keep to a speed about 35% slower than a normal dry lap time.
Drivers will be aided by a dashboard display and, if they exceed the specified speed limit when the virtual safety car system is in place, they will face penalties.
After testing the system, governing body the FIA will decide in tandem with the teams when it can be formally introduced.
Before the system is in full usage, race director Charlie Whiting will exercise "extreme caution" in the event of any incident.
F1 wants a system to limit lap times when officials feel an incident could be cleared relatively quickly, but when workers, marshals or recovery vehicles need to be on track to return it to racing condition.
It is an extension of the system currently used when a safety car is deployed. Drivers have to slow down to a pre-determined lap time "delta" while waiting for the safety car to pick up the leader.
So far, F1 has been reluctant to introduce a safety car every time a car goes off the track - a system used in US racing.
But the ramifications of the Bianchi incident are to be analysed by an accident panel set up by the FIA, which is to make its report by 3 December.
Bianchi collided with a tractor vehicle that was recovering Adrian Sutil's Sauber, which had crashed on the previous lap.
Whiting said in a news conference at the last race in Russia that all drivers had slowed for the Sutil incident, but some had slowed more than others. He would not say how fast Bianchi was travelling.
Whiting added: "One of the most important things to learn here is that it is probably better to take the decision to slow down away from the drivers and have a system where it is clearer to everyone how much we think drivers should slow down."