Lewis Hamilton: Losing title on double points would "suck"

By Andrew Benson
Chief F1 writer
Last updated on .From the section Formula 1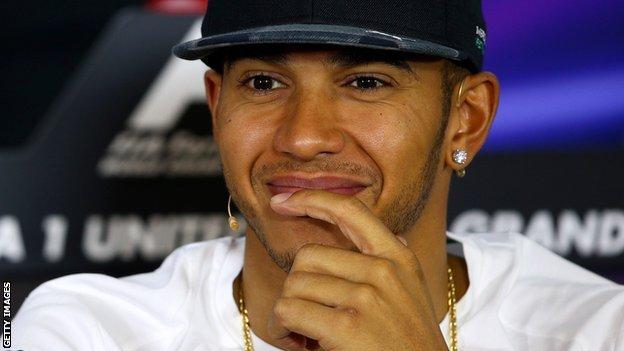 Lewis Hamilton says it would "suck" if he lost the world championship as a result of the controversial final-race double points system this year.
Hamilton is 17 points clear of Mercedes team-mate Nico Rosberg with three races to go, starting in the US this weekend, and has nine wins to the German's four.
But, depending on results, he could win in Austin and Brazil and still lose the title if he retires in Abu Dhabi.
"It would suck if that was the case - big time," Hamilton said.
"But I'm not even going to put that negative energy out there. I'm just going to try and do the best job I can with the car that I have and what will be will be, I guess."
Hamilton added: "This is the rule that they have brought in for the first time.
"Do I really agree with it? I don't know if any of us agree with it or do not agree with it, but it is the way it is and you just have to deal with it and just hope for the best really."
Rosberg was one of the most vociferous opponents of the double-points idea when it was introduced and said he was still opposed to it, but added F1 had to be open to new ideas.
"It is a bit artificial, the double points," Rosberg said. "My opinion is keep it straightforward, which is the way F1 has been forever.
"But maybe it's not contemporary anymore and we need to rethink it and maybe it is important to keep it exciting all the way through because we have had a couple of seasons when the drivers' championship has been decided early and that is the worst thing that can happen."
Hamilton heads into this weekend's race in Austin looking for a fifth consecutive win, having won four races in a row for the second time this season.
His run of success in Italy, Singapore, Japan and Russia has turned around what was a 29-point deficit to Rosberg after the Belgian Grand Prix in August, when the two controversially collided and Hamilton failed to finish as a result.
Mercedes's success - they have won all but three of the 16 races held so far this season - led them to clinch the constructors' title with a one-two finish in Russia three weeks ago.
2014 Grand Prix results

Nico Rosberg
Lewis Hamilton

Australia

1st

Retired

Malaysia

2nd

1st

Bahrain

2nd

1st

China

2nd

1st

Spain

2nd

1st

Monaco

1st

2nd

Canada

2nd

Retired

Austria

1st

2nd

Britain

Retired

1st

Germany

1st

3rd

Hungary

4th

3rd

Belgium

2nd

Retired

Italy

2nd

1st

Singapore

Retired

1st

Japan

2nd

1st

Russia

2nd

1st

Total points
274
291
Hamilton said: "I'm trying to replicate the feeling I had in the last races and that approach. Obviously you have to improve and you can't stay the same and I'm hoping this weekend will be even stronger.
"I have good points but anything can happen and I'm hungrier than ever.
"We have won the championship and there is a great energy in the team and I really hope I can continue to fight right until the chequered flag in Abu Dhabi for something I have been dreaming of for a long time."
Rosberg, who was censured by Mercedes for the collision with Hamilton in Belgium and has been accused of deliberately going off track in Monaco qualifying to ruin Hamilton's chances of beating him to pole, said the team's victory in the constructors' championship changed little in the drivers' battle.
"It has been full-on attack all the time," Rosberg said. "Of course it does change a little bit now the constructors is done but it is not a major change because it has always been maximum attack, as I'm sure you've seen."
He admitted he was facing a difficult task to beat Hamilton but was confident the championship was still in his grasp.
"It's going to take three good races, for sure, three very strong races. That is the way to do it. That's what I'm focusing on - trying to make the most of it. There are still 100 points to get and I am only 17 points behind."
Elsewhere, McLaren's Jenson Button will be hit with a five-place grid penalty for changing a gearbox. He said the rule - which requires drivers to use the same gearbox for six consecutive events - was "silly".