Lewis Hamilton column: 'It's business as usual in Austin'
Last updated on .From the section Formula 1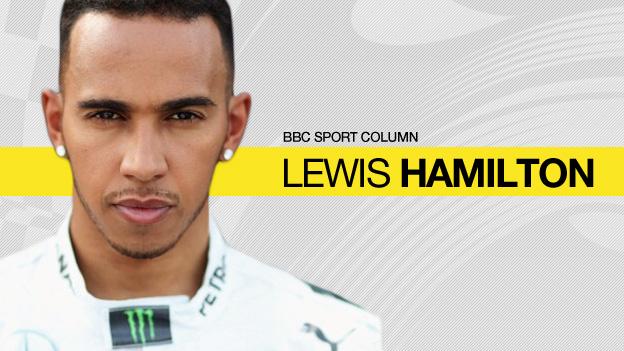 The world championship is coming to its climax now, with three races in four weekends, but I can't get too excited about it.
I can't let my mind drift to something that at the moment is just a dream. It has to be business as usual.
These past three weeks since the Russian Grand Prix, I have been trying not to think about racing at all. In fact, I don't even have to try. I just go about life, do my training and enjoy the moment, whatever it is.
It has been a long, long year. My Mercedes team and I have worked so hard that it is just about making sure you keep it going.
Since Russia, I have been back to the factory to have a quick celebration of the constructors' championship victory. The atmosphere back there is incredible now. Perhaps the guys there had been working so hard they had not been thinking so much about it and then finally it happened and it was like: "Wow!"
It is a great feeling to be a part of that, something that Mercedes has never achieved before in its history because the constructors' championship did not exist when they were dominant in F1 in 1954-5.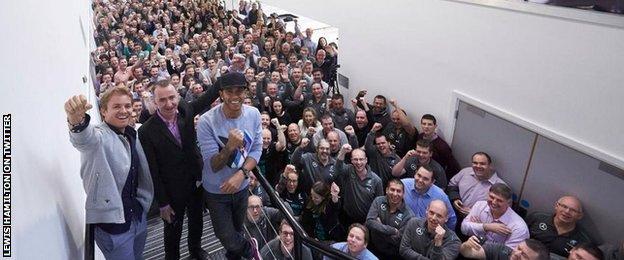 From there, I flew to Nashville to see some friends and then on to Knoxville for a couple of days to see my girlfriend Nicole and her family.
Then I went to New York to chill out for a few days there and I came away from it all with great energy to head down here to Austin for the US Grand Prix this weekend.
That's what it's all about - sustaining that positive energy and bringing it into each race.
I've been in this situation before, fighting for a world championship, and I know what it is to win and lose.
Whatever is coming is coming, and all I can do is try to influence it the best I can. I can try to steer the current, but it will go where it will go.
I can only try to prepare myself the best way, make sure I am strong physically and mentally and drive the way I have been driving. Hopefully that will be enough, but you never know.
Turning things up when it matters
I've managed to build a 17-point lead in the championship with four wins in Italy, Singapore, Japan and Russia.
I don't think it's to do with luck. I've had some problems this season, but in those four races things have gone well, so I've been able to show what I can do.
At the same time, I have kind of turned it up a notch. Through the year, you have to keep doing that, keep applying new pressure.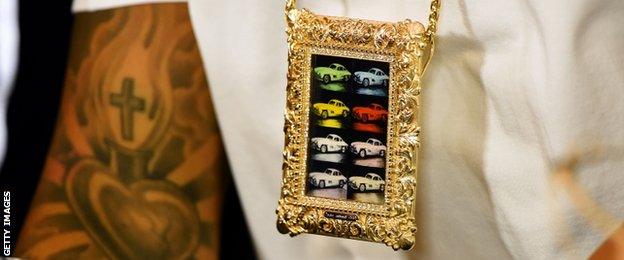 You can't put it all on at the beginning of the year. You have to spread it out through the year and the last four races I have really honed in on my car.
I have improved my understanding of the balance, how I want the brake balance and all those kinds of things set, and then maximising it around that.
I've also changed some things in my approach to the weekends and that seems to be a positive, although I'd rather keep what that is to myself.
I don't feel any tension or excitement at the moment. Each day is just another day.
I am simply excited at the moment to be in Austin. I'm excited to be going to Brazil next week and having a good steak at one of the famous churrascarias there and seeing the great fans there, and then I'm looking forward to getting home and seeing my dogs.
This is just another race, and I want to win it. If I win the next three races and the championship, then that would be amazing, but until then nothing changes.
You just put the blinkers on and keep your eye on what's ahead. No distractions.
Great to be back in America
I love coming to America to race and it is great to see how the sport is growing over here.
I was on a morning talk show on network TV earlier this week. We did it outside in Rockefeller Plaza in Manhattan and I was surprised by how many people turned up.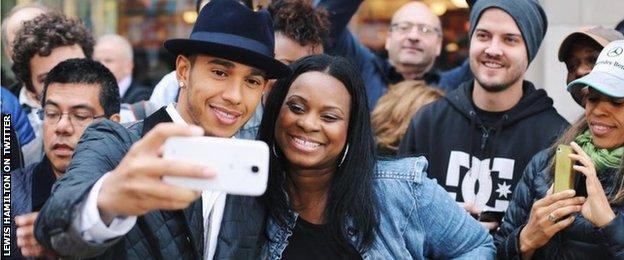 It is amazing to see that, and the support that we get from the fans who do turn up. Of course, there could be more, and F1 has a long way to go to match the big sports in the US, but the ones who do follow it are so supportive, enthusiastic and knowledgeable.
It was amazing to win the first race here in Texas in 2012 and although last year did not go so well, it was still great fun.
Austin is just buzzing. It is a really vibrant place to be, and the track is great. You can actually race here and overtake.
Thoughts with Jules
It's been four weeks now since Jules Bianchi's terrible accident in Japan.
I haven't heard much more about his condition but I am praying for him every day and hoping for some progress, even if it is at a slow pace.
You can follow Lewis Hamilton on Twitter @lewishamilton and you can see exclusive content on his website www.lewishamilton.com
Lewis Hamilton was talking to BBC Sport's Andrew Benson