Sauber chief Monisha Kaltenborn urges F1 financial overhaul
Last updated on .From the section Formula 1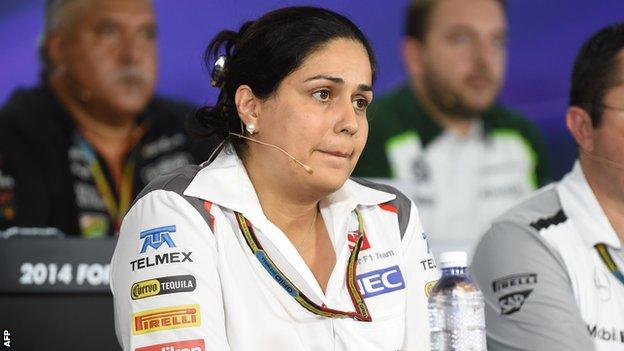 Sauber team principal Monisha Kaltenborn has said Formula 1 needs to make drastic changes to address its serious financial issues.
Both Marussia and Caterham went into administration this month and will not take part in Sunday's US Grand Prix.
This comes after the FIA abandoned plans for a budget cap for 2015 after failing to get support from F1 teams.
"What we need - and we have been saying for so long - is to get the figures right in the sport," said Kaltenborn.
"I'm beyond the stage of frustration. It's one thing to just talk about this terrible scenario that some teams are not going to be there, but for the people responsible for the sport to have let it come this far is extremely disturbing.
Depleted grid for US Grand Prix
Marussia and Caterham's absence will leave only nine teams and 18 cars on the grid, the first time that has happened since Monaco in 2005.
"It's a real shame we have turnovers of billions of dollars, yet as a sport - as a community - we are not capable of making sure that 11 teams survive. You try to explain that to somebody."
In particular, Kaltenborn has called for a re-think as to how money is distributed, to avoid the current situation whereby some teams receive much more than others.
"There should be a certain amount that allows every team to at least live decently," the 43-year-old added.
"We have put in so much investment in order to reach this level, and that should be respected whereby you get a certain basic amount that is the same for everyone.
"And given the brands, a team like Ferrari will attract different sponsors and amounts than ourselves.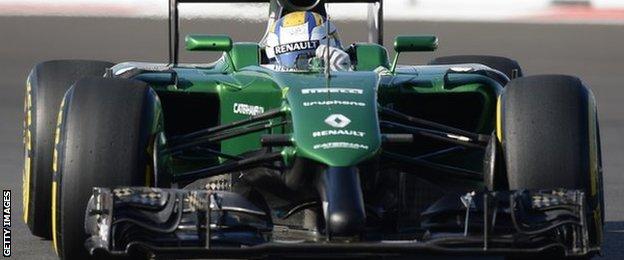 "No-one is saying you should have the most luxurious standards. But at least an environment has been created whereby a smaller team does not have to suffer."
In addition, Kaltenborn believes the teams need to put aside self-interest and come together for the greater good of the sport.
"As teams we should first find this collective which is not there at the moment. That made us strong in the past," she added.
"We all have at least one common denominator, which is to survive in this sport and make the sport something healthy.
"Like it used to be in the past and not too long ago, you had the big ones, the medium teams, the smaller teams and they all attracted very good brands.
"You could attract them because the product was so good, because people wanted to come into the sport, and not everybody can go to the top three.
"That's what we first should focus on before we start pointing here and there."