Lewis Hamilton fastest in United States GP second practice

By Andrew Benson
Chief F1 writer
Last updated on .From the section Formula 1
Lewis Hamilton narrowly edged Mercedes team-mate and title rival Nico Rosberg to fastest time in second practice at the US Grand Prix.
He was just 0.003 seconds quicker than Rosberg as the two Mercedes drivers were in a league of their own at the popular event in Austin, Texas.
Ferrari's Fernando Alonso was 1.104secs slower than Hamilton in third place.
Hamilton is 17 points ahead of Rosberg with 100 available over the remaining races in the US, Brazil and Abu Dhabi.
The 2008 world champion is seeking a fifth consecutive victory after turning a 29-point deficit to Rosberg following the Belgian Grand Prix in August into a sizeable advantage with wins in Italy, Singapore, Japan and Russia.
Hamilton was slightly slower than Rosberg on their first low-fuel laps on the faster 'soft' tyre, after being held up by a McLaren at Turn 11, but edged ahead on his second quick lap, when the tyres would be past their best.
Hamilton and Rosberg are expected to fight a private battle for victory, with a tight scrap behind them.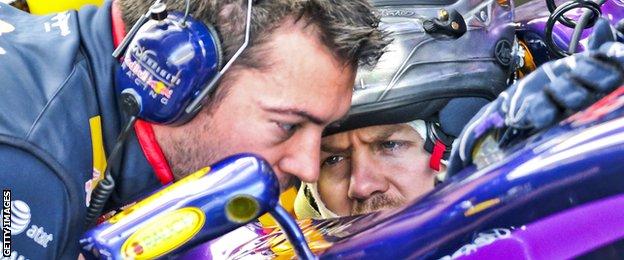 Reliability remains a concern for the team, however, with both drivers reporting glitches in their gearbox, and Hamilton had to curtail his race preparation in the final third of the session as a result.
"It looks like it is going to be a battle between my team-mate and I," said Rosberg. "Three thousandths, but I have them in my pocket. I know where they are.
2014 title permutations
Hamilton has a 17-point lead over Rosberg with 100 points remaining - 25 in the US, 25 in Brazil and 50 in Abu Dhabi.
The 2014 Formula 1 world title cannot be won at this weekend's United States Grand Prix.
If Lewis Hamilton wins in Austin and Nico Rosberg fails to finish, he will have a 42-point lead going to Brazil. Rosberg will then have to score nine points more than Hamilton to keep the title alive until Abu Dhabi.
If Rosberg wins in Austin and Hamilton retires, Rosberg will lead the championship by eight points going to Brazil. The title cannot then be won in Brazil, forcing a title decider in Abu Dhabi.
If Hamilton wins in Austin and Brazil, with Rosberg second in both, Hamilton will arrive in Abu Dhabi with a 31-point lead. But if Rosberg then wins and Hamilton finishes sixth or lower, Rosberg will win the title.
"I am of course worrying that [Hamilton's] car broke down. We need to see what that is and get on top of it. hopefully that won't impact on the rest of the weekend."
"I actually don't know what the problem is," said Hamilton. "It's not a gearbox problem. They said it was an oil leak or a fluid leak, hydraulics or something like that.
"The car was feeling fine but they had to stop just in case. I don't necessarily mind. The car was feeling good."
Alonso was 0.201secs clear of Ricciardo, whose team-mate Sebastian Vettel was 18th and slowest as he concentrated on race preparation.
The world champion is not bothering to prepare for qualifying as his Red Bull team have been forced to fit a sixth engine this season, incurring a penalty that means he has to start from the pit lane.
Team principal Christian Horner said Vettel would take some part in qualifying on Saturday, however.
Behind Ricciardo, Williams's Felipe Massa was fifth fastest, ahead of the second Ferrari of Kimi Raikkonen, 0.354secs off team-mate Alonso.
Toro Rosso's Daniil Kvyat was seventh, ahead of the McLarens of Kevin Magnussen and Jenson Button, who complained of uneven handling and expressed his frustration with a radio problem that had also afflicted him in first practice.
Lotus continued to struggle, Romain Grosjean and Pastor Maldonado both spinning during the course of the session as they fought with their difficult car.
US Grand Prix coverage details