Lewis Hamilton dominates final United States GP practice

By Andrew Benson
Chief F1 writer
Last updated on .From the section Formula 1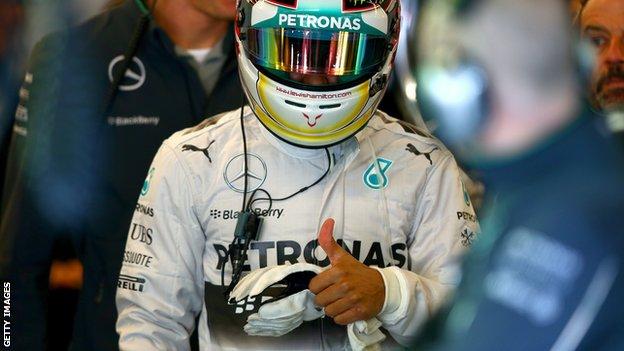 Lewis Hamilton and Mercedes were in a league of their own in final practice at the US Grand Prix.
Hamilton beat team-mate and title rival Nico Rosberg by 0.883 seconds and was more than a second clear of Williams's Felipe Massa in third place.
Massa's team-mate Valtteri Bottas was fourth ahead of Ferrari's Fernando Alonso and Red Bull's Daniel Ricciardo.
Hamilton and Rosberg look poised for a private fight for pole in qualifying at 18:00 GMT as they continue their fight.
Hamilton leads the German by 17 points after a run of four consecutive wins going into this race in Austin, Texas.
The yawning time gap between Hamilton and Rosberg - whose session had earlier been affected by braking problems - may not be a true reflection of their pace, however, as the German's first lap on the faster soft tyres was compromised. But both drivers went for a second lap on the tyres and Hamilton was still 0.615secs quicker.
Third-placed Massa was a massive 1.107secs slower than Hamilton as Mercedes appeared to have stretched their already significant advantage over the rest of the field.
And Williams appear a clear second best - Massa was nearly half a second faster than Alonso's Ferrari.
Red Bull's Ricciardo was sixth, and his team-mate Sebastian Vettel 18th and last as the world champion just prepared for the race - a penalty for taking a sixth engine this season means he has to start from the pit lane. Each driver's car is allocated five engines for the season - using more incurs a penalty.
There were some unfamiliar faces in seventh and eighth, with Force India's Nico Hulkenberg ahead of Sauber's Adrian Sutil, whose team are yet to score a point this season.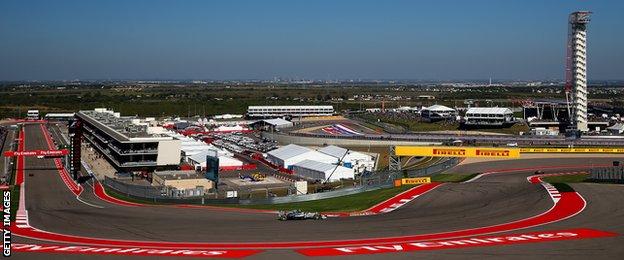 The McLarens of Jenson Button and Kevin Magnussen were 10th and 11th ahead of the Lotuses of Pastor Maldonado and Romain Grosjean.
Toro Rosso's Daniil Kvyat has a 10-place penalty for taking a seventh engine of the season.
A number of drivers had spins or off-track moments as they explored the limits of grip in cool temperatures on a crisp but brightly sunny Texas morning.
Among them were both Mercedes drivers, Hamilton spinning at Turn 12 at the end of the long straight and Rosberg running wide at both Turn 11 and Turn 12 on the same lap.
Off track, tempers are fraying following the collapse of the Marussia and Caterham teams.
Some of the smaller teams have indicated their patience with what they see as the inequitable split of F1's incomes is running out.
2014 title permutations
Hamilton has a 17-point lead over Rosberg with 100 points remaining - 25 in the US, 25 in Brazil and 50 in Abu Dhabi.
The 2014 Formula 1 world title cannot be won at this weekend's United States Grand Prix.
If Lewis Hamilton wins in Austin and Nico Rosberg fails to finish, he will have a 42-point lead going to Brazil. Hamilton would then need to score only eight more points than Rosberg in Brazil to clinch the title.
If Rosberg wins in Austin and Hamilton retires, Rosberg will lead the championship by eight points going to Brazil. The title cannot then be won in Brazil, forcing a title decider in Abu Dhabi.
If Hamilton wins in Austin and Brazil, with Rosberg second in both, Hamilton will arrive in Abu Dhabi with a 31-point lead. But if Rosberg then wins and Hamilton finishes sixth or lower, Rosberg will win the title.
Force India's deputy team principal Bob Fernley accused the sport's owner, CVC, which employs Bernie Ecclestone to run its commercial side, and the leading teams of an "agenda" - a thinly veiled accusation that he thinks they want to introduce a system where the leading teams supply cars to the smaller ones.
But Force India team principal Vijay Mallya has denied reports that they, Lotus and Sauber had been considering a boycott of this race in protest.
"I have not had any conversation with any team about any boycott," Mallya said, "but I have discussed with Lotus and Sauber our extreme disappointment at the loss of both Marussia and Caterham."