Lewis Hamilton aims to tighten title grip at atmospheric Interlagos
Last updated on .From the section Formula 1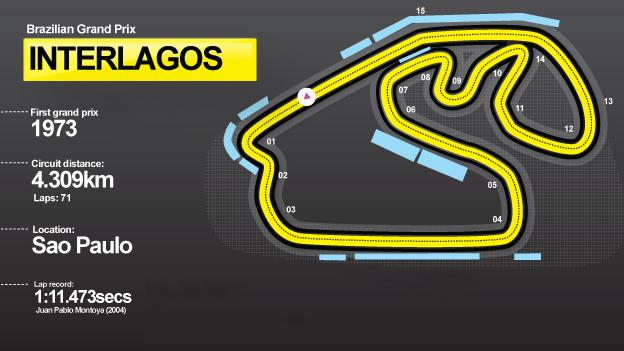 In a season featuring drama and intrigue at every turn, the ever-colourful and eventful Brazilian Grand Prix might have to raise its game this time around.
Despite the fact this season's World Drivers' Championship is set to go down to the final race in Abu Dhabi thanks to double points, Interlagos' typically unpredictable weather and thrilling racing - plus title leader Lewis Hamilton's historical struggles in Brazil - mean this is no mere stop-gap before the 'decider in the desert'.
The state of play
After winning at the Circuit of the Americas in Austin last weekend, Hamilton described 2014 as the "best season of my career" and he retains the momentum going into the final two races.
It's not been an easy year, with the 2008 world champion having spent most of it chasing Rosberg. But having overturned a 29-point deficit with some comprehensive victories over his team-mate, Hamilton is now the man to beat.
Rosberg is running out of time to turn his title challenge around, but he will take comfort in the knowledge that even if he finishes second behind Hamilton at Interlagos the offer of 50 points for the winner in Abu Dhabi means a win for him there and a mechanical issue for Hamilton could still seal a maiden title.
A physical and technical challenge
Interlagos race weekend is one long party in the grandstands, with some of the world's most passionate and knowledgeable fans making the pilgrimage to the circuit in Sao Paulo.
Despite its age, the venue - which has hosted Formula 1 every year since 1990 - is bursting with character and is popular with drivers and fans alike.
It's one of the shorter circuits on the calendar, but crams a lot in. The mixture of fast and slow corners, draped across several elevation changes, make it an exacting technical challenge.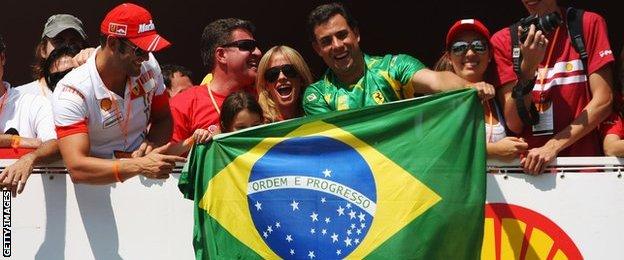 It's physically demanding, too, with the action run in an anti-clockwise direction and quick left-hand corners putting a strain on the left-hand side of the drivers' bodies.
Sebastian Vettel has said in the past that he does special workouts specifically for this race to strengthen his neck muscles for the challenge.
The track is narrow in places, but there are several opportunities for overtaking, including into the first corner and at the Senna S.
And the fans will have a great view of it all, with over 50% of the circuit visible from the 65,000 capacity grandstands.
Hamilton, who is without a win at Interlagos in seven attempts, has suffered both heartbreak and ecstasy there. The Briton saw the title slip through his fingers in 2007 before claiming it the following season in thrilling fashion.
A classic Brazilian Grand Prix
In 2007, Hamilton arrived at Interlagos aiming to make history by winning the title in his maiden season in F1.
He led McLaren team-mate Fernando Alonso by four points and Ferrari rival Kimi Raikkonen by seven, with 10 points available for victory.
However, he could only finish seventh and with Alonso in third, Raikkonen's victory was enough to secure an unlikely championship win by a single point.
Hamilton had a bad start from second on the grid, dropping a place to Raikkonen as Ferrari's Felipe Massa led away from pole.
And his fortunes worsened as he lost a place to Alonso and then ran off track when he tried to re-pass the Spaniard, dropping down to eighth.
He had started fighting his way back through the field when his car suddenly slipped out of gear, slowing him almost to a halt before the gearbox electronics rectified themselves.
By then, though, he had lost more than 40 seconds. McLaren decided to try a three-stop strategy in an attempt to help him regain places but it didn't pay off and he ultimately finished with only two points.
Raikkonen passed Massa during the second round of pit stops while Alonso finished well down in third, nearly a minute behind the dominant Ferraris, handing the Finn his only world campionship to date.
Andrew Benson's view of the Brazilian GP
"Interlagos is one of the great Formula 1 venues, a steaming cauldron of a race track, snaking around a natural amphitheatre in the heart of one of the world's largest metropolises.
"What Sao Paulo lacks in aesthetics, it makes up for in atmosphere; a buzzing, heaving city with a distinct edge, but a tangible love for its grand prix.
"Paulistas, as the locals are known, pack Interlagos on race day, chanting and shouting, cheering and jeering.
"Space is at a premium, the main grandstand rammed up against the track wall on the pit straight, producing a crackling, sometimes intimidating, ambience.
"Into the mix is a circuit that seems almost incapable of producing bad races, helped by notoriously unpredictable weather.
"It is truly one of a kind."