US Grand Prix: Lotus, Force India and Sauber talked out of boycott
Last updated on .From the section Formula 1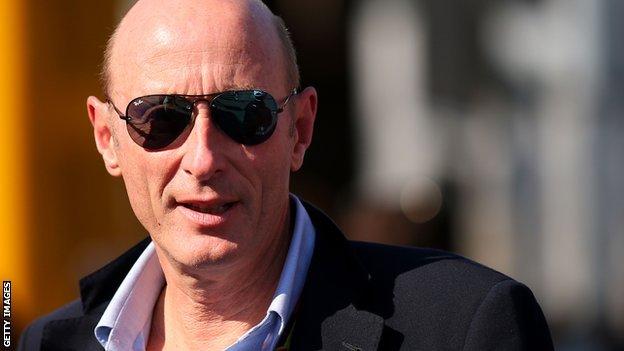 A potential US Grand Prix boycott was averted by the intervention of the man who runs Formula 1, Eddie Jordan says.
Lotus, Sauber and Force India considered skipping the race in protest at what they see as an inequitable split in the sport's revenues and had organised a news conference on Sunday.
Jordan, BBC F1's chief analyst, says Donald MacKenzie, co-chairman of F1's largest shareholder, CVC Capital Partners, phoned Lotus boss Gerard Lopez and promised to address their concerns.
MacKenzie said he would do this irrespective of Bernie Ecclestone's position.
As co-chairman and co-founder of CVC Capital Partners, the main shareholder of the group of companies that own F1's commercial rights, MacKenzie employs Ecclestone to run the sport.
He persuaded Lopez to call off the news conference ahead of the race, Jordan says, promising that he would do something to ensure the smaller teams earned more money from the sport.
The intervention raised questions about whether Ecclestone's once iron grip on F1 was loosening, Jordan said.
Ecclestone had said he was to blame for the financial problems afflicting some of the smaller teams.
Talks are planned this week, aimed at trying to solve what has so far been an intractable problem.
The smaller teams are caught between having a relatively small amount of income from F1's commercial rights holders, declining sponsorship figures as a result of the global financial slowdown, declining overall worldwide television audiences and rising costs.
The sport's two smallest teams, Marussia and Caterham, went into administration last month and missed the US race.
But Christian Horner, boss of the Red Bull team that won four consecutive championships from 2010-13, said it was not for the bigger teams to reduce their incomes.
"Teams are here to compete and not sponsor each other," Horner said, adding: "If the commercial rights holder wants to put more money into smaller teams that's their choice and responsibility."
But Mercedes F1 boss Toto Wolff said he believed the leading teams should discuss a redistribution of income.
"We know why we ended up here, it was important for Bernie to re-sign the big teams," he said.
"Today we find ourselves in a situation which is not good. Two of the smaller teams left and some of the others are struggling.
"It is a matter for the teams to discuss with Bernie what can be done. If the bigger teams can do something, we should discuss that.
"Let's see what Bernie comes up with but I guess it's a relationship between the commercial rights holder and the smaller teams."
Lopez told the German magazine Auto Motor Und Sport that the smaller teams expected concrete proposals before this weekend's Brazilian race or they would consider staging a boycott at the final race of the season in Abu Dhabi on 23 November.