Lewis Hamilton: I want to win final two races of the season

By Andrew Benson
Chief F1 writer in Sao Paulo
Last updated on .From the section Formula 1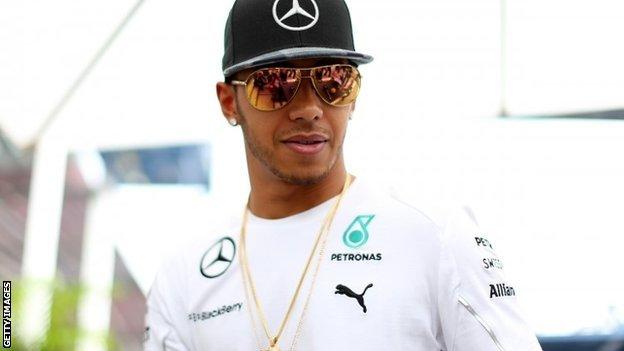 Brazilian Grand Prix
Date:
7-9 November
First practice:
Friday, 7 November 11:55-13:35 GMT
Second practice:
Friday, 7 November 15:55-17:35
Third practice:
Saturday, 8 November 12:55-14:05
Qualifying:
Saturday, 8 November 17:00-17:05
Race coverage:
Sunday, 9 November 15:30-18:06 BBC Radio 5 live & live text commentary online; highlights 20:30-22:00 on BBC One
Lewis Hamilton says he wants to win the season's final two races even though he would win the title by finishing behind rival Nico Rosberg in both.
Hamilton would be champion by finishing third in Brazil on Sunday and second in the finale in Abu Dhabi even if Mercedes team-mate Rosberg wins both.
But Hamilton said: "I want to win the world championship by winning, rather than finish fifth or wherever.
"I'm not coming to these last couple of races with a game plan. I want to win."
Hamilton has a 24-point lead over Rosberg in the championship after winning the previous five races.
But the controversial award of double points in Abu Dhabi means he could lose the title if he fails to finish there even if he wins in Brazil.
But Hamilton, who has won 10 races to Rosberg's four so far this season, said he was not dwelling on whether double points was fair or not.
"What is fair?" he said. "It's the same for everyone. This whole double points thing has always been a question. It is the way it is. I don't really know what to say about it."
He added: "I don't have any fears because I really feel like it has not been lucky or by mistake where I am today.
2014 Grand Prix results

Nico Rosberg
Lewis Hamilton

Australia

1st

Retired

Malaysia

2nd

1st

Bahrain

2nd

1st

China

2nd

1st

Spain

2nd

1st

Monaco

1st

2nd

Canada

2nd

Retired

Austria

1st

2nd

Britain

Retired

1st

Germany

1st

3rd

Hungary

4th

3rd

Belgium

2nd

Retired

Italy

2nd

1st

Singapore

Retired

1st

Japan

2nd

1st

Russia

2nd

1st

United States

2nd

1st

Total points
292
316
"There are reasons for me being in this team, reasons why we have the best car, reasons why we've had these results this year. And that's all the hard work that's gone in.
"And I really feel I have utilised every experience I've had this year, or at least recovered if I have not utilised it.
"So I feel comfortable where I am. I'm going to do whatever I can do and whatever the result at the end of it is, it is the way it is.
"But I will know I did everything I could and I'm not going to look back and think I could have done this or that, and that's why I'm excited."
Rosberg was an outspoken opponent of double points at the beginning of the season, saying the idea was "no good", but he joked on Thursday at Interlagos: "I do now. It's really a fantastic idea."
Asked how he would respond if he won the title and people criticised his victory as hollow, he said: "I wouldn't respond. Everybody can have their opinion and in sport it's the points that count in the end and of course then you can debate who deserved it more or less. That's always going to be the case."
He admitted he needed Hamilton to hit problems to have a realistic chance of overhauling him.
"It's clear that I need to rely on something happening," Rosberg said. "For sure, there's not enough for me to win (if it doesn't), unfortunately, but that's the way it is.
"Anyways, in sport, so much can happen, so I'm still very optimistic."