Lewis Hamilton on Brazil, Ayrton Senna, double points & world title
Last updated on .From the section Formula 1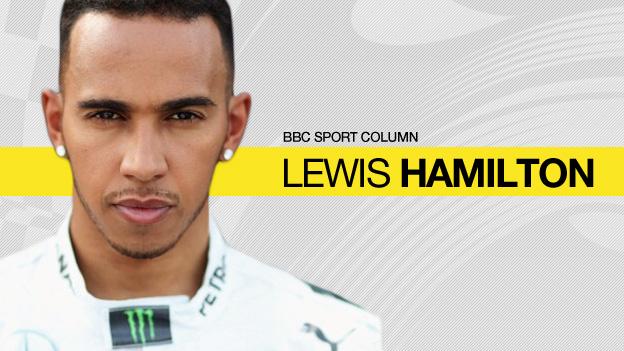 I have never won the Brazilian Grand Prix but it is a race I have always wanted to win and I aim to put that right this weekend.
It's particularly special to me, not least because it was Ayrton Senna's home. He was my childhood hero and, although I'm a lot older now, he was - besides my dad - the person who had the most influence on me when I was growing up.
Senna was the driver who inspired me, and whom I always aspired to be like. His legacy lives on as strong as ever here in Brazil. I very much feel that when I am coming here.
I was on Brazilian television after arriving here and there was a nice moment when they gave me a Brazil football shirt with my name on it. They said they had a passport for me and would I represent them because they did not have a driver who was winning, or who drives like Senna did.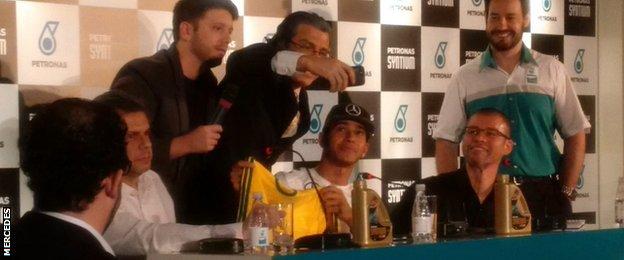 They said I had such a great following here and, although I'd seen a few flags, I didn't know that.
I put it down to a few factors: the connection I felt with Senna; perhaps the way I drive - some people have said that some of the things I do in the car resembled what he used to do; and the fact that I wear my heart on my sleeve and people can sense my passion for what I do - and I hope that speaks to the fans here.
The race here always has such a great atmosphere. Hopefully, I can make it six wins in a row this weekend. It would mean a lot.
A turning point in the season
I feel I have been driving well all year but things have really come together in the last few races.
In the second half of the season I feel I have really got a handle on the car and how to work with it to be in a good position on Sunday.
I mentioned in my column last week that I had turned it up a bit recently and I can explain what I meant by that.
The Belgian Grand Prix in August was a hard weekend for me because of the collision I had with team-mate Nico Rosberg.
I had more anger after being taken out of the race than I had had in a long, long time - in terms of knowing how it went and losing a lot of points to Nico as a result.
But how I dealt with that over the following days was the most significant part of that period.
It was the most negative energy I had had all year - way more than in Monaco, where Nico went off in qualifying and I wasn't able to do my final lap.
I was able to channel it into a positive - bottle it and then use it and rearrange things and approach the next races slightly differently. And it has made a difference.
That's what I meant by "turning it up".
You have a difficult weekend and you're like: "I need to get on my training even more the next day. I'm going to run even further and even harder."
You're already running hard, but you push it even harder.
It's the same in the car. I thought I was driving on my limit before, but now I'm taking it to another limit. It's about pushing beyond where you thought the limits were.
I also feel that at the moment I'm driving better than I ever have before.
The big double points question
Everybody keeps asking me about double points at the last race and how that means Nico could turn it around in one go if I have trouble with the car in Abu Dhabi in two weeks' time.
Someone pointed out here in Brazil that, with my lead now at 24 points, in any other year I would only need to score one point more than Nico here on Sunday and I would be champion.
Now, I could win here and still lose it if things go wrong in Abu Dhabi.
It is a bizarre situation and I don't really know what to say about it. I haven't really thought about it too much - that's probably how I'm dealing with it.
I'm just going to approach these weekends in the same way I have all the others.
It's about making sure I get everything I can out of each weekend and learning from what went before.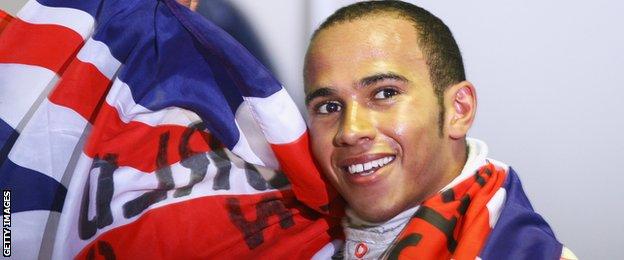 For example, I might have won in Austin last Sunday, but it was not a perfect weekend.
I had trouble with my brakes in qualifying - there was a 100C difference in temperature between the two front brakes, which meant I suffered with locking wheels.
That was to do with brake materials, but I was magnifying it with certain ways in which I was driving. I fixed that in the race, which was why it was better. But it can be better again.
Overall, I feel very relaxed coming to Brazil, and very excited to be in the position I am, with such a great car.
Far above and beyond anything else, I want to win the World Championship. It has been so long since I won in 2008 that it really feels like my first one.
I had a dry patch for a number of years and you never know when you're going to get another chance. So I want to grab that and not let it go.
You can follow Lewis Hamilton on Twitter @lewishamilton and you can see exclusive content on his website, www.lewishamilton.com.
Lewis Hamilton was talking to BBC Sport's Andrew Benson.