Marussia F1 team fold, administrators FRP announce

By Andrew Benson
Chief F1 writer in Sao Paulo
Last updated on .From the section Formula 1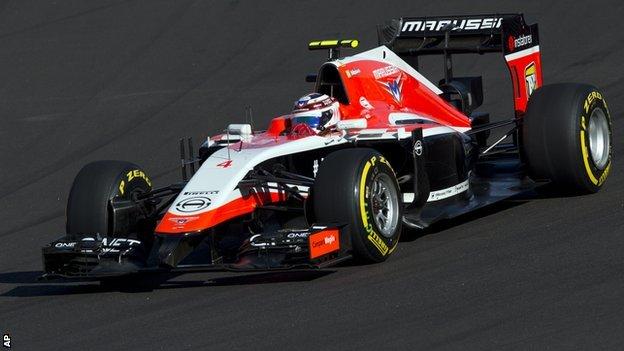 The Marussia Formula 1 team has ceased trading and all staff will be made redundant, administrators FRP have announced.
The team went into administration last month and had hoped to return for the final race of the season after missing the US and Brazilian Grands Prix.
Their driver Jules Bianchi remains in hospital in a critical but stable condition after suffering severe head injuries in a crash at the Japanese GP.
Over 200 people will lose their jobs.
Marussia had been in talks with two potential investors, but when a deadline of 12:00 GMT on Friday passed with no funds transferred the team folded.
Geoff Rowley, joint administrator at FRP Advisory, said: "It goes without saying that it's deeply regrettable that a business with such a great following in Britain and worldwide has had to cease trading and close its doors."
Elements of Marussia management still hope to return to F1 next season and have applied for entry to next year's world championship under the name of Manor F1, the team's original guise.
Marussia
Entered the sport under the Virgin Racing name in 2010. Required chassis change because the fuel tank was too small. Finished last in the constructors' championship
Began a new technical partnership with McLaren in 2011 after ditching their digital-only design approach. Finished last in the constructors' championship
Rebranded as Marussia in 2012. Lay 10th in the constructors' championship until the last race when Caterham overhauled them
Reserve driver Maria De Villota loses her right eye in a crash in July 2012 while testing. De Villota died the following year
13th place in Malaysia was enough to claim their first top-10 finish in the constructors' championship in 2013
Jules Bianchi scores the team's first ever points with ninth in the 2014 Monaco Grand Prix
Bianchi suffers severe head injuries after crashing at 2014 Japanese GP - remains critical but stable in hospital
Marussia go into administration in October before folding on 7 November after a buyer fails to materialise
The Caterham team, who also last raced in Russia, remain in administration.
Their administrators said at the US Grand Prix last weekend that they had set a deadline of two weeks to find a buyer or that team would have to fold too.
Marussia's final race was at the Russian Grand Prix on 12 October.
BBC F1 chief analyst Eddie Jordan said: "There are four reasons why the three teams who entered F1 in 2010 have all failed.
"First, Caterham (previously Lotus), Marussia (previously Virgin) and HRT were promised that the sport would have a budget cap of 50m Euros and governing body the FIA failed to impose this.
"Secondly, the costs for an engine were about £5m last year but have gone up to £15m this season with the introduction of new turbo hybrid engines.
"Who's accountable? It's Bernie Ecclestone's job to make sure promises are adhered to, and these costs are not coming down next year even though the manufacturers originally said they would.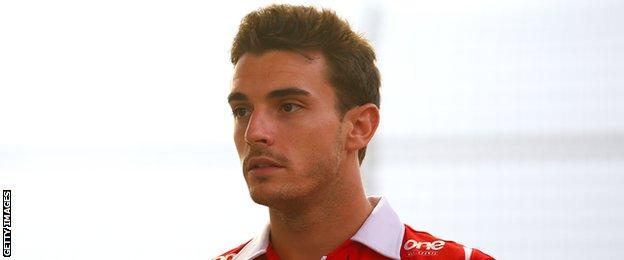 "Thirdly, teams have to use Ecclestone's freight but the costs of this are high. There used to be a £10m payment from the commercial rights holder to teams to support the freight costs but Ecclestone withdrew that two years ago.
"Fourthly, there is the gross disparity of $300m being skimmed off the top of the money allocated to pay the teams as a cash payment for the top five teams, Red Bull, Ferrari, McLaren, Williams and Mercedes."
Marussia have folded despite having their best season in four years in F1.
Marussia currently lie ninth in the championship thanks to the two points Bianchi scored by finishing ninth in Monaco.
They will retain that place officially, but when it comes to allocating the prize money from this season, the remaining team below them - Sauber - will be moved up and receive the funds instead.
With the collapse of Marussia and Caterham, the prize money that would have been paid to the 10th team in the championship will be retained by the commercial rights holders.
The administrators of Caterham have launched a crowd-sourcing project to try to raise funds to allow the team to compete in Abu Dhabi.
Brazilian Grand Prix practice results
Brazilian Grand Prix coverage details