Formula 1: Troubled Caterham ask fans to donate £2.35m in a week
Last updated on .From the section Formula 1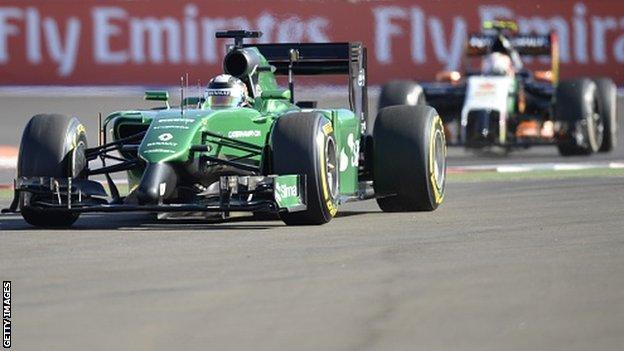 Troubled F1 team Caterham are asking fans to donate money to help them compete at the final race in Abu Dhabi.
Caterham were given dispensation to miss last week's United States Grand Prix and this weekend's Brazilian Grand Prix after going into administration.
The team tweeted: "Big thanks to our first 250 backers, you've already raised £174,470 in less than 3 hours!"
The Leafield-based team are aiming to raise £2.35m using crowdfunding by Friday, 14 November.
Administrator and interim Caterham team principal, Finbarr O'Connell said: "We are confident the team showing the world that it can race again will lead to a bright future.
"We are working non-stop to get the team back racing, initially in Abu Dhabi.
"But hopefully that will be just a stepping stone to get it back racing on a permanent basis, under new ownership."
Crowdfunding is a way of asking people to invest money in businesses or projects. More than nine million investments and donations were made last year.
Caterham's initiative came just hours after the Marussia Formula 1 team announced it had ceased trading and that all staff would be made redundant.