Marussia demise shocking, says Sauber's Monisha Kaltenborn
By Andrew Benson & Jennie Gow
Chief F1 writer & BBC 5 live pit-lane reporter in Sao Paulo
Last updated on .From the section Formula 1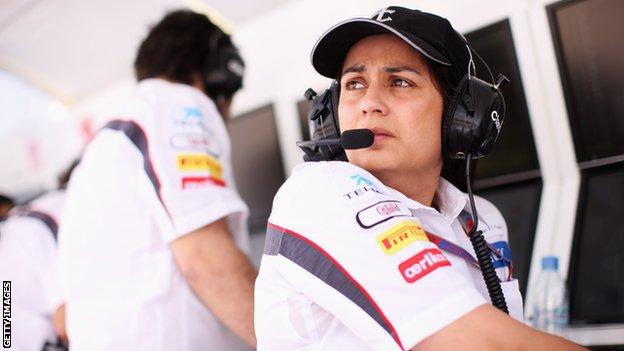 The Marussia team's demise is "shocking news", according to Sauber team principal Monisha Kaltenborn.
Marussia went out of business on Friday after failing to raise funds to continue in the sport. They had gone into administration last month.
Kaltenborn, whose team are also struggling financially, said: "It is shocking news that we are not in a position to keep such a team alive."
She said F1 had more than enough money in it to ensure the survival of teams.
"We have a turnover of billions of dollars and yet we are not in a position to keep 11 teams alive," Kaltenborn said.
"And that tells you it is not a good signal the sport is sending out and we are creating a bad image.
Marussia
Entered the sport under the Virgin Racing name in 2010. Required chassis change because the fuel tank was too small. Finished last in the constructors' championship
Began a new technical partnership with McLaren in 2011 after ditching their digital-only design approach. Finished last in the constructors' championship
Rebranded as Marussia in 2012. Lay 10th in the constructors' championship until the last race when Caterham overhauled them
Reserve driver Maria De Villota loses her right eye in a crash in July 2012 while testing. De Villota died the following year
13th place in Malaysia was enough to claim their first top-10 finish in the constructors' championship in 2013
Jules Bianchi scores the team's first ever points with ninth in the 2014 Monaco Grand Prix
Bianchi suffers severe head injuries after crashing at 2014 Japanese GP - remains critical but stable in hospital
Marussia go into administration in October before folding on 7 November after a buyer fails to materialise
"So you have to look at how the revenues are distributed and you have to find a way to reduce the costs."
The issue of the financial struggles of the smaller teams continues to be a talking point in F1 as Mercedes drivers Lewis Hamilton and Nico Rosberg head into the penultimate race of their season-long title battle in Brazil this weekend.
Hamilton, who was second fastest behind his team-mate in both practice sessions on Friday, leads the German by 24 points with 75 available in the remaining two races, including double points in Abu Dhabi next weekend.
The Caterham team also went into administration last month and, like Marussia, have missed Brazil and the US Grand Prix last weekend.
Caterham are trying to raise the £2.35m their administrators say they need to compete in the final race in Abu Dhabi through crowd sourcing.
"Imagine how devastating it is to see we are the pinnacle of motorsport," Kaltenborn said.
"We spend millions, have income of more than that and yet there is a team that is so desperate and has to go out and take such measures. I don't understand why there is not that kind of sympathy."
The smaller teams were last weekend talked out of a potential boycott of the US GP after the boss of the company that owns F1's commercial rights promised personally to intervene. Donald MacKenzie, the co-chairman and co-founder of CVC Capital Partners is Bernie Ecclestone's boss.
Talks are due this weekend between the teams and Bernie Ecclestone on the issue.
Kaltenborn said: "We are not happy with the situation otherwise we wouldn't have done this.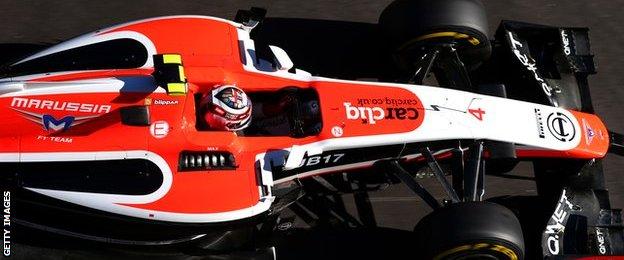 "We have made our point and these points were acknowledged, we have a basis and we are in a dialogue with the other side, but that is not enough.
"Some actions have to follow and within a very short amount of time. We've said: 'Look at the situation in F1.'"
She said a solution had to be found by Abu Dhabi.
Asked if talk of a boycott was now over, she said: "We have to first talk about things and try to find a solution and let's hope that gets us somewhere."
Brazilian Grand Prix practice results