Formula 1 not in crisis - Bernie Ecclestone

By Andrew Benson
Chief F1 writer in Sao Paulo
Last updated on .From the section Formula 1
Bernie Ecclestone has rejected claims the sport he runs is in crisis following the collapse of two teams.
The F1 boss told BBC Sport: "People say F1 is in crisis. Absolute nonsense. We've had a couple of teams in crisis."
He pointed out that many F1 teams had failed over the years and criticised Marussia and Caterham for what he said was poor financial management.
"People come and go," Ecclestone said, adding that team bosses needed to know "how much is coming in and how much is going out".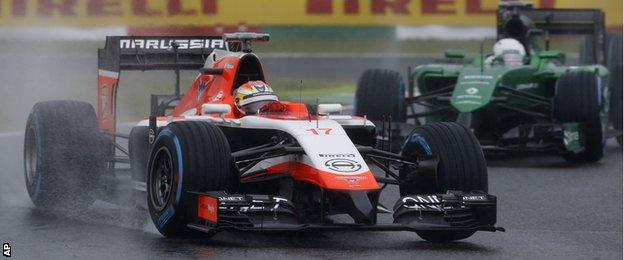 Marussia and Caterham, he said, "haven't calculated that too well - they spent more than they had".
He said the two collapsed teams were technically "still in the championship if they turn up in Abu Dhabi" for the last race in two weeks' time.
"If they don't, unfortunately they're out," he said.
And he cast doubt on the viability of the attempt by Caterham's administrator to raise the funds to compete in Abu Dhabi through a crowd-funding project.
"I can't see how they can come back," he said.
Ecclestone is in talks with the remaining teams about how to ease the plight of the smaller teams.
Marussia
Entered the sport under the Virgin Racing name in 2010.
Ditch the digital-only design approach. Finished last in the constructors' championship
Rebranded as Marussia in 2012. Lay 10th in the constructors' championship until the last race when Caterham overhauled them
Reserve driver Maria De Villota loses her right eye in a crash in July 2012 while testing. De Villota died the following year
13th place in Malaysia was enough to claim their first top-10 finish in the constructors' championship in 2013
Jules Bianchi scores the team's first ever points with ninth in the 2014 Monaco Grand Prix
Bianchi suffers severe head injuries after crashing at 2014 Japanese GP - remains critical but stable in hospital
Marussia go into administration in October before folding on 7 November after a buyer fails to materialise
Force India, Lotus and Sauber have complained that the split of F1's income is unfairly biased in favour of the major teams and have demanded more money.
They have threatened a potential boycott of the Abu Dhabi race if a deal cannot be made.
Ecclestone said that the money split in F1 was fundamentally the same as it had always been, "except we paid three or four teams [Ferrari, Red Bull, Mercedes and McLaren] what you could call a massive bonus to guarantee they would be around to 2020".
"It was open to anyone who could guarantee they would be there but the other's couldn't guarantee that."
He said he "hoped" Lotus, Force India and Sauber would be around in 2015 and that he was proposing a one-off payment to them from the teams and the commercial rights holders' money he controls to help them survive.
"Maybe the major four or five teams can make a contribution for one year only," Ecclestone said. "We would be considered one of the teams who paid the same and that could be in a pool for those teams to use next year."
Senior sources say some of the money for this fund could come from the prize money that would otherwise have been paid to Marussia and Caterham for the 2014 season - $58m (£36.5m) for Marussia and $10m (£6.3m) for Caterham.
Ecclestone said he could not give Marussia and Caterham an advance on the payments they would have been due for this year to help them survive because "we are not allowed to support one team in any way over any other".
Brazilian Grand Prix qualifying results