Bernie Ecclestone: F1 teams will not get further funding

By Andrew Benson
Chief F1 writer in Sao Paulo
Last updated on .From the section Formula 1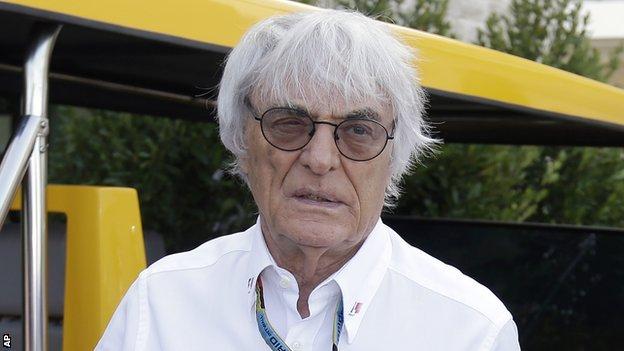 Bernie Ecclestone insists there will be no further help for three Formula 1 teams seeking more financial support.
F1 boss Ecclestone described talks on the subject at this weekend's Brazilian Grand Prix as "a complete and utter waste of time".
"The way forward is very easy - don't spend as much," he added. "We already give these teams collectively $900m."
The recent collapse of the Marussia and Caterham teams led to claims that F1 is in crisis.
Senior insiders had suggested that the prize money allocated for those teams - a combined total of £36.5m ($68m) - could be bolstered by commercial rights holders CVC Capital Partners and the cash split between the three teams and Williams as a one-off payment.
But Ecclestone said the struggling teams should "start running the business as a business".
Marussia folded on Friday and Caterham remain in administration after missing the US and Brazilian Grands Prix.
Caterham's administrator has launched a crowd-funding project aimed at raising the £2.35m the team say is needed to compete at the season-ending Abu Dhabi Grand Prix later this month.
There have been reports that Red Bull and Ferrari could run a third car next season if Caterham do not survive and if a new team does not arise out of Marussia.
But Ecclestone said: "At the moment there has been no agreement for third cars."
And a Red Bull spokeswoman said: "Despite reports to the contrary, Red Bull has not yet been requested to run a third car next season. Our preference would be a full grid of two-car teams."
The demise of Marussia and Caterham has reduced the grid to nine teams and 18 cars.
Asked if there would still be nine teams in 2015, Ecclestone said: "Maybe ten, it depends what we decide to do."