Brazil GP: Felipe Massa takes podium after pit stop errors
Last updated on .From the section Formula 1
Williams' Felipe Massa overcame the odds to secure only his second podium of the season in front of a home crowd at the Brazilian Grand Prix.
Massa, 33, was handed a five-second penalty for speeding in the pit-lane before pulling into the wrong pit box.
He eventually went on to finish third behind the Mercedes one-two of Nico Rosberg and Lewis Hamilton.
Easy mistake?
Lotus: Which team does @MassaFelipe19 drive for @WilliamsRacing?
"These people are fantastic. This place is amazing and it makes me proud to be Brazilian," he said.
He added: "For sure we (Brazil) need to improve, but it's difficult to find a country and people like we have in Brazil."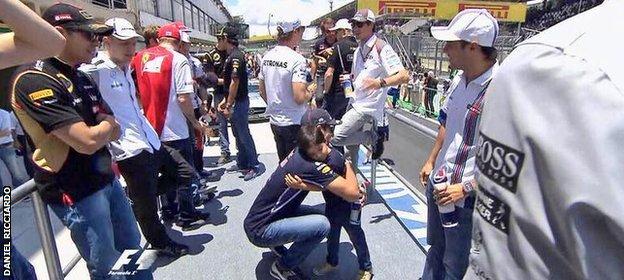 "I just made a mistake, they moved our garage for this race, with the sun, I saw the silver, thought it was white. I'm not trying to go to McLaren, honestly it was just a mistake."
Williams team-mate Valtteri Bottas was not so lucky though with seat-belt problems and an issue with his front right tyres causing extended stays in the pits.
He eventually finished 10th behind the Ferrari pair of Fernando Alonso and Kimi Raikkonen, who finished sixth and seventh respectively.
"The team did a great job this weekend and for Felipe to get a podium is all we can ask for and we just stayed a head of Ferrari [in the constructors' championship]," said deputy team principal Claire Williams.
"We had everything today and you couldn't make it up and that's what happens at Williams sometimes.
There were no mistakes from the eventual winner Rosberg, who now trails Mercedes team-mate Lewis Hamilton by 17 points in the drivers' championship with double points up for grabs in the final race of the season.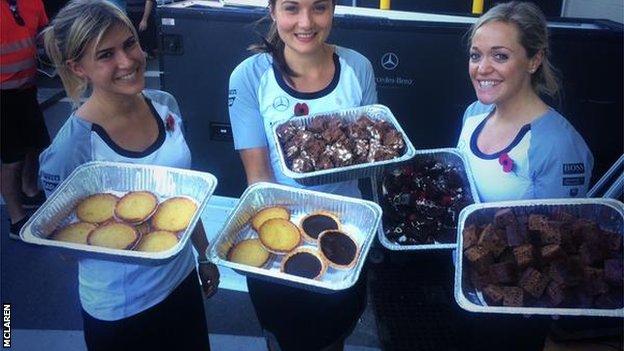 "I am happy, the whole weekend went well," said Rosberg, 29.
"I managed to learn from what I didn't do in Austin. I had to push when he [Hamilton] was around to make sure he did not get close enough to over take me."
Day to forget
McLaren's Kevin Magnussen: A day to forget. Surely lots to learn from as well. Now back to Woking to find out where we lost out. #NeverGiveUp
The one-two by Mercedes was their 11th of the season, breaking the previous record of 10 set by McLaren in 1988. It was also their 30th podium finish of 2014, surpassing Ferrari's 2004 record of 29 podium finishes in one year.
"There was some good fighting between the two drivers and that was happening right through the grid. I am happy because we seem to have shown the other teams that it is ok to fight," said Mercedes Formula 1 boss Toto Wolff.
"I am so proud of the team, everyone has done a top job and it is a great record."